Friday Box Office Analysis
By Kim Hollis
February 5, 2011
BoxOfficeProphets.com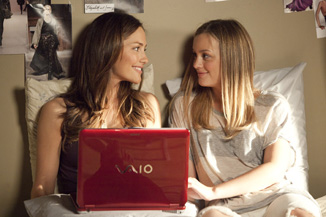 ---
It's Super Bowl weekend, so studios aren't exactly rolling out the big guns. Even so, one new opener had a decent performance, proving that Screen Gems is near the gold standard when it comes to marketing and distributing their fare.

The Roommate

That Screen Gems release is in fact The Roommate, which stars Gossip Girl's Leighton Meester and Friday Night Lights' Minka Kelly. Obviously, the PG-13 rated thriller about a college student being terrorized by her roommate struck a chord amongst the appropriate age set, as it earned a very solid $6.4 million on Friday. It will come very close to exceeding its production budget by the end of the weekend. The only thing standing in the way is that aforementioned sporting event, which has traditionally meant death to the box office on Sunday. A very good comparison in this case is the similarly PG-13 rated When a Stranger Calls, which opened during Super Bowl weekend in 2006. It had a 2.4 weekend multiplier with a slightly higher Friday total. We'll bump The Roommate up to 2.5 since it started smaller, which would mean a three-day take of $16 million and a victory atop the box office charts.

Sanctum

Despite trying to connect this movie to James Cameron in every way possible, Sanctum was only able to grab a Friday total of $3.5 million for Universal. It was showing in more locations than The Roommate, so it's been thoroughly walloped in every way. Since this is a movie that's going to appeal more to men than women, it's probably looking at a crummy 2.4 multiplier, though again that number might manage to be mitigated by the fact that the film started off so low in the first place. Let's call it $8.4 million, and we can probably presume that this thing cost more than it should have.

Notable Holdovers

The Rite falls a mighty 64% to $1.9 million, which was not at all unexpected. A weekend total of $5.9 million looks about right. The Mechanic fares a little better, with a decline of 50% to about $1.8 million. This one might struggle through the rest of the weekend, and we'll call it $5.7 million.