Weekend Forecast for January 28-30, 2010
By Reagen Sulewski
January 28, 2011
BoxOfficeProphets.com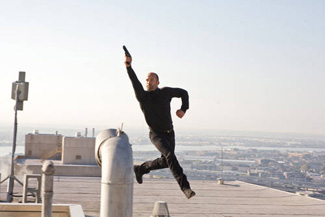 ---
With the Oscar nominations now announced and set to boost the fortunes of a handful of films, Hollywood mostly ducks out of the way, introducing only a pair of unremarkable new films into the mix this weekend, leaving open the possibility for a weeks-old film to top the charts.

That's a long shot, to be sure, as The Rite and The Mechanic look to be just strong enough to keep this from happening, with barely enough star power and narrative hook to earn in the teens. The stronger of the two is probably The Rite, thanks to the exorcism angle, a genre that audiences seemingly can't get enough of in any fashion. Colin O'Donoghue (virtually invisible in the trailers, because who's he?) plays an American priest who travels to Rome in order to train at an exorcism school, which I'm hoping leads to the strangest training montage ever. He's mentored by Anthony Hopkins, who's running on full Welsh-charm mode.

And as in any exorcism story, the danger always ends up being towards those challenging the Devil, which makes me think the Devil just has some insecurity problems. At any rate, shortly after O'Donoghue arrives at the school, an exorcism goes wrong, Hopkins starts showing signs of possession, and the battle for his soul is on, and yada yada yada, you know how this goes.

As a PG-13 horror film, the chances of The Rite offering anything truly scary are slight, and while it looks more stylish than the average film, it still doesn't seem like anything to write home about in that department. Reviews are abysmal, though that often proves to be a minor factor in horror films. Working strongly in its favor then, is that exorcism movies continue to do well regardless of how they look.

The Last Exorcism, The Exorcism of Emily Rose, even Exorcist: The Beginning all opened well, in the high teens to low 30s, and I'm prepared to throw in The Haunting in Connecticut and Paranormal Activity 1 & 2 as close cousins. Audiences simply can't get enough of possession and/or haunting stories for reasons I can't really fathom. I'm not prepared to say The Rite can hang with these films, as the main audience for horror films isn't really jonesing to see Anthony Hopkins. And there's still that PG-13 rating. Opening at about 2,900 venues, The Rite should manage about $13 million.

Although we're not quite there yet, "Jason Statham is The [Occupation]" is threatening to become to the new "Steven Seagal is [Descriptive Movie Title]". The Mechanic follows up his Transporter films and his co-lead role in The Expendables with him playing a professional ass-kicker killing bad guys in elaborate ways, possibly at some point leaping through the air whilst firing two guns. Slightly unusual is that this time Statham has a sidekick/protege in Ben Foster, who while he may be high on the list of actors who you'd think would resort to crazy violence, isn't that high on the list of believable bad-asses.


Directed by Simon West, who's fallen a long long ways from his days with Jerry Bruckheimer (hence his recent suggestion of Con Air 2 – which would probably revolve around Nic Cage's problems with the IRS), The Mechanic seems to be an unremarkable entry in Statham's filmography – as the saying goes, if you like this sort of thing, this is the sort of thing you'll like. Statham's bankability has fallen from the days when The Transporter opened in the 20s, to the point where Crank 2 opened with $6 million and change (admittedly it was Crank 2 – a deliberately off-putting film, but still). The Mechanic should sit somewhere in the middle of that range with an opening weekend of about $11 million.

The question of which Oscar nominated film could take top spot this weekend is an easy one – it's The King's Speech. As the highest grossing of this year's Oscar nominated films last weekend, it's also the film with the most nominations, the easiest premise to sell, and the one still with room to expand to major audiences. It gets the largest bump of any film this weekend, almost 900 venues, to around 2,500. The best case scenario for an Oscar bump here is probably that it would keep its per screen average on this new number of screens, putting it around $11-12 million. I think it'll approach but not quite reach that, sitting just shy of $11 million on the weekend, but in striking distance should the two new films falter.

The only other Oscar nominated film to get a significant boost in screens is 127 Hours, which goes from basically none to 916. The second lowest grossing of the Best Picture nominated films with $11 million, it's been mostly an afterthought among the public, thanks to its reportedly harrowing scenes wherein James Franco cuts his own arm off (oh it's not a spoiler, it's the premise of the movie). I don't expect this nomination, nor the five others it received, to turn it from an afterthought to a hit, but a few more million won't hurt its bottom line. Expect it to have its best weekend yet, though that's not saying much, at $3 million.

Of the other eight Best Picture nominees, five are already on DVD (though two of those are in token release), leaving just Black Swan, The Fighter and True Grit as factors. For films that are already established and not expanding, the usual situation is that they'll see a slight bump, or at worst, see their weekly declines shrink to almost nothing. That is, unless they're Avatar or Titanic, which none of those films are.

True Grit is the easiest sell of all of these films, as evidenced by the fact that it's already earned close to $150 million. This is also the film's first real awards attention after its snub by the Golden Globes. I don't expect a big boost, though, precisely for the reason that it's already received a lot of audience support. Look for it to hold the line with around $8 million.

Black Swan could potentially be a big winner from its nominations, as one of the films most in need of validation with audiences thanks to its strangeness. Then again, that hasn't prevented it from already earning over $80 million. I believe Natalie Portman's performance is driving this success more than the film itself, since let's face it, films about ballet haven't exactly burned up the box office in the past. With her impending coronation as Best Actress of 2010, the film has become a must-see and should see a modest boost this weekend to around $7 million.

The Fighter has been curiously immune to awards and critical reception, making me think that it's just not a film that feels special to the public, coming so close on the heels of The Wrestler. Still, these nominations can't hurt, and it should have another $5 million weekend.

There are, in fact, films in release that don't have anything to do with the Oscars, though it barely seems relevant to point this out. No Strings Attached won the weekend charts last week with $19 million, giving Natalie Portman an impressive 1-2 punch in theaters, and making Ashton Kutcher relevant again. As the only real romcom out there right now, it may hold a little, but with lukewarm word-of-mouth, I'm not expecting miracles. Around $11 million is a reasonable expectation for its second frame.

The Green Hornet didn't exactly drop like a stone in its second weekend, but neither did it look like the second coming of Spider-Man either, falling to second with $17 million. With $66 million in the bank, it's headed towards becoming the first $100 million film of 2011, though that's certainly not guaranteed. A third weekend $10.5 million is probably the inflection point for that milestone – above that and it's close to a sure thing, below that and it will struggle.