Monday Morning Quarterback
By BOP Staff
January 24, 2011
BoxOfficeProphets.com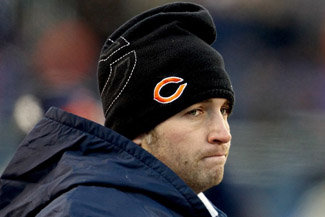 ---
Important note: Do not let your cat eat string. It leads to unpleasantness.

Kim Hollis: No Strings Attached, the Ashton Kutcher/Natalie Portman romantic comedy from Paramount, opened to $19.7 million. What do you think of this result?

Josh Spiegel: It's a solid result for a January release, certainly. I'm not sure there's much more to say about No Strings Attached (and the quality of the film is certainly nowhere near as solid as its financial results), but the movie could have done worse. I wonder how much of the film's success can be attributed to Natalie Portman, who's going to be just about everywhere this year (she's still got three movies that will have a wide release of some kind to come). Either way, good for Paramount and good for Ivan Reitman.

Matthew Huntley: Until Josh said something, I had no idea Ivan Reitman directed this movie. Yes, good for him, because he hasn't had a hit in a long time. Not that No Strings Attached will be a box-office powerhouse, but it still means something that your movie opens at number one. In this case, a $20 million opening almost guarantees profitability since the movie only cost $25 million to produce. In the end, it will be considered a mid-level hit, but as Josh said, there's not much else to say about it. I think we're all still waiting for the first surprise hit of 2011. Granted we're only three weeks in, but still.

Bruce Hall: I think that since this film now looks like it will be profitable, it is going to be another feather in Natalie Portman's cap, and more fodder for those who already dislike Ashton Kutcher. Beyond that, it isn't anything anybody is likely to be talking about in two weeks.

Edwin Davies: It's a tad higher than I thought it was going to make, given that there didn't seem to be that much of an original hook to the film (heck, Seinfeld did this same idea back in 1991) and the ads and trailers were only sort of funny, which is hardly the most promising basis for a successful comedy. This result is probably due to a mixture of the press surrounding Natalie Portman's other film and a lack of other options.

Max Braden: That's the same as Kutcher's last romantic comedy, What Happens In Vegas, three years ago and which performed pretty well both domestically and internationally. It's also his third $20 million opening weekend, which has been his peak. So back to back, we've had two long-standing happy-hour topics of conversation in theaters: "friends with benefits," and "how do I tell my best friend his wife's a slut." Yet Vince Vaughn, who's had a number of mid to high $30 million openers, underperformed Kutcher and Portman. That makes Kutcher and Portman look good, but since some of that opening number belongs to Portman's recent buzz, I'd call it average for Kutcher and average for a romantic comedy. If it falls off after this weekend I don't think it hurts anything, and if it happens to run well then it just benefits Kutcher and Portman.

Brett Beach: I first want to say a sad eulogy for Ivan Reitman's career as it now stands (and I actually enjoyed My Super Ex-Girlfriend) and hope that one day a "From the director of..." credit may again grace a movie poster for one of his films (or worst-case, "From the father of the Oscar-nominated director of Juno.") For a low-level budgeted film, to nearly make back that figure opening weekend should never be downplayed. I would attribute the opening to the current buzz around Portman and the novelty of seeing her (for now) in a sex comedy throwing herself into the sack with wild abandon. I am not sure if I see it pulling off a What Happens in Vegas, but it should make some nice coin here with a strong supplement overseas.

Michael Lynderey: I'm actually kinda disappointed. I sort of saw this one as the second part of a one-two Portman punch, with Black Swan setting up the latter film for some potentially very hefty box office. If Portman can carry '70s-style psychosexual ballet drama to $100 million (and she will, oh yes, she will), then surely she can do very Blartian things with an audience-friendly romantic comedy, especially since she appears to be THE female movie star of the moment?

But what's happened is that No Strings Attached will end up more or less where Ashton Kutcher's Just Married was eight years ago, and it's entirely possible it won't even outgross that one even if you don't adjust the numbers. For Kutcher, that's actually kind of impressive (delivering more than a handful of $50 million grossers certainly isn't easy), but I thought Portman could really take this one to another level. Maybe if it were a better movie...

Reagen Sulewski: But then you have to ask yourself, Michael, what has Portman done that would inspire people to check her out in a comedy? For the vast majority of people, the only thing they've ever seen her in is Star Wars. Portman has more credibility and fame than Kutcher, but it's him that has the comedy chops. Maybe that changes going forward, but it's really his rep you have to compare this to.

"Academy Award winner Ashton Kutcher." You know it's coming.

Kim Hollis: With Ashton Kutcher suffering through a couple of missteps such as The Killers and Natalie Portman on the rise due to Black Swan, this seems like a good time to ask which of these actors do you believe will have a better career over the next few years and why?

Josh Spiegel: Despite my disdain for this movie, I'd say it's Portman. Her presumed Oscar win will help there, but that plus her upcoming roles in big-budget blockbusters should help boost her profile for at least the rest of this year. Kutcher's career has been the same for a long time, and his role in No Strings Attached isn't that much different from everything else he's done. Portman at least is attempting diverse roles, and succeeding some of the time.

Matthew Huntley: Definitely Portman, but success stories in Hollywood are always such isolated incidences that anything is possible (look at Cuba Gooding Jr. after his Oscar win). Who knows, five years from now, Kutcher could get his "big break" when it comes to acting and stun the industry. I think he has it in him, and, as with Portman, it will take the right director to bring it out. Remember how bad Portman was in the Star Wars prequels (there's rumors she even apologized for them), but then Aronofsky comes along and gives her the role of a lifetime and suddenly she's the new IT girl. At this time, then, the answer is Portman, but in Hollywood, that answer is always pending.

Bruce Hall: I have been a fan of Portman since her debut in Luc Besson's The Professional, a film which I still lovingly dust off from time to time. I think she's a phenomenal actress and still has far more road ahead of her than behind her. She's had a lot of press lately, but she's not a new face, and she's not just the flavor of the week - in my opinion, she's really that good. For the record, I don't think it is fair to hold the overall quality of the Star Wars prequels against her any more than we should blame De Niro for the debacle that was Rocky and Bullwinkle; all of those movies were so unspeakably bad no actor living or dead could have salvaged them. As far as Kutcher goes, I am not inclined to reflexively hate him like a lot of folks are. He's had a lot of good fortune, and he rose to fame almost immediately in a role he was seemingly born to play. Many people seem to resent this, but you can't say you'd walk away from it if it happened to you. Like Matthew, I suspect he is more talented than his reputation suggests, but how far this will take him remains to be seen. I really don't think he's anything special, but while his shelf life may have expired by this time next year, he's just as likely to stumble across a franchise role that keeps him a household name for another generation. This is Hollywood; stranger things have happened.

Edwin Davies: Portman in the short term - she's definitely going to have the bigger year considering she's already starred in two successful films and she has both Thor and Your Highness on the way - but her sudden rise to prominence is so shocking to me that I can't say with any certainty whether she will stay at this level, creatively and commercially, for very long. I know she's been around for years and her performances in the Star Wars prequels mean that she is hardly an unknown quantity, but if you had told me a few years ago, when she was starring in small scale, low impact films like My Blueberry Nights and The Other Boleyn Girl, that she would soon be a probable Oscar winner and starring in back-to-back hits, one of which is a psycho-sexual thriller about ballet, I would have laughed so hard and for so long that I'd have been put away in a mental institution. It's really stunning to me how quickly she has risen from being a well-regarded character actress to a genuine A-lister.

Max Braden: I would say Portman, too, for the short term, but I think a lot of that is due to her choice projects. Even though she's playing it loose with No Strings Attached, she doesn't come across as very approachable. Kutcher on the other hand seems unfocused but could pull out a longer career near the top if he turned his charm into something a little more serious.

Tim Briody: Easily Natalie Portman, although despite what she's got in the can and the Oscar nomination that's about to come her way, now that she's married and preggers there's always the chance she'll put family first. But anyway, did you know that her highest earning film minus the Star Wars prequels (until Black Swan passes it in a couple weeks) is Cold Mountain, something I didn't even know she was in? She's never been a draw, though that's largely due to the projects she's picked. I think the country is over Kelso and the bulk of No Strings Attached's opening goes to her credit. If she doesn't do the mom thing for a few years, look out.

Brett Beach: I feel that Kutcher is just as well known as of late for his camera ads as for his film career (and approaches the same level of endearment to me in one as in the other, which is to say not much) and unless he opts to stretch in a Butterfly Effect type role again, will either roll along in these types of parts or pursue something else. Portman is a once Oscar nominee about to become a twice Oscar nominee and branching out this year into - Star Wars prequels aside - some of the most accessibly commercial parts of her career. I don't see any way in which the next three years of her career don't trump his hands down unless a)she gives up acting entirely to be a full-time mother or b) he takes over as James Bond or some already iconic superhero.

Side comment to Bruce: It was Beautiful Girls that first convinced me of her potential for greatness (the only Besson film I can truly get into is The Big Blue).

Michael Lynderey: I believe Portman is pretty much the biggest female movie star of the moment - but the whole premise is that these moments are fleeting. Heigl turns to Adams turns to Seyfried and, in these wintry months, over to Portman. She'll keep this idea going with Your Highness and Thor, but it's really difficult to see how she can one-up herself after that. I somehow suspect that she won't go into that Bullockian world of romantic comedies, even though she'd probably be welcome to it. Something more along a Meryl Streep-type career seems like a better match.

As for Kutcher, he's been a very solid draw - on a certain level and with the right type of film - since Just Married broke out almost eight years to the day. While he's still young, and he is, he can keep playing the prototypical Kutcher slacker role, probably for most of this decade, and play it will enough (at the box office, certainly). What comes beyond that is hard to gage. At the moment, it's not looking like he's getting into that really elite club of Damons and Pitts, but he's doing well.

Reagen Sulewski: It's not really impossible that Kutcher could eventually turn into an action hero - to pick two not so random examples, look at Seth Rogen and Nicolas Cage - whereas the future prospects for a lot of young actresses really peak around the time they win their Oscar. Look at Renee Zellweger or Charlize Theron, for example. It's easy and obvious to say that Portman is more talented but that's not always going to translate into bigger roles and box office.

Obviously, we should look for a lot of nominations for The Twilight Saga: Eclipse...

Kim Hollis: What are you expecting to see from Tuesday's Academy Awards nominations? Are there any surprise nominations you think could happen in one of the major categories?

Josh Spiegel: I expect either no surprises or maybe one or two. With ten Best Picture nominees (and the ten films being almost set in stone based on every precursor), the only surprises could be Christopher Nolan not getting a Best Director nomination (I'll be angry, not surprised, if that happens, as it's happened before), or someone unexpected showing up in an acting category. The real surprise would be everything I assume is getting nominated doesn't, but there's no precedent for a movie like The Social Network or The King's Speech showing up in a lot of categories. But, okay, here's a potential surprise: Barbara Hershey gets nominated for Black Swan. It could happen; I doubt it, but you never know.

Matthew Huntley: Honestly, I'm expecting more of the same. My prediction is The King's Speech will lead with nominations, followed by The Social Network and Black Swan. These are all deserving, yes, but if I had to choose the nominations myself, I would make sure Mother and Child and The American received some. In the major categories, I would NOT be surprised to find The Fighter or The Kids Are All Right getting a nomination for Best Picture, but this is a case of just filling the ten slots. I would be surprised if Inception received nominations in any of the acting categories and I'm still wondering if True Grit is going to have better luck with the Academy than it did with the Golden Globes. It's a good movie, but it didn't stand out to me as being worthy of Oscars.

Edwin Davies: I don't want to sound like I'm just echoing everyone else, but the Awards season this year has been particularly predictable so I'm not sure if there will be any real surprises. If there are, I think it'll be of the "Justin Timberlake is nominated for Best Supporting Actor rather than Andrew Garfield" variety. Not spectacular, world-shattering upsets, just slight variations on what we have seen at every other awards ceremony over the last few months. (For what it's worth, I wouldn't be unhappy with a nod for Timberlake. He has a magnetic quality in The Social Network that is just perfect for his character.) I'd be pleasantly surprised if, say, Winter's Bone, one of my favorite films of last year, managed to sneak a Best Picture nod just to fill up the ten space, and deeply annoyed if Jennifer Lawrence doesn't get a Best Actress nomination for her work in that film, though.

Brett Beach: Having faithfully read our Power Index for the last six weeks, it certainly feels like there won't be any surprises. It all comes down to figuring out when to zig and when to zag. Still, my big "predictions" (as my nominations list shows) is that there will be multiple noms in the supporting actor category for The Social Network and that Hailee Steinfeld will pop up in Best Actress.

Max Braden: That the Screen Actors Guild put Hailee Steinfeld in the Supporting category for her nomination puzzles me a little, but I figure the Academy will mimic those nominations. The snub that comes first to my mind is I don't expect Eisenberg to get the nomination. And I know there's a lot of love for The Social Network, but I think the Producers Guild will indicate how the Oscars will go this year and The King's Speech will be the ultimate winner.

Michael Lynderey: I think the big surprises will be the snubs. A major shocker there might be coming - like a no Garfield, unfortunately, or somebody like a Lesley Manville pulling in a nomination. Beyond that, nothing will shock me, although the announcement that Ricky Gervais will be hosting the Oscars would be lovely.

Reagen Sulewski: I've sort of talked myself into betting the chalk on this one, which usually leads to being blindsided on something. My longest shot is Paul Giamatti, along with some of my Blue Valentine picks. This year more than most does feel like a year with few surprises. I guess that's what happens when you expand Best Picture out to 10.