Weekend Wrap-Up
No Strings Dominates Quiet Box Office
By John Hamann
January 23, 2011
BoxOfficeProphets.com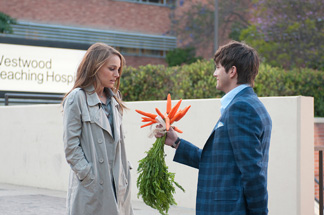 ---
With the Golden Globes behind us, and the Oscar nominations only days away, it was a good weekend to be Natalie Portman. The Golden Globe Best Actress winner went from a successful dark thriller to an R-rated rom-com in No Strings Attached, and audiences didn't miss a beat. Little else was happening at the box office, except for five films having some of the stronger box office Oscar runs ever.

The number one film of the weekend is No Strings Attached, starring Natalie Portman, a Golden Globe winner, a sure Oscar nominee, a BAFTA nominee, and a Boston Film Critic winner, along with the Dude Where's My Car star Ashton Kutcher. Certainly on the back of Portman, No Strings Attached debuted this weekend to $20.3 million, a few million more than what box office tracking was indicating. No Strings Attached opened on the most number of screens ever for an R-rated romantic comedy (it helps when it's January, and yours is the only film opening), opening at 3,018 venues, and carrying an okay venue average of $6,726. This is a decent January opening for a romantic comedy, coming in close to the hideous Bride Wars, which took in $21.1 million in January 2009, and 27 Dresses, which opened to $23 million in the first month of 2008.

The strong opening of No Strings Attached has to be attributed to Natalie Portman, as it had little else going for it. The male star, Ashton Kutcher, has not had a hit since 2008's What Happens In Vegas, but that's another title where he was saved by a strong woman - that time Cameron Diaz. Diaz opened that one to $20 million in May 2008, and brought the domestic total up to $80 million, and launched the worldwide gross into the stratosphere, as it earned $220 million around the globe.

Reviews didn't help or hurt No Strings Attached, as critics were split down the middle. Of the 82 reviews counted at RottenTomatoes, 40 were positive, leaving Strings with a middling 49% fresh rating. The trailer was cute, but didn't have the laughs of a Judd Apatow flick; still, the R-rating didn't scare anyone away. For Natalie Portman, this romantic comedy is almost virgin territory, as the actress has steered away from the genre most of her career. The closest thing on her resume might be Zach Braff's Garden State, which Portman helped make a huge winner. That $2.5 million film went on to earn $26.7 million domestically for Fox Searchlight. Regardless, Portman is now showing that she can open a film on her own, and will bring her fire to Kenneth Branagh's Thor, which opens in May.

Finishing second this weekend is The Green Hornet, last weekend's number one film. Some were expecting the Sony super-hero flick to challenge No Strings Attached this weekend for number one, and it was somewhat close as The Green Hornet earned $18.1 million its second frame, off 46% compared to last weekend. It's at this point I should note that we are coming off of a long weekend, and percentage drops tend to be higher following a weekend with a holiday Monday. Still, with zero boy competition opening this weekend, one might have thought The Green Hornet may have held better. With the drop, The Green Hornet reduces its chances at $100 million domestic, but it's not off the table just yet. However, with Jason Statham's The Mechanic opening next weekend, competition will be showing up soon. Sony's Columbia Pictures spent as much as $120 million to make The Green Hornet, a number this film won't see even if nothing was released over the next few weeks. So far, the Seth Rogen flick has earned $63.4 million, and I think it will finish with about $90 million.

Ron Howard's The Dilemma finishes third and also has a rough ride downwards. The Vince Vaughn/Kevin James flick earned $9.7 million this weekend, after opening to a disappointing $17.8 million last weekend. The Dilemma fell 45%, which isn't good news for a comedy, R-rated or not. It also doesn't help that The Dilemma cost Universal $70 million to make, a number that is a long way off for this one, at least in terms of domestic box office. Give The Dilemma $33.4 million so far.

Awards contenders take up a beautiful portion of the top ten, as we can see from our next two finishers, both audience pleasers. The King's Speech takes fourth place. After a $9.2 million weekend in the last frame, the British dramedy earned the same amount this weekend, holding steady with no drop. This result can likely be attributed to Colin Firth's win at the Globes. The Weinstein product has now earned $58.6 million.

True Grit finished fifth as it earned $8 million over its fifth weekend. It was off a larger-than-expected 27%, but will recover after Oscar nominations are announced on January 25th. The Coen Brothers flick has now earned an amazing $138.6 million, by far their biggest yet, and a slew of Oscar nominations on Monday will keep the show going. I love both The King's Speech and True Grit, as they are both good and cost efficient ($38 million to produce True Grit, $15 million to produce The King's Speech). Let the battle for Oscar begin.

Sixth goes to the other Natalie Portman starrer in the top ten, Black Swan, which has been a wide release for six weekends now, and top ten film for seven weekends. Thanks to Portman's Golden Globe win, the streak continues, with Black Swan earning another $6.2 million. It was off 26%. I'm getting tired of guessing where this one is going to end up, as I've been wrong a number of times. If anyone had guessed that a ballet movie was going to earn $83.6 million so far, I would have laughed, and if they told me it was going to approach $100 million, I would have worried about their sanity. Now, with Oscar noms just around the corner, the $13 million thriller could just make it to the top of the hill, and it still has overseas grosses to come.

Seventh goes to The Fighter, another Golden Globe winner, this time to Christian Bale and Melissa Leo in the supporting actor categories. The Fighter earned $4.5 million this weekend, and was off a slim 11% compared to last weekend. This is another small budget winner, as The Fighter cost Paramount $25 million to make, and has now earned $73 million.

Little Fockers is eighth this weekend, as this one can't slide out of the top ten fast enough (even Robert DeNiro had a few things to say about it at the Globes). Fockers earned $4.4 million this weekend, and was off 39%. It has earned $141.2 million so far.

Ninth is Yogi Bear, likely spending its last weekend in the top ten. Proving that zero thought can go into a film, Yogi has spent six weekends in the top ten. This weekend, the cartoon bear earned $4.1 million and was off 24%. The $80 million Warner Bros. cash grab has now earned $88.9 million.

Tron Legacy slips to the bottom of the top ten. The Great Disappointment earned $3.7 million this weekend, and was off 35%. It has a cume of $163.3 million.

Overall this weekend, the box office still pales in comparison with what was going on last year, when Avatar was rolling. This year, the top 12 films earned $98.2 million, where last year the top 12 brought in $128 million. Next weekend brings two popcorn flicks to the screen in The Mechanic and The Rite, but neither will likely earn more than $20 million.