Friday Box Office Analysis
By Tim Briody
January 22, 2011
BoxOfficeProphets.com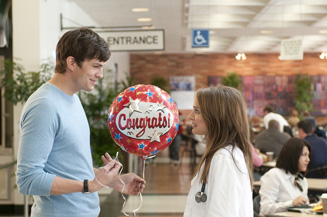 ---
[tm:5072_]No Strings Attached[/tm]

The romantic comedy earned $7.3 million Friday, which is quite a good start. The Friday number was perhaps fueled by [bp:175_]Natalie Portman[/bp]'s Golden Globe win, and that's probably the only good explanation given [bp:46_]Ashton Kutcher[/bp]'s recent cold streak and the fact that Portman has never really been a box office draw (if you throw out the Star Wars prequels and [tm:3812_]Black Swan[/tm] headed toward being her highest grossing film, her current biggest film is Cold Mountain, in which she had a small role), so we'll run with it.

There's nothing extraordinary about No Strings Attached other than the fact that its Friday might be a bit high, but there hasn't been anything resembling a date movie in a few weeks, as most audiences shunned stuff like [tm:5071_]The Dilemma[/tm] and even [tm:3856_]Little Fockers[/tm] to a degree. No Strings Attached should cruise to a easy weekend victory of $21.2 million.

Notable Holdovers

[tm:1035_]The Green Hornet[/tm] slips 54% from last Friday to $5.1 million, and that's certainly a decline that could have been much worse considering the genre and reception. Give it a second frame of $15.8 million.

The Dilemma drops 52% from a week ago to $3 million, which could probably be considered an above average hold for the alleged comedy. Call it $9.1 million and be done with it.

There is zero noticeable impact of the Golden Globes on Friday's box office, though The King's Speech, Black Swan and [tm:2570_]The Fighter[/tm] have the smallest declines among the top ten, down 15%, 28% and 21%, respectively. The King's Speech should earn $7.7 million, Black Swan should come in with $5.6 million and The Fighter with $3.9 million.