Weekend Forecast for January 21-23, 2010
By Reagen Sulewski
January 21, 2011
BoxOfficeProphets.com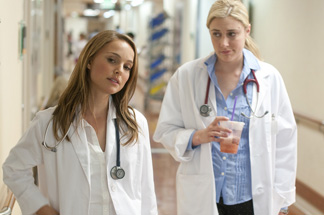 ---
We're back to just one big release this weekend after the two-headed group of star-centered films, although this time we've packed both stars into one film.

No Strings Attached features the unusual coupling of Ashton Kutcher and Natalie Portman (I guess the title She's Out Of Your League was already taken) as friends who decide they want to do the rumpy-pumpy without it becoming a whole relationship "thing". Add your usual romantic comedy trappings and you've got yourself a movie, more or less.

It's such a simple premise that it's sort of difficult to expand on, and makes you wonder how much of a movie you can build around it (though not so thin, apparently, that Hollywood can't make this exact movie twice this year). Then again, The Hangover was a premise that you could either do either terribly or fantastically as well. It's all going to depend on the talent involved. The director is Ivan Reitman, who's a long long ways from Ghostbusters here, though the role of a director in a film like this is to mostly stay out of the way. The writer, Elizabeth Meriwether, is basically unknown, with her only significant piece of work being an episode of the parody series Children's Hospital. So we at least know she has a slightly disturbed sense of humor, but that's not much to go on.

This leaves us to consider the cast, starting with the headliners. Recently minted Golden Globe winner Natalie Portman gets the top nod for the performance of Black Swan, which has defied all expectations and is headed for, well, pick a number. Kutcher, meanwhile is slumping, with the rotten Killers, and about 1/80th of the credit for Valentine's Day under his belt in 2010. The supporting cast is a a rogues' gallery of indie actors and actresses, including Greta Gerwig (Queen of Mumblecore), Lake Bell, Olivia Thirlby, Ludacris, Mindy Kaling and Jake Johnson, who will in all likelihood do most of the comedic heavy lifting. Looking at that list, we're clearly talking about the B-team here.

The ads for the film have been distinctly short on hooks, which is potentially pretty troubling – generic is the worst adjective for a romantic comedy. Essentially, I think we're looking at a somewhat raunchier, slightly more star-studded version of Going the Distance, which opened to just $9 million last September. With those additions, No Strings Attached should start with about $16 million.

Technically going wide, but just barely, is The Way Home, a film about escapees from a gulag during World War II, who walked (so it's claimed) from Siberia to India. Directed by Peter Weir, it stars Colin Farrell, Ed Harris, Saoirse Ronan and Mark Strong, but is as about as low profile as a wide-release film is likely to get. On just 650 screens, it should somewhere between $1-2 million this weekend.

There's a lot of different ways to look at The Green Hornet's $33 million weekend. It's strong for January, weak for a superhero/action-adventure film, but just about average for a Seth Rogen comedy. It's probably that last aspect that the film's performance is best judged – as there was no particular guarantee that Rogen's fans would follow him to this role. Reviews for the film weren't great but clearly weren't listened to in the first place, so I expect a middle of the road drop-off for the film to around $19 million.

I suspect things won't be so rosy for The Dilemma, a cinematic atrocity of a "comedy", which still managed to open to $17 million on the strength of Vince Vaughn and, to a lesser extent, Kevin James. Applauded by basically no one, this should drop to around $9 million.

The rest of the significant returning films are all Oscar contenders and/or Golden Globe winners of some sort – though the effects of the Globes are minuscule compared to the Oscars – which is to say they're barely going to be noticeable. That's especially true considering that both of the big winners on the night, Best Pictures Drama and Comedy, are both done their initial runs in theaters.

True Grit was shut out of the Globes, but will simply have to settle for earning close to $200 million and many, many Oscar nominations. The remake of the John Wayne western should spend another weekend in the top 5 with about $8 million.

The King's Speech seems to be gaining significant momentum at the box office, with close to $10 million last weekend, and still has lots of room for expansion (which is likely being saved for another week, with Oscar nominations incoming). A slight expansion here plus a Best Actor win should help it tread water this weekend with around $9 million.

Black Swan also took home a major award last weekend and has a small expansion in place this weekend, and has a chance for an unusual feat: a fourth straight weekend between $8 and 9 million, and a fifth overall. I think it may fall short, but not by much, with just under $8 million. Finally, The Fighter, with two big Golden Globes, could manage to stay above $5 million, but will probably be a little shy of that.