Weekend Wrap-Up
Hornet Brings The Green for Rogen and Sony
By John Hamann
January 16, 2011
BoxOfficeProphets.com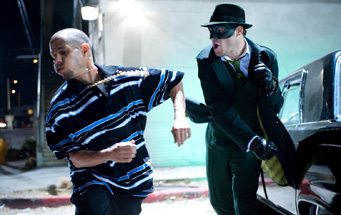 ---
Seth Rogen's The Green Hornet launched this weekend, and could have gone one way or the other at the box office. Unstable reviews plagued the Michael Gondry film, but the flick was propped up by young males who don't give a lick about what the critics say. Ron Howard's The Dilemma was in the same rocky review boat – this one with even more holes in the bottom – but had Vince Vaughn and Kevin James to keep it afloat. Could The Green Hornet match the $32.8 million put up by The Book of Eli over the same weekend last year? Could Kevin James match the $31.8 million that Paul Blart took in over the same frame two years ago? Read on to find out.

Our number one film of the weekend is Michael Gondry's The Green Hornet, starring Seth Rogen, Jay Chou, Cameron Diaz, and Oscar winner Christoph Walz (Inglourious Basterds). The Green Hornet earned a solid $34 million from 3,584 venues and had a venue average of $9,487. The superhero flick opened at midnight on Thursday and grossed $550,000 from those showings. Then, it owned Friday, taking in approximately $11 million. It held up well over the rest of the weekend, too, as its internal multiplier (weekend gross divided by Friday gross) was 3.06. This strong hold can likely be attributed to two factors. First, the Martin Luther King Jr. holiday on Monday will give Sunday a slight bit of inflation, but also, since this isn't a "superhero" with a huge number of followers, it wasn't going to have the same kind of early fanboy rush.

Sony paid $90 million for The Green Hornet, so this opening is a step in the right direction, as the film should finish with about $80 million at the US box office. The studio wisely held onto the foreign rights for Hornet, as this could be a decent sized hit overseas. While Seth Rogen is no international superstar, Jay Chou's Curse of the Golden Flower earned about $70 million in overseas cinemas, and Cameron Diaz's films tend to do better overseas than stateside.

The Green Hornet is the posterboy for Hollywood development hell, and the $90 million budget posted at IMDb does not include any of the production costs tallied during its almost 20-year journey toward the big screen. Universal was actually attached to make The Green Hornet back in 1992, and they hired Michael Gondry in 1997, years before the director made the wonderful Eternal Sunshine of the Spotless Mind (2004). Attached stars at different points included George Clooney, Mark Wahlberg, Greg Kinnear and Jake Gyllenhaal. Sony's Columbia Pictures bought the rights and brought in Seth Rogen to write a screenplay with Evan Goldberg, who collaborated with Rogen on hits like Superbad and The Pineapple Express. At that time, Stephen Chow (Kung Fu Hustle) was attached to direct and star as Kato, but dropped out, which left room for Gondry to return to the project, 13 years after he was originally signed to direct.


Originally designed to be a summer release in June 2010, and then July 2010, Sony moved The Green Hornet to Christmas 2010 so that the film could be converted to 3D. It was a bad sign for the film when the studio changed the release date to January 14th, as Sony only had the uber-flop How Do You Know opening over Christmas, and The Tourist was already three weekends old. Reviews perpetrated the rumor that The Green Hornet wasn't a great film. Of the 151 reviews loaded at RottenTomatoes, only 67 were positive, leaving the film with a 44% rotten rating. Even worse, "top critics" at the site liked it even less, with only seven positive reviews out of a possible 32, for a 22% fresh rating. With these reviews, we can expect The Green Hornet to drop off quickly in the weekends to come, with $100 million at the domestic box office pretty much out of the question.

For Seth Rogen, The Green Hornet's opening weekend is the best of his career. The opening weekend for the superhero flick does improve on some of his more recent outings, like Funny People ($22.7 million opening), Observe and Report ($11 million opening) and Zack and Miri Make a Porno ($10 million opening). It's also ahead of his Judd Apatow collaborations like Superbad ($33.1 million opening) and Knocked Up ($30.7 million opening). Next up for Rogen is voice work on the comedy Paul, with Simon Pegg and Nick Frost (Shaun of the Dead). Rogen voices the title character, an alien who crashes outside of Area 51.

Finishing second at the box office this weekend is Ron Howard's The Dilemma, the poorly received comedy from Universal. The Vince Vaughn/Kevin James comedy could not live up to the dominance of Paul Blart, but still did okay considering the bad word-of-mouth surrounding the film prior to its opening. The Dilemma took in $17.4 million from 2,941 venues and had a venue average of $5,925. Ron Howard hadn't directed a comedy since the poorly received EDtv back in 1999, and it showed, as critics massacred the project. Of the 84 reviews counted at RottenTomatoes, only 20 were fresh, leaving the comedy with a fresh rating of only 24%. The opening came in at about what tracking was expecting, but still has to be a disappointment for the studio. Vince Vaughn's last three broad comedies all opened beyond $30 million, as did Kevin James' last four films. Universal still looks to have a promising year with movies like Paul, The Adjustment Bureau and Cowboys and Aliens looming on the schedule.

Third this weekend is True Grit, last weekend's top film. The Coen Brothers' western with Jeff Bridges and Matt Damon had another strong weekend, earning $11.2 million, off only 23% compared to last weekend. Grit won't be seeing a Golden Globe bounce, as a nomination wasn't given (or purchased) to the film with the 93% fresh rating, but Oscar nominations come out January 25th, and it should be still earning about $7 million next weekend. So far, the small, $40 million Paramount release has earned a remarkable $127.4 million, and has yet to open overseas.

Fourth goes to The King's Speech, which unlike True Grit, has a boatload of Golden Globe nominations. The King's Speech doubled its screen count, expanding to 1,543 venues, and moved way up from a ninth place finish last weekend. The film earned $9.1 million, giving it a venue average of $5,878, and an 41% increase over last weekend. From an award perspective, The King's Speech is peaking at exactly the right time, with the Globes tonight, and Oscar nominations coming next weekend. So far, the $15 million flick from the Weinsteins has earned a very strong $44.6 million, and there's a lot more of that to come.

Black Swan finishes fifth, as it has another strong weekend. The Natalie Portman starrer earned $8.1 million in its fifth weekend of wide release, and held exactly steady. Black Swan is up for four Golden Globes, and a couple of wins should keep its momentum moving. The $13 million Fox Searchlight is also a big success, as it has earned $73 million so far.

Finishing sixth is Little Fockers, as the sequel is running out of steam as it loses pace with True Grit. The Ben Stiller/Robert DeNiro comedy earned $7.1 million and was off a large 47%. The comedy with the $100 million price tag has now brought in $134.2 million domestically, and over $100 million overseas. It won't be a financial disaster for Universal, but like The Dilemma, expectations have certainly not been met.

Seventh goes to Tron: Legacy, Disney's Christmas gift that had spoiled. Tron: Legacy earned $5.7 million in its fifth weekend, and was off an expected 44%. The $170 million Disney flick (I assume none of that was spent on the script) has now earned $156.9 million stateside, and over $140 million from overseas. While Disney won't wear it on this one, what could have been a strong franchise is now likely dead.

Yogi Bear, Warner Bros' shot at Alvin and the Chipmunks kind of success, winds up in eighth place. Luckily for us, that success wasn't to be, but Yogi has still made out okay. In its fifth weekend, the talking bear movie earned $5.3 million, off only 20% compared to last weekend. The $80 million 3D flick has now earned $82.1 million, and is just getting started overseas.

Ninth goes to The Fighter, Paramount's $25 million boxing drama. In wide release for five weekends now, The Fighter is still slugging it out, earning $5.1 million this weekend. It was off 27% compared to last weekend, but with six Golden Globe nominations could conceivably bounce back next weekend. So far, the Paramount release from director David O. Russell (Three Kings) has earned $65.8 million.

The Nic Cage flop Season of the Witch falls from its third place opening last weekend all the way down to tenth spot this weekend. Season of the Witch earned only $4.5 million in its second frame, and was down 58% compared to last weekend. Relativity Media's $40 million "effort" has now earned a very soft $18 million.

Overall this weekend, the box office continues to lag behind last year in a very big way. A year ago, Avatar was still dominating, and with the addition of The Book of Eli, the weekend gross was very large at $157 million. This year's totals weren't nearly as successful, as the box office tally for the top 12 came in at $115.2 million. Next weekend doesn't look all that hot – the only wide opener is No Strings Attached, another Natalie Portman starrer, this time a rom-com with Ashton Kutcher. Also opening at about 650 venues, is No Way Back, a true tale from director Peter Weir.