Friday Box Office Analysis
By Tim Briody
January 15, 2011
BoxOfficeProphets.com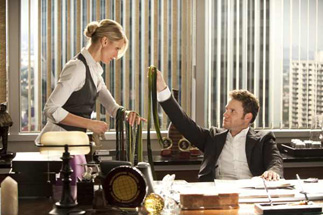 ---
It's a bromance weekend at the box office with a superhero movie and a buddy comedy clearing out much of the holiday leftovers.

[tm:1035_]The Green Hornet[/tm]

[bp:9212_]Seth Rogen[/bp]'s The Green Hornet opens to a pretty solid $11.1 million on Friday. For a B-list superhero that often gets confused with The Green Lantern, this isn't terrible at all. Its long term prospects probably aren't very good, but it's going to put in a decent opening weekend. By the way, it won't pass Eternal Sunshine of the Spotless Mind by the end of the weekend, but sometime next week it will be the highest earning film of director [bp:2173_]Michel Gondry[/bp]'s career.

Barring an abysmally bad weekend multiplier, which probably isn't likely due to that The Green Hornet isn't a top-line superhero (and even still, it's a long weekend which at the very least should push it to something in the realm of "middling"), The Green Hornet should easily win the weekend with $31.1 million.

The Dilemma

Kevin James and [bp:967_]Vince Vaughn[/bp]'s buddy comedy The Dilemma (directed by [bp:1802_]Ron Howard[/bp]?!) opens to a collective meh with $6.1 million on Friday, thanks entirely to the star power involved, because, come on, it certainly wasn't the ads that sold this one. Two years ago this weekend Kevin James opened Paul Blart: Mall Cop to $31.8 million and Vince Vaughn was coming off two straight hits as well (Couples Retreat and Four Christmases), showing that comedies need to be, you know, funny. The Dilemma should end up with a weekend of $16.8 million.

Notable Holdovers

After a weekend at the top, [tm:4948_]True Grit[/tm] falls to third, down 29% from last Friday to $3.1 million. It's just kind of biding its time until the Academy Award nominations are out. Give it a weekend of $10.2 million.

[tm:5068_]The King's Speech[/tm] doubles its screen count to 1,543 and gets a 35% bounce from last Friday to $2.4 million. This is exactly the type of film that's going to peak at the right time and be a solid box office contender for the next couple of weeks. Look for a weekend of $8.3 million.

[tm:3812_]Black Swan[/tm] also expands from 1,584 venues to 2,328 and while it falls 4% from last Friday, it's still well on its way to $100 million, which is still hard to come to terms with. Black Swan should place fifth on the weekend with $7.6 million.

Finally, last weekend's new offering, [tm:2998_]Season of the Witch[/tm], falls 67% from last Friday to $1.2 million. Everyone feel free to take a moment to point and laugh. There, that felt good, didn't it?