Weekend Wrap-Up
Season of the Witch Kills Box Office Momentum
By John Hamann
January 9, 2011
BoxOfficeProphets.com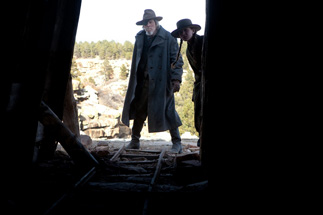 ---
Some say the early-year box office is a wasteland, but results from the last few years don't indicate that. Last year, Avatar earned over $50 million at the post-New Year box office, leading the top 12 to about $150 million. In early 2009, Clint Eastwood's Gran Torino earned $30 million after expanding to wide release, and two other films debuted to $20 million. In 2008, The Bucket List also expanded, pulling in $20 million. This year, things are different – there is no large expanding release ready to dominate the box office, and the holdovers – True Grit and Little Fockers – are in their third weekends. That leaves us with openers Season of the Witch and Country Strong, two films that aren't generating much excitement.

Our number one film of the weekend is, at long last, True Grit, starring Jeff Bridges, Matt Damon, and Golden Globe nominee Hailee Steinfeld. If estimates hold, the largest grossing Coen Brothers film moves into number one in its third weekend of release. True Grit earned $15 million and was off 39% from its previous frame. The Paramount release has to be considered the big winner of the holiday season – something very few saw coming – as this one cost only $38 million to produce, and crossed the $100 million mark this weekend. True Grit has earned $110.4 million, matching big western totals like Clint Eastwood's Unforgiven ($101.2 million domestic) and Richard Donner's Maverick ($101.6 million domestic). Grit still has to chase down 1991's City Slickers ($124 million, but it's arguably a comedy), and Dances With Wolves, which earned $184 million stateside, and another $240 million overseas. At this point, beating the domestic run of City Slickers should be no problem, but something fairly special would have to happen to beat Dances With Wolves.

Moviegoers were actually drawn to quality over the busy season, as the Coen Brothers trademark equals quality, and people responded. Given the superlative reviews Grit has garnered, I am a little surprised it hasn't gotten more awards recognition so far. With Oscar nominations still two more weekends away, it may not get that much of an Oscar bump, but I don't think $150 million is out of the question. True Grit is the biggest release ever for the Coen Brothers following No Country For Old Men ($74.3 million domestic), and gives Jeff Bridges TWO $100 million films released in December.

Second goes to Little Fockers, which steps down from number one after two weekends on top. While it won't be considered a huge failure, Little Fockers has certainly failed to match the success of the earlier films in the series, Meet the Parents ($166.2 million domestic) or the super-sequel, Meet the Fockers ($279.3 million). In its third weekend, Little Fockers brought in $13.8 million and was off a hefty 47%. The third film in the series cost Paramount $100 million to make, and has now brought in $124 million, as well as $75 million from overseas cinemas. Currently, it has a $15 million lead over True Grit for holiday supremacy, but that lead will evaporate as the weekends continue.

Third spot goes to Relativity's Season of the Witch, another in the long line of strange Nic Cage acting choices. Season of the Witch earned $10.7 million (which has to be considered a win for this dog). The film from Dominic Sena (Gone in 60 Seconds) went out 2,816 venues and had a venue average of $3,809. Season of the Witch is the first film for the studio produced in-house and distributed by the company, and it was a fairly safe bet. Season of the Witch cost Relativity $40 million to make, and they smartly sold off foreign rights to reduce their risk.

Season of the Witch is a really bad movie, but these days, when we see Nic Cage's name above the title, we don't even have to visit RottenTomatoes to know that. In the case of Season of the Witch, there is only one positive review so far out of a possible 70. The positive review calls it "frequently idiotic" and says that it's good for a "tipsy Saturday night" so I hope the check is in the mail. I had thought Season of the Witch was going to be awful, so I was quite surprised that the second review posted early at RottenTomatoes was positive – this shows how Hollywood tries to control word-of-mouth leading up to a release. One bad review comes out, and is quickly followed up by a positive one. Then, days go by with no new reviews, and then, in this case, 68 negative reviews, that we could easily call angry. It's never good when your action film is compared to Monty Python's Holy Grail.

For Nic Cage, Season of the Witch is just another in a long line of questionable choices, propped up by a couple of good ones. Prior to Season of the Witch, Cage did the questionable Sorcerer's Apprentice. His two films before that were actually pretty good – Kick-Ass and Bad Lieutenant: Port of Call New Orleans. Prior to that, he had a string of awful titles, including G-Force, Knowing, Bangkok Dangerous, Ghost Rider, Next, the National Treasure sequel, and The Wicker Man, which was 15% fresh. Prior to that, though, he did World Trade Center, which was quite good, and The Weather Man. Audiences never know which Cage will show up. Next up for the crazy one is Drive Angry 3D – I think we all know which Cage will show up for that one.

Finishing fourth is Tron: Legacy, which sees a big drop in its fourth weekend. Tron: Legacy brought in another $9.8 million in its fourth frame, but was down a severe 48%. The $170 million "effort" has yet to reach its production budget in terms of domestic gross, and is looking now like it never will. I find it completely odd that Jeff Bridges is finding success in a small film like True Grit, and not in the film that I thought (in November) was a lock for $300 million domestic. The good news for Disney is that Tron: Legacy has earned over $100 million overseas, so it won't be a complete disaster for the studio. Give it $147.9 million domestic so far.

Finishing up four spots from where it placed last weekend, Black Swan manages to swim upstream and take fifth. The Natalie Portman film earned $8.4 million and fell a tiny 6% compared to last weekend. That drop is key. After the New Year's weekend, where movie-going was strong on Saturday and Sunday due to the holiday Monday, big percentage drops are almost expected this weekend. For Black Swan (and others below) to hold this well is a remarkable feat. Let's not forget that the Darren Aronofsky film cost Fox Searchlight only $13 million to make, and has so far grossed $61.5 million – a profit films like Tron: Legacy and Yogi Bear can only dream of. Black Swan is on an awards season roll, and I won't even hazard a guess as to where this one will end up.

Sixth goes to Country Strong, starring for some strange reason, Gwyneth Paltrow (was Taylor Swift busy?). Country Strong, which for some strange reason opened in limited release for Oscar qualifying, expanded to 1,424 venues this weekend, and earned $7.3 million. It had a venue average of $5,126. Country Strong is from Screen Gems, which failed on the musical front earlier in 2010 with Burlesque. The good news for Screen Gems is that they went back to their business model for this one, spending little ($12 million), and looking only for moderate success. Country Strong was not a win in the minds of critics, as this one only had 13 positive reviews out of a possible 76, giving it a 17% rotten rating. However, considering the reviews, Screen Gems has to be somewhat happy with the venue average, even if further expansion is not recommended.

The Fighter finishes seventh this weekend, and also has a decent hold. The Mark Wahlberg/Christian Bale film earned $7 million in its fourth weekend of wide release and dropped 30%. Like Black Swan, The Fighter is riding the awards wave. This one cost Paramount only $25 million to make, and the David O. Russell flick has turned in $57.8 million so far. The Fighter and Black Swan are easily the big winners of the holiday sweepstakes – they may not be huge films with hundreds of millions in revenue, but their profitability may push Hollywood toward more quality films. Please?

Eighth place goes to The King's Speech, another award contender that had a solid holiday season, albeit on an even smaller scale than The Fighter and Black Swan. This weekend, The King's Speech added 58 more venues to bring its run up to 758 screens, and the Colin Firth film earned $6.8 million. It had a strong venue average of $8,986. Like its award brethren, the budget here is low ($15 million), and the success apt to be huge. The King's Speech may be a front-runner for Best Picture, and with a win, this small picture could turn into an even bigger success. The King's Speech is 95% fresh at RottenTomatoes, and has negative reviews from all the right people (Hi Armond!). Give The King's Speech $33.3 million so far, with much more to come.

Yogi Bear manages to hold onto a top ten spot this weekend, but the animated 3D flick drops hard. Yogi and friends earned $6.8 million and dropped 45% compared to the previous frame. The $80 million Warner Bros. film has now earned $75.6 million.

Finally in tenth is Tangled, Disney's now seven-weekend-old animated musical. The $260 million production earned $5.2 million in what is likely its last weekend in the top ten, and dropped 47%. It has a domestic cume of $175.9 million, and has earned $150 million overseas.

Overall this weekend, the box office is way down in the first weekend in 20011. The top 12 earned only $100.2 million, which pales in comparison with last weekend ($148.6 million) and last year ($148.5 million). Things will improve next weekend, the question is by how much. Openers include The Green Hornet with Seth Rogen and Cameron Diaz, and The Dilemma with Vince Vaughn and Kevin James.