January 2011 Forecast
By Michael Lynderey
January 8, 2011
BoxOfficeProphets.com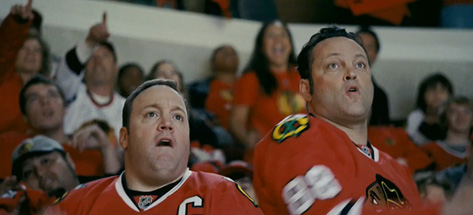 ---
We begin the year with a rather bare-bones month, what with a mere seven wide releases (the lowest per capita tally in a long time, and the least busy January since 2005). There are some opaque indie curios floating about (Evangelion 2.0, Ong-Bak 3, Ip Man 2), and Oscar leftovers like The Way Back and Barney's Version and The Company Men, but the leaders of the pack are the three members of the comedy trifecta, and boy, are they hungry.

1) The Dilemma (January 14, 2011)
Smart thinking on this one: a film that might have otherwise anchored a summer weekend is instead placed into the desolate but increasingly lucrative landscape of the first days of a new year, where it could maybe be even bigger. The genealogy of this project is quite august: the direction is by stalwart Ron Howard, and the leading men easily rank among the top five comic actors of the moment. Indeed, Vince Vaughn's record for opening these is meticulous, and the presence of Kevin James on the almost-biennial anniversary of the day Paul Blart made history (no, really, it did) was not made in coincidence. So, it's clear that I think quite highly of the star power of both Vaughn and James... and yet... and yet... I don't know. Is the idea here really attention-grabbing enough to earn this three digits (guy sees best friend's wife cheat)? Could the mega-watt cosmic movie star energies of both James and Vaughn cancel each other out somehow? Winona Ryder and Jennifer Connelly are nice to see in the supporting roles here, but they just don't give me the clue on this one. I'm probably wrong in not pre-emptively adding this into the January one hundred million dollar hall of fame, but then again, I always am.

Opening weekend: $34 million / Total gross: $83 million

2) No Strings Attached (January 21, 2011)
Speaking of blockbuster comedies: here's an honest challenger to The Dilemma's assumptive throne. And I really mean that. Something about this project just seems very right to me, like the box office overlords had unknowingly assembled all the needed ingredients for a massive coup. First among these is the film's most obvious asset: Natalie Portman, in the throes of media overglare, public interest, and in between a nearly uncontested Oscar primary run and a few big-budget blockbusters on the horizon (Thor?). With all that in the air, doesn't it make sense that people just finally want to see her in a role like this, where she's having fun and nothing is taken too seriously? For a change? And isn't Ashton Kutcher the logical foil for this enterprise? (consider also he's rarely starred in a box office disappointment). So, maybe I'm overestimating, but young people have little else to see, and there's the air of a big draw coming from this one. One roadblock: how good the movie will be, which is still up in the air. But we'll cross that bridge when we get there, I think.

Opening weekend: $35 million / Total gross: $82 million

3) The Green Hornet (January 14, 2011)
What to make of The Green Hornet is a wonderful question with no right answer. Here's a summer action film pushed from the throes of mid December into the banes of the next year, and considering the evident lack of competition, that was a plus. It's also a mainstream superhero picture retooled into a much goofier film (to be fair, with a decent amount of explosions), and with Seth Rogen at the helm, it's been cast from the comedic world rather than the serio-dramatic (up next: Will Ferrell as Aquaman?). With those unusual credentials, the picture doesn't seem to have come off too badly: the trailers highlight it as a none-too-serious action movie, it's got Christoph Waltz, in the first chapter of his great 2011 tour of villainy, and Cameron Diaz is bringing along some old-school star power. So do we have a hit here? Under the circumstances, and if the fans don't revolt, it's all leaning towards that.

Opening weekend: $24 million / Total gross: $64 million

4) The Rite (January 28, 2011)
The one outright horror picture of the month is contained here (gee, you don't think this January has so few films because the other four horror movies all got pushed back?). The trend being embodied here is naturally the exorcism film, a genre unloved by me and possibly countless others, but one that has surfaced recently in prolific enough fashion (how was The Last Exorcism?). For his part, star Anthony Hopkins appears to be growing comfortably into being a featured player on the horror show (and indeed, would have made an excellent replacement for Donald Pleasence in the Halloween movies), and the rest of the cast is filled ably with English-accented supporting players. All in all, there's not a strong element of a draw here, but it's January, it's a horror movie, Skyline sucked, and so what else are fans of the genre supposed to occupy their time with?

Opening weekend: $17 million / Total gross: $38 million

5) The Mechanic (January 28, 2011)
Mr. Jason Statham makes his return to the Lionsgate action extravaganza (it hasn't been that long, though, frankly), and what we have here is a remake of a 1972 Charles Bronson film. Much of the plot and even the character names appear to have been retained from 38 years past, not that there were enough rabid fans of the first film to complain. Ben Foster, Oscar-buzzed about last year for The Messenger, is an intriguing addition into the fray, but Statham box office is - as Statham box office does, and anything over $40 million isn't usually in the cards. For now.

Opening weekend: $15 million / Total gross: $36 million

6) Season of the Witch (January 7, 2011)
Bad news: it's not a remake of the 1972 George Romero film, nor a reimagining of Halloween III (and as seemingly that film's only fan, I am very disappointed). Nicolas Cage and Ron Perlman suit up as medieval buds escorting the title character through the desolate landscape, while epic battle scenes erupt in the canvas of the background. Such is life. Once upon a time, man travailed with witches through the wilderness, but now, man only gets to sit at the computer room and write about actors doing it. What more to say? Cage is a good actor. So good, that he brazenly chooses material like this, when he could be starring in some tawdry Oscar nominee. But hey, it's January, so why not relax and have a little fun, even if that won't get us anywhere at the box office. Probably.

Opening weekend: $11 million / Total gross: $32 million

7) The Company Men (January 21st?)
This one is expanding after the tiniest of little awards qualifier runs (a run that would appear to have done it no good, judging by its absence from the ballots). And it's got some very good reviews and a nice cast, like Ben Affleck, Maria Bello, Tommy Lee Jones, Chris Cooper, and the esteemed Kevin Costner. Cool. I don't see it doing that well at the box office, especially not with corporate downsizing being the big deal here, but it certainly has a lot of room to breathe on this list. Don't worry, though. Come February, it's payback time for fans of quantity.