Weekend Wrap-Up
True Grit, Little Fockers Duel Into the New Year
By John Hamann
January 2, 2011
BoxOfficeProphets.com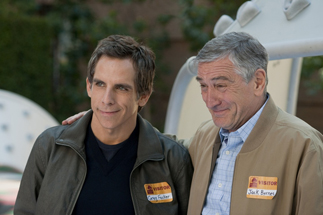 ---
Unlike the Christmas weekend at the box office, it was no easy win for Universal's Little Fockers at the box office. True Grit actually managed to move ahead of those Fockers on New Year's Eve, but then was relegated to the cheap seats for the rest of the weekend. There were many winners and losers compared to the Christmas week, and with no new openers to talk about, let's figure out who's winning and who's not.

Our number one film of the weekend is Little Fockers, but it's neck and neck with True Grit, and the order of the top 12 may change tomorrow, when actuals come out. After winning the Christmas weekend with a $30.8 million, three-day gross, Little Fockers was looking to improve on last weekend's haul of $30.8 million, but failed to do so, as it earned $26.3 million over the New Year's weekend. This is a very similar situation to what happened to Meet the Fockers in 2004 – the first sequel was in its second weekend and fell 10% - Little Fockers fell 15%. True Grit is moving the opposite way. After earning $24.9 million over its opening frame last weekend, the Coen Brothers western held very well, earning $24.5 million over the New Year's weekend. It dropped only 1%, and really has to be considered the big winner of the holidays. I must say I was looking forward to True Grit, but thought it would perform more in line with No Country for Old Men, and finish (in March) with about $75 million. This is not the case, as the Coens have their first bona fide blockbuster. Production costs for True Grit came in at less than $40 million ($60 million less than Fockers, $160 million less than Tron: Legacy). It has grossed $86.8 million so far. Little Fockers has earned $103.2 million, and could finish with less than True Grit. Who would have called that two weeks ago?

In third and fourth are two very bad movies, Tron: Legacy and Yogi Bear, that are moving in very different directions. A weekend ago, Tron trounced Yogi by a little more than $10 million, but fortunes are changing for both. Tron: Legacy finished third this weekend, but that's really where the good news ends. Tron earned $18.3 million, and despite being a kid-friendly flick, fell 4%. Yogi Bear, on the other hand, earned $13 million this weekend, and increases over last weekend by 66%. The biggest differences between these two pictures are production costs, and expectations. Tron: Legacy was highly anticipated, and cost Disney $200 million to make. For those that have seen it, you know expectations were clearly not met, and if you are like me, you wonder if the movie-makers had even seen the first film. Yogi Bear cost Warner Bros. $80 million to make, and as for expectations, this is Yogi Bear – a movie about a talking bear who hunts picnic baskets (enough said). In the end, totals for both will likely be a wash versus their production budgets, as Tron has earned $130.9 million, and Yogi Bear $66.1 million.

The Chronicles of Narnia: The Voyage of the Dawn Treader finishes fifth, and owes a lot to the holiday season for its limited success. Over New Year's weekend, The Dawn Treader earned $10.5 million, an increase of 11% versus last weekend. The $155 million Fox release has now taken in $87.1 million domestically, but also has $186 million earned overseas.

Tangled – now six weekends in at the box office – finished sixth this weekend, up one spot from where it finished last weekend. Tangled earned a remarkable $10 million this weekend, increasing over the last frame by 56%. While this weekend's news is good for Tangled, we have to remember that it cost Disney $260 million to make. A few weekends ago, I never thought this one would be profitable; however, with a domestic gross of $168 million so far, and a foreign total of $118 million, Tangled will either finish as a win for the Mouse House or as a wash. A very different film comes up in seventh place, as The Fighter earned $10 million, a 31% increase over last weekend's total. Made for only $25 million, The Fighter has already earned $46.4 million against that tiny production budget.

Gulliver's Travels held steady in eighth place, earning $9.1 million this weekend versus $6.3 million last weekend. That gives it an increase of 44%. Gulliver is going to need a large amount of help overseas, as it has a domestic cume so far of $27.2 million, against a $112 million production budget. The smaller films seem to be where the money is this holiday season, as both The King's Speech and Black Swan have proved. Black Swan earned $8.5 million, and had an increase of 35% over last weekend. The Darren Aronofsky flick cost Fox Searchlight $13 million to make, and its brought in $47.4 million so far. The King's Speech is tenth, despite appearing at only 700 venues. The film with Oscar on the tip of its tongue earned $7.6 million this weekend, a hefty increase of 70% over the previous frame. The Colin Firth pic cost the Weinsteins only $15 million to make, and it's already brought in $22.8 million. This one could really be huge if Oscar is friendly and international audiences catch on.

Overall, the box office was up versus last weekend, but had absolutely no chance of matching what Avatar and friends did last year. Over the Christmas frame, the top 12 earned $132.2 million. This weekend, the top 12 managed $149.7 million, despite zero new films entering the fray. A year ago, Avatar propelled the top 12 to $209 million. Next weekend, things get back to normal – Nic Cage opens what looks to be a really bad film in Season of the Witch, and Gwyneth Paltrow sings in Country Strong. Check back next weekend to see if Season of the Witch can erase Bangkok Dangerous from our collective memories.