Weekend Wrap-Up
Little Fockers Grits Out Victory
By David Mumpower
December 26, 2010
BoxOfficeProphets.com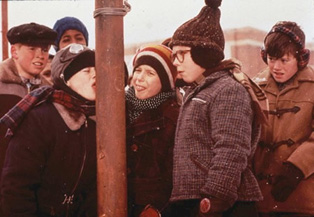 ---
Christmas week is among the most lucrative weeks on the box office calendar and 2010 has been no exception. Since Wednesday, three new movies have entered the marketplace while two others have expanded into wide release. All five of these titles did well on their own merits, but the winner has proven to be the latest release about the Focker family. How festive.

Six years after the release of Meet the Fockers, arguably the most popular comedy in modern box office history, Universal Pictures has released its sequel, Little Fockers. That movie finished in first place over the Christmas holiday weekend with an estimated $34.0 million, which raises the threequel's five-day box office total to $48.3 million. For those of you reading the Twelve Days of Box Office columns here at BOP, that total is a few million higher than expected, a good sign for all involved. For those of you who are primarily interested in comparisons to Meet the Fockers, the news is less positive. That movie earned $70.5 million over the same five-day time frame including $46.1 million during its opening weekend. In other words, Meet the Fockers managed in three days what Little Fockers needed five days to accomplish.

What we can take from the above is the obvious. Little Fockers was highly unlikely to approach the pace of its predecessor. A five-day total that is just over two thirds of Meet the Fockers is a solid follow-up. The measurables aren't great by any stretch. The weekend per-venue average of $9,620 isn't that exciting even if we factor out the negative impact of Christmas Eve falling on a Friday. Still, a $48.3 million five-day holiday performance for a title with a $100 million production budget is more than respectable. By this time next week, Little Fockers will have earned back its budget despite some of the worst reviews of the year. The film currently sits at 11% fresh at Rotten Tomatoes with 4% of top critics enjoying it. Yes, this means that 24 out of each 25 respected critics hate the movie. And it's still going to be one of the biggest hits of the season. There is no clearer way to identify a much beloved franchise than this.

The real winner of Christmas week technically finishes in second place for the weekend. True Grit, the Coen Brothers re-make of the movie that won John Wayne his only Academy Award, is hitting on all cylinders right now. The recipient of rapturous reviews and multiple end of year awards, True Grit has become a first for the Coens, a bona fide box office blockbuster. The movie earned $25.6 million over the weekend and has a running total of $36.8 million after five days.

To put this performance into perspective, consider that only four previous Coen Brothers movies have earned a larger total. The quickest prior release of theirs to $36.8 million, Burn After Reading, needed 11 days. Their overall most lucrative domestic performer, No Country for Old Men, did not reach $36.8 million until it had been in theaters for 45 days. True Grit is absolutely scorching those performances and could feasibly be the most popular Coen Brothers movie by the first week of January. This will be their first $100 million blockbuster, a long overdue achievement.

Third place this weekend goes to Tron Legacy, which fell 54% to $20.1 million. The Disney release has a running total of $88.3 million after 10 days in release. Factoring in the discussion above, this is a very good week to be Jeff Bridges. The Dude has two of the top three movies during the most lucrative period on the box office calendar. Those twin titles earned $45.7 million in three days as well as $81.1 million this week with True Grit only being in release five out of the seven days of Christmas week. Jeff Bridges just had an Avatar-like December box office week. And the next week will be as good if not better.

Rounding out the top five are The Chronicles of Narnia: The Voyage of the Dawn Treader and Yogi Bear. The third Narnia feature fell a modest 13% to $10.8 million thanks to the magic of holiday box office inflation. Even with that benefit, its running box office total of $63.9 million would be politely described as modest for a $140 million production. Yogi Bear is suffering a similar fate. Another $8.8 million this weekend, a drop of 46% from its debut, gives the $80 million production current box office of $36.8 million after 10 days. That poor bear will have to declare bankruptcy before he can buy any more picnic baskets. Wait, he steals those, doesn't he? So, this is a fitting fate for a thieving bear.

Sixth and seventh place this week go to one of last week's popular platformers and this week's only Christmas Day debut. The Fighter, which expanded from 4 to 2,503 venues last weekend, held okay but not spectacularly well this weekend with $8.5 million, a 30% decline. The awards contender has respectable current box office of $27.6 million, which is the good news. The bad news is that it looked like it may be on a better pace after last week's impressive expansion.

Finishing in seventh is Gulliver's Travels, which did have the disadvantage of being in theaters for only two days. And yes, that does mean that half of its weekend box office is estimated. Assuming the estimate is sound, the Jack Black comedy earned $7.2 million in two days. Poorly received even by Survivor: Nicaragua contestants who hadn't watched television in a month, Gulliver's Travels has always felt like it was being dumped on the end-of-2010 schedule. And while a 21% fresh rating is not Little Fockers-esque, it does nothing to refute those opinions. This one will have another week of holiday inflated box office then it will join Year One in the Jack Black Should Choose Better Scripts wing of 2000s cinema.

Rounding out the top ten are Black Swan, Tangled and The Tourist. Black Swan has risen as The Fighter has tapered off a bit. Black Swan has a better hold of 21%, giving it a $6.6 million weekend as well as a per-venue average of $4,530 as opposed to The Fighter's $3,385. Then again, in roughly a thousand fewer exhibitions, it should have a higher per-venue average. It's just a data point to note at the moment as we track both films. As for Tangled, it follows the tradition of many Thanksgiving winners that earn a bit of new life during the December holiday season. $6.5 million this weekend represents a decline of only 26% from last weekend, giving the hair-y tale (I'm so, so sorry for that) a running total of $143.8 million. It will cross $150 million by New Year's Eve. As for The Tourist, all of the Golden Globes bribes in the world aren't going to save it. $5.7 million this weekend gives it a running total of $41.2 million, which doesn't even cover the salaries of the leads in this $100 million production. This is a project that looks perfect on paper but alas, movie productions are mercurial. Even Johnny Depp and Angelie Jolie making out won't always prove to be entertaining...at least not in a movie.

Total estimated box office for Christmas weekend 2010's top twelve movies is $142.7 million. This tally is a drop in the box office bucket compared to 2009's $259.9 million. Last year was anchored by two blockbusters in Sherlock Holmes and Avatar, the biggest movie ever. And as I said last week, we have to neutralize comparisons a bit to account for this. Still, the mediocre box office performance of Christmas weekend 2010 is reflective of what was always perceived as a disappointing batch of would-be blockbusters. Even 2008 managed $179.6 million from its top twelve. Since there will be no new releases next weekend, we'll be looking at more of the same over the next seven days.