The Twelve Days of Box Office
Daily Box Office Analysis for December 22, 2010
By David Mumpower
December 23, 2010
BoxOfficeProphets.com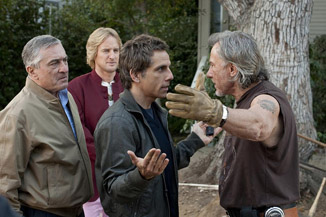 ---
Two new movies opened in the marketplace on Wednesday. One of them was the third film in a massively popular comedy series. The other was the latest feature from the Coen Brothers. Stating the obvious, expectations were high and interest was piqued by these releases. So, what happened?

Little Fockers had the highest expectations as the sequel to the $279.2 million behemoth that was Meet the Fockers. In a strange happenstance, the third movie in the franchise opened six years to the day after the second one. That makes comparisons easy to make and hard to ignore. Yes, Little Fockers was the number one movie on Wednesday. No, it did not come close to matching its predecessor. A $7.2 million debut for Little Fockers represents only 60% of Meet the Fockers' Wednesday debut of $12.1 million. Perhaps we've gone a Focker too far.

Before you start writing your angry feedback, let me try to place this performance in perspective. No one was realistically expecting Little Fockers to match Meet the Fockers (Three paragraphs in, I think I speak for all of us when I say I'm already tired of the word Fockers…see, it's apparently funny because it sounds like, well you know.). The gap between the opening days of each title is triggering some alarms. Meet the Fockers had the worst opening of the three films in this series. Meet the Parents debuted to $8.6 million back in 2000. Yes, that was on a Friday, but once we factor in ticket price inflation, the disparity raises an eyebrow.

The way we will be able to determine the progress of Little Fockers is straightforward. What we know from having the matching calendar configuration for Meet the Fockers (it was released in 2004, conveniently the last time Christmas fell on a Saturday) is the following. From December 22 to December 26, 2004, the five-day opening period of its release, Meet the Fockers accumulated a whopping $70.5 million. Ergo, 17% of its five-day opening revenue was attained on opening day. From that point, Meet the Fockers bumped up slightly (2%) to $12.3 million Thursday fell back on the Christmas Eve anti-holiday (we discussed this phenomenon yesterday) to $7.2 million before attaining its best day of $19.5 million on Saturday then effectively matching it with $19.4 million on Sunday. Have you got all of that? The movie started strong, maintained on Thursday, was negatively impacted by Christmas Eve, recovered on Christmas Day and finally maintained on the day after Christmas. That's the pattern of behavior we should expect from Little Fockers.

Mathematically, what we can take from the above is that Little Fockers winds up with roughly $42.4 million over the five-day holiday. Keeping in mind that BOP is devout in our belief that it's foolhardy at best to draw such conclusions from a single day of performance, the why of this is simple. If 17% of the revenue for Meet the Fockers came on opening day and Little Fockers mimics this behavior, we simply use the same formula and plug in the $7.2 million debut. Of course, we will know almost immediately whether or not this model holds for Little Fockers. It should earn somewhere in the range of $7.3 million on Thursday then $4.2 million on Christmas Eve. So, if Little Fockers does better than $11.5 million on Thursday and Friday, it's beating the pace of its record-breaking predecessor. If it does worse, it will probably fall short of $40 million for the five-day period. These are the markers to track as we move forward.

True Grit is a different beast. The box office history of the Coen Brothers is all over the place. They've never had a $75 million film although No Country for Old Men got all the way to the finish line in that regard with $74.3 million. Along with Burn after Reading, the Coens have only had these two features earn north of $50 million. Conversely, six of their releases failed to earn $10 million domestically. Those are Blood Simple, Miller's Crossing, Barton Fink, The Hudsucker Proxy (my personal favorite of theirs), The Man Who Wasn't There and last year's A Serious Man. Yes, most of these smallish performers came from the mid-90s and before with The Man Who Wasn't There released in 2001. That means that over the rest of the 2000s, only A Serious Man has been a box office non-factor. Meanwhile, their two releases prior to it are their two most successful in their careers. They're trending up. And True Grit reeks of quality. Expectations for it are off the charts.

Those expectations were largely met on Wednesday as True Grit debuted with $5.5 million. And yes, I appreciate the oddity in defining Little Fockers as a disappointment by earning $1.7 million more. That's how the evaluation process works. Everything is relative. If Steve Spielberg opens a movie to $50 million, everyone stifles a yawn. If Uwe Boll does it, well, the world probably ends. The point is that by Coen Brothers standards a $5.5 million first day is strong. That number bests the debut of Intolerable Cruelty or The Ladykillers, two Friday openers that managed double digits on opening weekend. $5.5 million is also a better single day of box office than No Country for Old Men attained during its entire domestic run. It never exceeded $3.1 million yet still wound up as their most lucrative performer. That's good news for True Grit, the film I consider to be a co-favorite to win Best Picture at the Academy Awards.

I will go into them in more detail over the next few days, particularly starting next Tuesday. In the interim, the openers tracking we discussed yesterday will be analyzed briefly. The model we are using for Tron: Legacy, Lemony Snicket's A Series of Unfortunate Events saw a Wednesday of Christmas week decline of 10.4%. Note that this is not the least bit unusual for Wednesday behavior of in-release titles during Christmas week. You can tell this by scrolling to the chart at the bottom of the column. You'll note that only one out of the eight movies listed (that didn't come out on Wednesday) saw a Tuesday to Wednesday increase. Everything else dropped at least somewhat. Tron: Legacy fell victim to this fate, declining 11.3%. Its Monday-Wednesday revenue of $18.0 million represents roughly 67.8% of its Saturday/Sunday performance. The percentage hold for Lemony Snicket was 63% under the same guidelines, meaning that Tron: Legacy continues to hold up better overall.

In big picture terms, what we learn from this information is simple. Lemony Snicket's A Series of Unfortunate Events opened to $30.1 million and wound up with domestic revenue of $118.6 million. That's a final box office multiplier (final domestic revenue divided by opening weekend revenue) of 3.94. Thus far, Tron: Legacy is ahead of that pace. This is good news, because a 4.0 multiplier, one that sounds good in theory, would mean final box office of $176 million for Tron: Legacy. It needs to do better than that. In fact, the line of demarcation is 4.55. That's the amount that would get Tron: Legacy to the $200 million level it needs to reach to be considered a draw domestically. Part of the process in monitoring the 12 Days of Box Office will be determining whether this happens.