The Twelve Days of Box Office
Daily Box Office Analysis for December 21, 2010
By David Mumpower
December 22, 2010
BoxOfficeProphets.com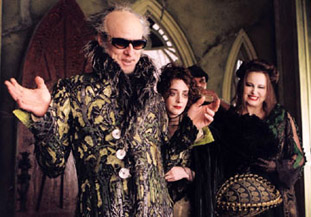 ---
Welcome to the tenth annual daily box office analysis for the December holiday season. Whereas we had a unique calendar configuration last in 2009, this year finds us a relatively straightforward one. With Christmas Eve and New Year's Eve on Fridays and Christmas and New Year's Day on Saturdays, weekday box office we will examine in the Monday-to-Thursday range will not be affected any by holiday-specific behavior.

For those of you new to the process, the time frame of the week before Christmas to the third day of January is the most lucrative box office period on the calendar. The end result of this is that most films will experience daily revenue on a par with a Friday, sometimes even a Saturday. So, we are looking at a 12-day period wherein all films in release experience a run of a dozen consecutive Fridays, give or take a bit. This is a blueprint example of a rising tide lifting all boats.

As we discuss each December, the key to anticipating box office behavior for the titles in release is the calendar configuration. The "holidays falling on Fridays/Saturdays" one mentioned above was last seen in 2004. There are other similarities as well. In 2004, the only heavyweight box office contender at the start of Christmas week was an underperforming big budget title, the movie adaptation of Lemony Snicket's A Series of Unfortunate Events. That title underwhelmed with a $30 million opening and had fallen out of first place by the following Wednesday. History should repeat itself in 2010 as Tron: Legacy debuted to an okay $44 million; it appears likely to fall out of first place with the release of Little Fockers on Wednesday.

2004 also had a significant disparity between the movie in first place and the other debuts that weekend, Spanglish and Flight of the Phoenix. The gap between Tron: Legacy and the other new releases, Yogi Bear and How Do You Know, is quite like 2004. In short, the first two weekdays of the holiday box office period should behave in eerily similar fashion to the last time we had this particular calendar configuration. So, did they?

Tron: Legacy fell from $11,480,261 on Sunday to $6,002,804, a decline of 47.7%. It then bumped up a bit on Tuesday to $6,350,783. That's a daily increase of 5.8%; this total also reflects 55.3% of Sunday's box office. The combined Monday/Tuesday total of $12.3 million is 7.1% more than its Sunday total. On the surface, these numbers mean absolutely nothing to anyone. This is where the modeling process comes into play.

What we want to do is compare the (thus far) underachieving number one film of Christmas week 2010 to the underachieving number one film of Christmas week 2004. Would this process work every time? Of course not. The number one film for Christmas week of December 2015 almost certainly will not be a valid comparison for the number one film for its most recent Christmas Day-on-a-Friday calendar configuration. That would be the Avatar model and that particular model breaks the mold. Even so, a surprisingly large percentage of the models in place for prior December holiday box office have held up over time.

The explanation for this is that while the movie industry may change dramatically over the course of just a few years, consumer behavior does not. We as a people celebrate the holidays in largely the same way each calendar cycle. If Christmas is on a Tuesday, we plan accordingly; if it's on a Saturday, as is the case this year, we adapt to that, and so on. Independent of the movies themselves, movies are still consumed in the same patterns by their customer base. Long time readers know that this behavior holds for periods such as President's Day, Martin Luther King Junior's birthday, July 4th and the December holiday period. The last two mentioned in the previous sentence are a bit unique in that they are not automatically slotted on a weekend, meaning that their celebratory period can occur on any day of the week.

This behavior is exactly what makes the July 4th, Christmas Eve and New Year's Eve box office days so fascinating. These are holidays during which people ordinarily have other plans such as parties, fireworks, drunken hook-ups, and travel. For over a decade now, BOP has preached about the x-factor of free time as an explanation for why movie box office revenue increases dramatically on holidays. When consumers make plans for other activities, they do not have that x-factor of free time that is requisite for movie-going. As such, those three holidays operate as box office anti-holidays in that revenue is down rather than up. Oddly, Christmas Day and New Year's Day will not be adversely affected by such behavior and will in fact experience huge box office revenue.

Now that you have the meta view of the situation, let's circle back to the earlier Tron: Legacy data, tying in the 2004 Lemony Snickets model. That title earned $8.3 million on Sunday then fell 47.1% to $4.4 million on Monday then dropped again to $4.2 million on its first Tuesday in release. That Tuesday total reflects 50.6% of the movie's Sunday earnings. The combined Monday/Tuesday total of $8.6 million represents 3.6% more than its Sunday single day box office of $8.3 million. As a reminder, the Tron data listed above was a Monday decline of 47.7% (almost identical to Lemony Snicket) then an increase of 5.8% on Tuesday (much better than the 4.5% drop of Lemony Snicket). The particularly noteworthy numbers are the Sunday-to-Tuesday retention rate of 55.3% for Tron: Legacy as opposed to 50.6% for Lemony Snicket. Similarly, Tron: Legacy's 7.1% increase from Sunday to combined Monday/Tuesday revenue is better than the 3.6% experience by Lemony Snicket.

Thus far, we can draw two conclusions from the data available. The first is that Tron: Legacy is performing somewhat similarly to its 2004 blockbuster counterpart, Lemony's Snickets A Series of Unfortunate Events. Its Monday behavior was eerily similar but then Tron: Legacy held up much better on Tuesday. This leads to the second point. After five days of box office, Tron: Legacy is outperforming its 2004 modeling. Is this a one day glitch or the beginning of a trend? The answer to that question will go a long way in determining whether Tron: Legacy becomes a domestic winner or remains what it appeared to be after its opening weekend, a draw for Disney relative to production budget.

Over the course of the next several days, we will evaluate all of the titles in wide release. Tomorrow's column will have a different main topic, however, as the Little Fockers is released into theaters. This is the sequel to arguably the most popular comedy of all time, Meet the Fockers, a $279 million winner from…Christmas week of 2004.