Weekend Forecast for December 24-26, 2010
By Reagen Sulewski
December 22, 2010
BoxOfficeProphets.com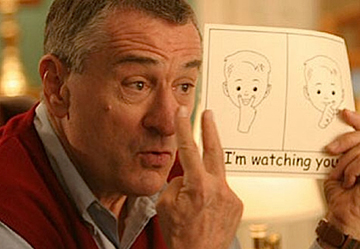 ---
So here we are, the final weekend of the year with new releases of 2010, and a year that's been dominated by family releases gets a little more family content. Thanks, Ben Stiller, for ruining yet another Christmas!

Six of the top ten films of 2010 carry PG ratings, which, if it holds up, would be the most since 1985 and the invention of the PG-13 rating. Clearly family movies are hitting the mark this year. While Little Fockers may not technically qualify as a family movie with its PG-13 rating, its subject matter makes it "family-adjacent." Following 2000's Meet the Parents and 2004's Meet the Fockers, Little Fockers tests the boundaries of quasi-profanity-based comedy and makes us all weep for the remains of Robert DeNiro's career.

This third film is all about the kids and the passing of the torch of the patriarchy from DeNiro's character to Stiller's, though really it's all an excuse to hang together a bunch of contrived slapstick gags based on misunderstandings that Three's Company would have been embarrassed to exploit. There's just about every hacky joke in the book in this one – from boner jokes, to turkey carving accidents to rehashed catch phrases. If what you want out of Little Fockers is Meet the Parents stripped of its parts like a stolen Dodge Charger and then presented as a shadow of itself, then you're in luck.

As it happens, that's what most people do want out of Little Fockers, because, dammit, they've already seen Harry Potter and Grandpa doesn't want to see Tron. The continued success of Two and a Half Men proves that pandering works in entertainment. This series seems to be following an augmented Austin Powers model in both box office and progression of quality, with the first film opening to $28 million and winding up with $166 million, and Parents opening to $46 million and ending up with $279 million.

Just by happenstance, we have a nice comparison for the last time the calendar configured this way for Christmas. In 2004, Christmas Eve also fell on a Friday, and the lead film of that weekend was...Meet the Fockers, which opened on a Wednesday to $70 million over five days. Weekend openings have slowed their growth for mid-tier films so I don't expect a huge increase over that figure here, though some increase is warranted just for six years of inflation. Look for a three-day figure of $52 million and a five-day total of $79 million.

Week Two of Jeff Bridges: Box Office King arrives with True Grit, the Coens' remake of the 1969 John Wayne western. Bridges takes on the iconic role of the one-eyed U.S. Marshall Rooster Cogburn, who's hired by a young girl to track down her father's killer, with the aid of a Texas Ranger. Wayne won the Oscar for his portrayal – though I doubt Bridges makes it two for two here.

Josh Brolin plays the villainous Tom Chaney, while Matt Damon takes over the Glen Campbell role of the Ranger LaBeouf (so there's at least one improvement over the original), while newcomer Hailee Steinfeld plays Mattie Ross in what appears to be a breakthrough role. It's unusual to have a remake of such a definitive classic, especially in a genre that's been mostly abandoned by Hollywood. It's even more unusual for filmmakers with as distinct a voice and vision as the Coens to take on a remake project, but it also makes for reassurance that it's not just going to be a cheap cash-in. Indeed, reviews are near rapturous, giving Brolin the chance to star in both the best and worst films of the year.

There's few bases of comparison for True Grit – when we're looking at 3:10 To Yuma as one of the more successful westerns of the past five years, we know the pickings are slim. While the Coens' last film, No Country For Old Men, was a quasi-western, it platformed, and is of little help here. The best course of action seems to be to treat it as an action film with a modest grouping of stars – Damon's presence helps but it's clear he's not the lead and the film isn't being sold on him. The closest thing it looks like in tone is Gran Torino, despite the wild distance in time frame. Both have a certain "you kids, off my lawn!" feel to them, and a heavy streak of justice. Bridges is no Eastwood in terms of draw, but I think he and Damon in a supporting role do equal him. This translates, I believe, into roughly a $21 three-day figure and $32 million over five.

There is an actual PG-rated family comedy this weekend, though it's unlikely to challenge for top spot (at least one hopes). Gulliver's Travels seems to have been greenlighted on the basis of "Hey, people like Night At the Museum – it must be the big people interacting with little people part!" Jack Black stars as a travel writer assigned to "crack the Bermuda Triangle issue" (oh, we're off the rails already here), and ends up shipwrecked on the surprisingly-star studded island of Lilliput, where everyone is just a few inches tall (residents include Emily Blunt, Jason Segel and KISS, somehow).

After lying his way into their favor, he ends up forced into helping the Lilliputians fight off an invasion force (and who have apparently built a transforming robot but still use old fashioned wooden ships), yada yada, lessons are learned and we all go home a little dumber and poorer.

It's possible that Black has finally outworn his welcome as a live action lead, or at least has reached that mid-period Jim Carrey status where he has a passionate few fans but has irritated everyone else out of their minds. Certainly appearing in painful-looking crap like this film can't help.

Opening on Christmas Day, it's yet another 3D film, though with the glut of them out right now, it'll be difficult for it to benefit all that much. Christmas Eve is pretty much a write-off as far as box office so the two-day weekend won't hamper it much, but it should come in with around $15 million.

One more film lifts out of limited release and into semi-wide release on Christmas Day, as The King's Speech hits about 600 venues. It's currently the co-favorite in the Oscar race, and is about the struggles of King George VI with his stutter. While this feels a bit like a parody of Oscar-bait, it's become an audience favorite, winning the top award from the Toronto Film Festival and putting Colin Firth in good stead towards winning his first Oscar, with Helena Bonham Carter and Geoffrey Rush also having solid chances. With $3 million in the bank so far on at most 43 screens, The King's Speech's expansion should bring it to around a $5 million weekend.

There's good news and bad news for holdovers this weekend. The bad news: they'll all see significant drops over the Friday-to-Sunday period, even with Christmas Day being busy. The good news: they'll make it all back up in the following week. Christmas Eve is one of the legendary dead zones of cinema, with many theaters not bothering with showings after 6 p.m.

Most affected by this is the highest grossing film of last week, Tron: Legacy. Opening last weekend to $44 million, it'll see that figure chopped more than in half, to around $20 million, thanks to getting only two real days of weekend. That's a troubling number for such a high budget film until you consider that it'll earn at least $25 million in the following four days.

Yogi Bear will potentially fare a little better over the Christmas weekend, to around $9 million, but will earn like gangbusters relative to that over the next week – perhaps as much as $16 million. The Chronicles of Narnia is in the same boat at a smaller scale, dropping to $7 million but earning about double that in the next four days. Yet another family film, Tangled, should also see tremendous growth in the next week, much like The Princess and the Frog last year. Give it $6 million on the weekend, and $12 million in the following week.

Two Oscar hopefuls, The Fighter and Black Swan, may do better thanks to word-of-mouth, but will still be hurt by Christmas Eve. Black Swan jumps from 900 to 1,400 venues and may hold steady at $8 million, while The Fighter probably drops to that from $12 million without a big expansion.