Top Chef: All-Stars Recap
By Kim Hollis and David Mumpower
December 19, 2010
BoxOfficeProphets.com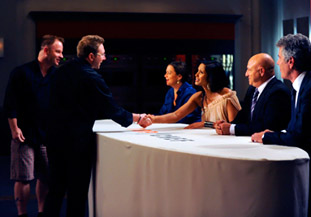 ---
Previously on Top Chef, we said at the end of our season premiere recap that we were rooting for a series of culinary clashes between the best two chefs this season, Richard Blais and Jen Carroll. In episode two, Jen Carroll was eliminated. It's been a week, yet we are still just as flabbergasted by this turn of events. This would be like The Godfather Part II winning a Razzie. Color us disappointed. In fact, Jason Lee, who will start recapping the show again next week after his Law School finals are done, sent me an angry email that all but threatened Bravo TV coup d'état. His heart was broken that much by the elimination of his favorite contestant in the show's history. As Tom Colicchio pointed out in his recent blog entry, the judges are braced for that sort of reaction all season long due to the built in fan-bases of the various contestants. Still, this felt like a Major League Baseball All-Star competition that eliminated Albert Pujols after one at bat. We're going to be bitter about this turn of events for a while to come. Jen is someone we -wanted- to see in the finals, yet she barely got her luggage unpacked before getting sent back home. Brutal.

Our power rankings this week reflect the cataclysmic shift caused by the absence of Jen. We've also put Jamie at the bottom for being a little wuss about having owies. Also, no one is going to be willing to work with her now.

1. Richard Blais
2. Angelo Sosa
3. Mike Isabella
4. Tiffani Faison
5. Marcel Vigneron
6. Dale Talde
7. Spike Mendelsohn
8. Carla Hall
9. Dale Levitski
10. Tiffany Derry
11. Antonia Lofaso
12. Tre Wilcox
13. Casey Thompson
14. Fabio Viviani
15. Stephen Asprinio
16. Jamie Lauren

Thus far, Angelo has had an exemplary start. Mike Isabella is left carrying the torch for the Las Vegas cast. Tiffani Faison won last week's Quickfire and had the best dish amongst the losers. Marcel participated in last week's best Elimination dish, and has avoided some of the struggles that have bothered some of the other competitors.

The bottom of the list hasn't been shaken up that much, but we do want to make some notations. Antonia, Tiffany Derry, Tre and Casey barely avoided elimination, and Casey gets docked further for not being a team player after tasting Jen's dish, disliking it, and not saying anything. She then proceeded to do the same thing with Tre's sauce. We question Casey's ethics.

The show jumps right into the Quickfire Challenge, where the guest judge David Chang is introduced. He's the chef and co-owner of Momofuku Group and Ma Peche. Note that "Momofuku" is not pronounced the way that you think, and probably doesn't translate to what you think it does, either. On a similar note, if loving Kosuke Fukudome is wrong, we don't want to be right.

All of the chefs are broken into teams of four, and will be required to do prep work for an amazing dish, and once they have completed the prep work, they'll hit a red button. After that point, they'll have 15 minutes to create their meal. The second, third and fourth teams to finish the mise en place preparation will have less time, as it goes by the first place team's finish. There will be no immunity, but each member of the winning Quickfire team will receive $5,000.

The teams are as follows:

Fabio, Tiffany Derry, Mike and Angelo
Spike, Stephen, Richard Blais, Tre
Tiffani Faison, Carla, Dale Talde, Marcel
Antonia, Dale Levitski, Casey, Jamie

Fabio's team gets off to a quick start and never looks back because he has a technique that allows him to peel 40 garlic bulbs at once, while Antonia is peeling them one by one. They hit the button before any team has finished more than one-third of their components. The expectation is that they will be the only team that can cook their lamb rather than having to serve it raw.

Second to finish is Richard Blais's team, and they have 12 minutes and 12 seconds to cook their meal. They're almost three minutes behind, but to their credit, they're still able to cook their dish. None of the remaining teams can, though.

Antonia and Co. are next, with 10:40 to go, with Tiffani Faison and Friends finally getting started at 8:50 on the clock. The latter two teams both choose lamb carpaccio because they don't have time to cook a dish. You'd think that the time separation would allow the two faster teams to finish on top, with the other two on the bottom, but that's not the case. One from the each of the divisions finishes on either side. Tiffani Faison's team, which finished last with prep work, is on top with their dish, but the first place team from Angelo and the rest is a choice for the bottom. The flavors of the thyme and the dill blew out the yogurt, says Momofuku, and Angelo takes this as a personal affront. It's the first bad dish Angelo has presented this season.

Also at the bottom was the Antonia group, which pretty much seems correct based on their positions in the power rankings. It's great to be on a team With Richard Blais, though. His decision to make three variations on the same concept is particularly impressive when factoring in a 12-minute time limit. For their efforts, Richard Blais, Spike, Stephen and Tre each receive $5,000. Richard is happy to get the money, but he's also especially pleased to have gained the trust of his three teammates.

Each of the four teams from the Quickfire draws knives for the Elimination Challenge. These knives each bear the name of a high-class restaurant, where they will all go to dine together. Once they have eaten, they will be expected to create a dish that is worthy of being included on the menu of that restaurant.

Angelo's team gets Ma Peche (Momofuku's restaurant), which features eclectic Asian and French food. Fabio complains that this is a tough draw for him, and we think Tiffany Derry may struggle with it, too. Angelo, of course, will find this food to be right in his wheelhouse.

The Antonia group gets David Burke's Townhouse, a restaurant whose style of cooking Casey says is almost exactly like Dale's. We think any of them could go home.

Marea is the restaurant for Richard Blais's team, and Tre expresses a bit of discomfort with the Italian cuisine they offer. We think Stephen and Tre should be the two who are most likely to suffer from this team.

Finally, Tiffani Faison's team is going to WD-50, which has an offering of avant-guard techniques and is Wylie Dufresne's place. Marcel feels super confident about this challenge. He probably shouldn't.

As the diners go to their restaurants, we see that Angelo's team and Richard's team are both rife with conflict. Tiffany Derry just wants Angelo to shut up. She had to listen to him through pretty much the entire previous season and she's done with his constant yammering. Over at Marea, Stephen is "educating" everyone about the dishes, and Tre is annoyed. He says he's not going to let someone else try to make him think he should like something he thinks isn't good. He wants to make his own judgment calls and formulate a dish without hearing Stephen's effusive praise.

Wylie's restaurant is very popular and very intimidating…well, except to Marcel, who is certain he's got this thing in the bag. He may offer Wylie a couple of tips on how to improve his dish while he's there. Carla, on the other hand, worries about her simplicity in comparison to his complex dishes.

The final restaurant, David Burke's Townhouse, is all kinds of crazy, starting with their cocktails that are served with a fish swimming in the bottom of the glass. It only gets weirder from there, with angry lobster and some sort of horrible-looking lamb-octopus concoction.

We move on to see the chefs preparing their meals worthy of the restaurants where they ate, and the moods run the spectrum. Richard Blais is excited at the opportunity to take on a new challenge. Carla sees this as an attempt at redemption. In not quite the same way as the first challenge of the season, she brings up the fact that her classical training is diametrically opposed to the molecular gastronomy tools in Wylie's kitchen. She's cooking in a way she never has before, and the last time she did that (Casey's sous-vide), she was eliminated from competition.

Meanwhile, Angelo starts sweating all over the place. His dishes are saltier than anyone else's because the salt comes from him (ew, we know).

In another part of the kitchen, Stephen is learning kitchen technology. He asks Richard if there is a reset switch on the Vita Prep, which is some sort of blender, and causes Tre to say, "Oh my God." Richard asks Stephen if perhaps the Vita Prep is plugged into a bad outlet. Honestly, Stephen has avoided elimination about as long as he can. With the competition he's up against today, we see him as easily the weakest candidate and his foibles will stand out that much more.

The judges show up at Marea, and Padma appears to be wearing some sort of peach-colored bag. Hideous.

Tre has made grilled swordfish with artichoke, mushroom panna cotta and basil oil, and Spike has prepared a seared branzino with caponata and spicy prociutto vinaigrette. Richard's dish is a crudo of Spanish mackerel, braised veal shank and fennel mostarda. Finally, Stephen has created a coho salmon, black mission figs, broccoli rapini and fennel pollen. Spike's fish is complimented as nice and crispy, but his caponata is loose and the diners are automatically predisposed to thinking there's something off about it. Richard's disk is called elegant, tasty, and "flavor forward." Richard has not missed with a dish yet. (Go Richard!)

Stephen's dish has a nice aroma, but the flavor is aggressive, and Tony Bourdain says it "tastes like a head shop." We had to look up "head shop" and the phrase means "a retail outlet specializing in drug paraphernalia used for consumption of cannabis and other recreational drugs." Basically, Stephen's fennel is so overpowering that it tastes like smoking pot. The simplicity of Tre's dish is complimented as being right in line as a hallmark of Italian food, and it is called delicious and tasty. From this group, the comments would indicate that Richard and Tre killed it, with Spike being in the middle. Stephen at least mastered a blender. Kind of. Well, enough to make his food taste like drug use.

Ma Peche is the next stop for the judges, where Fabio is bemoaning the fact that he's having to cook French/Asian fusion when his specialty is obviously home-cooked Italian. Angelo has added white chocolate to his fish because he thinks it's really ballsy. We think it sounds gross.

Fabio has created roasted lamb, hoisin plum barbecue sauce, corn tomato salad, and lemongrass chevre ricotta. Tiffany prepares crudo of summer flounder, pickled radish and peach puree. Mike Isabella's dish is warm sockeye salmon, eggplant, marinated tomatoes and pickled peach. Finally, Angelo has made turmeric marinated fish, dill, cilantro, salmon roe, chorizo and white chocolate.

Bourdain calls Angelo's gross white chocolate dish really creative and flavorful, even exciting. Mike's dish is also great, tasty and solid. Tom says that he's having a hard time tying to figure out Fabio's dish. It's too heavy and combines ingredients that most of the judges would never put together. Tiffany's dish is good but is missing that extra something. It's something you could easily find at any restaurant. We can conclude that this group has Angelo in the lead with Mike Isabella close behind, with Tiffany in the middle and Fabio once again looking at the bottom grouping at Judges Table.

Judges are now headed to Townhouse, where Dale Levitski is asking Casey to taste his dish. We know how Casey is about tasting other people's dishes. Even if she doesn't like it, she won't tell him, which is seriously uncool when you consider that he's one of her best friends.''

The aforementioned Dale dish is roasted veal loin, peanuts and popcorn, French toast, corn & thyme caramel. Sounds pretty revolting, really. Antonia has made a pea and carrot puree, seared scallop and pickled carrot. Casey has roasted halibut to look like a scallop, added some coconut, along with tapioca "caviar" and ginger carrot emulsion. Jamie prepared smoked tomato and bacon soup with heirloom tomato salad. The judges think Jamie's dish could have been better, and that it needed more "wow" factor. Dale just seems to have just made a sweet dish with veal on it, and the French toast is too overpowering. They love Casey's "scalibut" and think it would fit right in with Townhouse's menu. Tom thinks Antonia has too much salt, but David Burke likes aggressive seasoning and finds the dish to be playful. Burke also acknowledges that it's very tough to make a dish that matches up well with the style of his restaurant.

Out of this group, Antonia and Casey would appear to be the leaders, while Jamie is somewhere in the mediocre range, with Dale Levitski on the bottom.

Wylie Dufresne's WD-50 is the final stop. Tiffani has gone way outside of her comfort zone, and it seems very problematic. As Marcel says, she is showcasing technique at the cost of pleasing the diner, and Tiffani admits that she has a hard time reining herself in. Dale Taldes, who knows of Wylie's affinity for eggs, has created a sunny side up egg dumpling, braised pork belly, and milk ramen with bacon, beef and pork. Tiffani's (overly?) ambitious dish is a broken summer heirloom melon with powdered ham and taleggio. It looks like barf on a plate. Carla's dish looks very simple – poached shrimp, grits and okra chips. Finally, Marcel made vadouvan lamb, tzatziki, pickled red onion and anti flatbread.

Bourdain confirms what we've been thinking so far. "Tiffani lost control of this mission on the launchpad," he says. Wylie says it's murky and believes she should have pared some things off of the plate. A chorus of "mmmmms" comes up for Dale's dish, and Wylie says that the dish is nice and runny, which sounds icky, but egg fans will know what he means. The broth in the dish almost tastes like buttered toast. Carla's dish is safe, but well-prepared and tasty. Finally, Marcel's food is surprisingly bland and restrained.

From this group, Dale is clearly on top, with Carla and Marcel in the middle, and Tiffani on the bottom.

So, to summarize, we absolutely believe the divide this week is pretty clear. The top slots should go to Dale Talde, Antonia, Angelo and one of Tre or Richard Blais. The bottom group looks to be Stephen, Dale Levitski, Tiffani and Fabio. Let's see if we're right.

Indeed, Padma calls out Dale Talde, Antonia, Angelo and Tre as the night's winners. The winner will receive a trip to New Zealand. All four chefs are heaped with praise, and Tre is appreciative of the kitchen where he was able to work. He says it's like "driving a Lamborghini." Bourdain asks Dale if he knew that Wylie is a "notorious egg slut" (and truly, watching him eat the dish was like watching someone with a fetish). Dale says he did, and the judges are that much more impressed that he went out on a limb like that. Tom is positively beaming as he talks about how great Dale's food tasted. And thus, Dale gets his first win in the All-Stars competition, and showed that you can imagine a dish for a molecular gastronomy restaurant that has restraint.

The bottom four chefs are Fabio, Dale Levitski, Tiffani Faison, and Stephen. Fabio is maintaining a defensive stance as Bourdain starts talking, but Tony is pretty congenial and commiserates with Fabio about the difficulty of cooking such fare. He says perhaps Fabio tried to do too much, like a painter who uses too many strokes. This is a fitting analogy, and Fabio, relieved that Tony isn't tearing him a new one, readily agrees.

As for Stephen, he's feeling a lot of emotions, he says. We'll define the strongest one as "lose-y." We've said all along that he's in way over his head, though it's through no fault of his own. Stephen hasn't truly been cooking for some time, and he's been at a distinct disadvantage compared to his competitors. Stephen feels he overdid it, and Tony comments about the overpowering sandalwood scent that destroys the dish. Apparently, Stephen could have a second "Weeds-ish" career.

Tiffani completely acknowledges being overwhelmed by Wylie's kitchen. There's so much unique equipment there that she was seduced by the chance to use it all, and as a result, she got away from her comfort zone of stripped down meals. Finally, Dale Levitski says he was trying to embrace the kitsch of Townhouse by including the peanuts and popcorn. Tom says that rather than go outlandish, the restaurant usually starts with something classic and then turns that notion on its head. He can't figure out where the inspiration for Dale's dish is coming from. Dale says that he drew his inspiration from one of his own past creations, a breakfast dish that uses popcorn. Tom says that seems to be precisely the problem – he made a breakfast dish with veal on it.

All four of the bottom chefs do seem to feel like they deserved to be there. Most of the dishes were unpleasant to eat. Everyone also seemed to overreach. It's a tough decision, we think, because all of the mistakes were on the same level. It does feel like Fabio is the safest, because his mistake is the most understandable. Tiffani is similarly looking like she's lucky this week, because she was trying something that was just not in her area of expertise. Dale, on the other hand, has no excuses and was cooking to his strengths, while Stephen needs blender lessons.

And the elimination is as we expect. Stephen's is first announced, as his is really the foregone conclusion. He is eliminated for not just this dish, but also his continued struggles this season. The other chef sent home is Dale Levitski, who is embarrassed because this is actually the first time he has ever been eliminated from Top Chef. The first time around, he just was the runner-up. Both of them are at peace with what has happened, realizing that today just wasn't their best day.

Next week promises a challenge at the US Open. Hopefully, there will be some sweet Roger Federer action. Jason Lee will return as your guide. We're looking forward to seeing how the rest of the season plays out.