Weekend Wrap-Up
Tron Derezzes the Competition
By Kim Hollis and David Mumpower
December 19, 2010
BoxOfficeProphets.com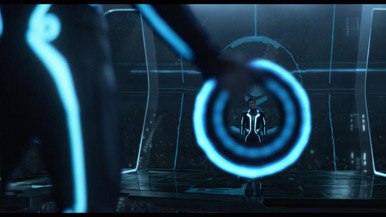 ---
With the holiday season in full swing, the movie industry delivered its usual December glut of quality releases into theaters, aiming to claim a piece of the huge holiday box office pie. Three new titles made their debuts, while a pair of others platformed into wide release. The end result is approximately $90 million worth of box office split five ways. As expected, the feature with the most impressive visual effects won the weekend, albeit with a total that will disappoint some.

Roughly a year ago when the first trailer for Tron Legacy was revealed, movie goers took notice of something that looked…shiny. Almost 30 years after the release of the original Disney spectacle that celebrated style over substance, there were not a lot of people clamoring for a sequel but the ones who were happened to be loud, repetitive and obsessed. After the relative triumphs of various Tron-related products such as videogames as well as the career re-ascension of Jeff Bridges, Disney warmed to the idea of trying to create a franchise from one of their most intriguing old school properties. After all, Tron had been a modest hit in 1982, earning $33 million or the 2010 ticket price equivalent of $84 million. With the right combination of splashy visuals, an IMAX-focused release could dominate at the box office.

Alas, Tron Legacy has fallen a bit short of the lofty expectations placed upon a $200 million production, at least in the short term. Tron Legacy is the number one film of the weekend, however, earning an estimated $43.6 million. That total reflects a lackluster per-location average of $12,634 from an ultra-wide release in 3,451 venues. In addition, this is only the 13th largest debut for the month of December. When Disney placed Tron Legacy on the holiday schedule, we sincerely doubt that their expectation was a mid-40s debut.

Still, there are some positives here. As BOP has repeatedly stressed over the years, December box office is its own unique entity with artificially depressed opening weekends followed by tremendous legs. Out of the 18 December releases that opened north of $35 million, 15 earned at least $200 million domestically. Only the word-of-mouth clunker Ocean's Twelve and Marley & Me, a Christmas Day release, failed to reach the $180 million plateau. Among the prior dozen $40 million December debuts, each one has earned at least $200 million domestically. Effectively, what we can take from this information is that barring something unforeseen, Tron Legacy should be a wash for Disney on the domestic side with international receipts determining the project's overall success or failure.

For those of you wondering about Marley & Me as well as last season's Sherlock Holmes, both of which had lesser multipliers relative to other titles in this discussion, please consider that each one was released on Christmas Day. That gave each film fewer December box office days to inflate their totals. The period from December 20th - 23rd is among the most lucrative on the entire schedule. Titles that lack that opportunity are de facto punished in terms of final box office. This is an issue that Tron Legacy will not face. The most likely comparison for it is King Kong, the 2005 Peter Jackson follow-up to Lord of the Rings that failed to captivate audiences as much as expected. If Tron Legacy suffers a similar fate, it would still be looking at final box office in the area of $190 million. So, most of the information on hand right now points to a draw. BOP will once again run the 12 Days of Box Office starting on Tuesday, so we will track the validity of this assertion into the New Year.

Yogi Bear was hoping to be more Alvin and the Chipmunks than Marmaduke this weekend, and in the weeks leading to its release, tracking was showing that there appeared to be greater and greater interest in the abominable-looking adaptation of the classic Hanna Barbera cartoon. A month ago, this was a film that was looking so awful that breaking into double digits for opening weekend would be a pipe dream, but repetitious marketing and a dearth of new kiddie fare meant that although it didn't reach the lofty heights of Alvin and friends ($44.3 million opening in December of 2007), it did at least surpass Marmaduke's $11.6 million from earlier this year. Yogi Bear, featuring the voices of Dan Ackroyd and Justin Timberlake, took in $16.7 million from 3,515 venues, good for a second place finish. It had a very so-so location average of $4,752.

One of the big problems for Yogi Bear is that it truly appeals to children only. Adults would only begrudgingly drag a kid to the film, and since the bears don't have silly voices or eat poop like in Alvin and the Chipmunks, there's nothing super special to make kids beg their parents to go. Consider, too, that the film was propped up to a large degree by 3D showings, and you'll realize that the original Alvin and the Chipmunks number is all the more impressive.

It will come as no surprise to anyone over the age of seven that the film received positive reviews from only 13% of critics at RottenTomatoes – though oddly, 19% of "Top Critics" gave it a thumbs up. That's probably not going to matter over the long haul, though, as it will be a compromise family choice throughout the holidays. Warner Bros. had an $80 million price tag for the bears-stealing-pic-a-nic-baskets film, and the holiday season inflation may just do its part to get it to a finish right around that number. We're all just biding time until December 16, 2011, anyway, when we'll endure yet another Alvin and the Chipmunks horror film. At least Jason Lee is making money.

The Chronicles of Narnia: The Voyage of the Dawn Treader limps into third place this weekend with $12.4 million, giving it a ten-day total of $42.8 million. The third Narnia release drops 48.3% from its already disappointing opening frame. While this is technically the best second weekend decline of the franchise, consider that The Lion, the Witch and the Wardrobe didn't earn this little until its sixth (!) weekend in release, while Prince Caspian wasn't in the $12 million range until its third weekend. The Lion, the Witch and the Wardrobe had earned more by the end of its second day and Prince Caspian by the end of its third day than Dawn Treader has managed after ten days. That's how quickly and dramatically the franchise has fallen in just two sequels. The works of C.S. Lewis deserve a better box office fate than this.

Awards hopeful The Fighter expanded from four venues to 2,503 this weekend, and the move to wide release was good enough to bump the movie to a $12.2 million weekend total (an increase of 3,967%). The film, which is drawing the bulk of its attention for supporting performances from Christian Bale, Melissa Leo and Amy Adams, now has a running total of $12.6 million, and given its 88% fresh rating at RottenTomatoes, should continue to ride a wave of positive word-of-mouth to a tidy little box office total for Paramount Pictures.

Director David O. Russell made The Fighter for a song at $11 million, and it's nice to see Mark Wahlberg back in a quality project. This is his third collaboration with helmer Russell, as the two had previously worked together on Three Kings and I Heart Huckabees. The best news about this weekend's result is that it almost certainly bolsters The Fighter's Oscar aspirations, particularly since there's plenty of room in the field of ten Best Picture nominees for movies with a combination of critical acclaim and box office success.

Coming in at number five is The Tourist, which became the subject of much ridicule this week when the Hollywood Foreign Press Association nominated it for a Golden Globe for Best Musical or Comedy. Never mind that the movie is neither a musical nor a comedy (it's a thriller), they seemed to be saying. Also, please disregard its abysmal critical reception (21% fresh at RottenTomatoes – and only 10% from Top Critics). No, they just basically wanted Jolie and Depp in their audience at the awards show. Never mind that the film has only made $30.8 million so far against a reported $100 million budget. For the record, the awards nominations didn't help The Tourist's staying power any. It dropped 47% this week in a season where drops are typically supposed to be kinder. Its $8.7 million total is a pretty sad showing, and although Christmas and New Year's will give The Tourist a boost, it will still have to be considered a disappointment for Sony.

Sixth place goes to Tangled, Disney's "final" princess film, displayed in glorious CGI. Tangled added another $8.7 million to its coffers, and dropped an okay 39%, meaning that it might have seen just a tiny touch of competition from Yogi Bear (which is sad, really). The Rapunzel retelling has now accumulated $127.8 million and should be one of the biggest beneficiaries of the Christmas holiday bump over the next couple of weeks.

Black Swan continues to intrigue audiences with its unique-looking tale of ballerinas, featuring what is touted as a bravura performance by Natalie Portman. Now in 959 theaters, the Darren Aronofsky film earned another $8.3 million this weekend, good for an increase of 151% and a seventh place finish. Fox Searchlight has a fantastic ability to turn these awards bait films into box office gold, and Black Swan should continue to be a story of interest, particularly with Portman emerging as the front-runner for Best Actress so far. Its total – in not-too-wide release – is $15.7 million.

The final opener this weekend, How Do You Know, opened to $7.6 million. The all-star cast of Reese Witherspoon, Owen Wilson, Paul Rudd and Jack Nicholson failed to impress North American audiences, as witnessed by its low per venue average of $3,061. Critics weren't much more favorable about it, as the film is only 36% fresh at RottenTomatoes. As a sign of BOP's eternal gratitude to James L. Brooks for giving us The Simpsons, we'll just drop it right her rather than say something regrettable.

Our two remaining entries in the top ten are holdover hits. Harry Potter and the Deathly Hallows Part 1 fell 43% to $4.8 million this weekend. It now has a running total of $265.5 million, and should be one of the films that capitalizes the most on holiday box office inflation. Unstoppable finishes in tenth place with another $1.8 million, a drop of 51% from last weekend. With a cumulative box office total of $77.3 million, the Tony Scott. It's going to finish about even with its $85 million budget, and then make a boatload on home video.

Combined box office for the top 12 this weekend is estimated at $127.5 million. While this is technically down 1.8% from the same weekend last year, the fly in the ointment starting now and lasting for the next two months is that Avatar was released 12 months and $760 million ago. The entire holiday box office campaign is going to seem a bit weaker in comparison to what happened last year for this reason. BOP will try to find ways to give you a perspective that neutralizes this factor somewhat. Consider that the top 12 for 2008 had combined box office of only $80.8 million, meaning that 2010 absolutely torched it.