Weekend Forecast for December 17-19, 2010
By Reagen Sulewski
December 17, 2010
BoxOfficeProphets.com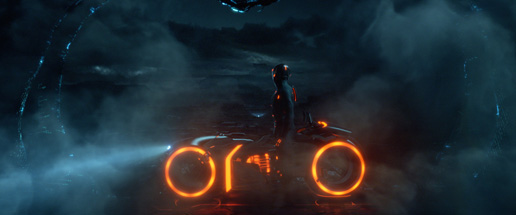 ---
With the last chance to get a full week of showings in before Christmas, this weekend's slate of new films is significant, with both blockbusters and expanding Oscar hopefuls getting their shots in.

Leading the way is Tron: Legacy, the 28-years-later sequel to the landmark (but, let's face it, not very good) sci-fi film Tron, set entirely in a virtual computer world. In the sequel, legendary computer programmer Kevin Flynn (think Steve Jobs crossed with a zen monk) has been missing for 20 years now, leaving behind a son and a business. Then - like father, like son - his son Sam gets zapped into the same virtual world where a digital copy of Flynn has run amok and is assembling an army for, well something. It's not very clear what the real end game is.

The world takes the form of various games, including the familiar disc wars and light bikes, with an emphasis on visual spectacularity. Indeed, the sleek, brightly colored world of Tron looks amazing, and a 3D presentation makes a lot of sense for a film that is so dependent on CGI (Strange to think that at the time of the original, it proved so controversial that it splintered Disney's animation department in two). The plot is sort of incidental, though you hope they at least gave a bit of thought - with two Lost executive producers writing it seems like both a positive and a negative – and it's all about the shiny, shiny graphics.

As infamous as Tron is, it wasn't actually that big a success on its initial release, only making about $30 million, the equivalent of $84 million today, though that was plenty enough to make a profit at the time. That would of course be a disaster this time around, with a reported budget in excess of $200 million.

Jeff Bridges returns as Flynn and a creepy, computer de-aged version of himself called CLU, along with Bruce Boxleitner, getting his most significant movie role since, well, Tron. Relative newcomer Garret Hedlund, best known (?) as Brad Pitt's uncomfortably close cousin in Troy, plays Sam, with significant appearances from Olivia Wilde, Michael Sheen and French electronica-ists Daft Punk, who wrote the score (but which is more traditional than you'd expect).

Geek anticipation runs really strong with this film, and geek culture has only grown stronger and more mainstream since 1982, turning this into a potential blockbuster. In this case, that's likely to be self-limiting, as it becomes too geeky for the norms to consider. Essentially the last big action movie of the year to open, it needs an action movie type opening weekend to justify its hype. Starting in 3,400-plus venues, it will win the weekend, but will likely fall short of what's really hoped for the film with a $47 million opening weekend.

Warner Bros. unleashes a horror upon the world with the live action treatment of Yogi Bear, the Hanna-Barbera cartoon that's far better in memory than in actually watching it. Dan Akroyd voices Yogi, the smarter-than-the-average-bear (which is not much of an achievement if you think about it – most bears are pretty stupid) who just wants to steal campers' pic-a-nic baskets with the help of his friend Boo-Boo (voiced by Justin Timberlake, who looks like the best part of this whole sorry mess). Perhaps we can get Werner Herzog to narrate to liven this up.

As befitting the paper-thin plots of the cartoon, there's a overarching plot about Jellystone Park being under attack by corporate industries but really it's to showcase wacky anthropomorphic antics and apparently to have a turtle's ass thrust in your face in 3D. Reviews are about as abysmal as they're possible to get, though that hardly matters to the target audience of nine-year-olds. Parents, of course, are duly warned to dump the kids and find something at least marginally palatable.

Cartoon adaptations can be amazingly lucrative – the two recent Chipmunk movies, along with the Flintstones and Scooby-Doo movies show that. While another talking CGI animal would seem to fall right in line with these, Yogi Bear looks a little worse than the average crappy cartoon. Whether we've just gotten wise to how bad these movies can be or that this character is firmly in the second tier, there's far less inevitability about this being a depressingly large hit. Also, it's not the only 3D game in town, and will have to fight for those high value venues. Look for a modest opening weekend of $27 million.

How Do You Know brings James L. Brooks back to the director's chair for his twice-a-decade romantic comedy effort. The man behind Broadcast News, Terms of Endearment and As Good As It Gets (among a few others) has this time gathered Reese Witherspoon, Paul Rudd and Owen Wilson for a love triangle film, as Witherspoon starts to question her relationship with Wilson, a philandering professional baseball player. Rudd, who lives in Witherspoon's building, is under Federal investigation for stock fraud and about to hit rock bottom when he bumps into Witherspoon, who has just been cut from the US Women's Softball team. As a plot and set of character traits, it at least has the benefit of not having been used before.

Also starring Jack Nicholson as Rudd's father, How Do You Know seems to focus on providing that sort of fuzzy, agreeable romantic comedy that grabs great groups of family audiences over the Christmas holiday. Of course, that was the idea with Spanglish six years ago too, though no one really wants to see Adam Sandler in a semi-serious role. Wilson, Witherspoon and Rudd are a much better cast – almost a perfect storm of adorableness, with Wilson starting to embrace his natural doucheyness. Reviews, unfortunately, are terrible, with a few lonely dissenters. While that can't help but have an effect, ads for this have been sharp and funny, and will keep it from cratering. Opening at a modest 2,400 venues, How Do You Know should start with around $14 million.

Two major Oscar contenders get big expansions this weekend, with The Fighter moving from three screens to 2,500, and Black Swan going from 90 to close to 1,000. The Fighter is the far more conventional of these two, telling the story of boxer Mickey Ward and his journey from the streets of Lowell, Mass. to a junior welterweight championship. Ward is played by Mark Wahlberg, with Christian Bale playing his troubled half-brother and trainer Dicky Eklund. Rounding out the cast are Amy Adams and Melissa Leo – and all four actors are in serious Oscar contention.

Directed by David O. Russell, the Fighter is sort of a spiritual cousin to The Wrestler, but much less depressing and mired in regret. A tale of family and determination, it's one of those sports movies that plays heavily to the underdog sentiment in all of us. Although Wahlberg isn't the actor with the strongest chance for recognition in this, he is the driving force behind getting people into theaters to see it. Comparisons to Invincible, where he played a walk-on Philadelphia Eagles player, seem relevant. That film opened to $17 million at 2,900 venues – the venue count is slightly smaller here and this film may need more time to build. Look for it to start with around $13 million.

Black Swan was the surprise of last weekend, with a $3 million finish on 90 screens, good for sixth place. It was a surprise not only for appearing that high on so few screens, but for the fact that it's a highly allegorical psycho-sexual lesbian drama about ballet. A regular Iron Man 2, that premise. Natalie Portman plays the lead dancer for a troupe performing Swan Lake, but who is thrust into a rivalry with another dancer, played by Mila Kunis, over their wildly divergent styles and their fitness for the roles of the White Swan, representing grace, and the Black Swan, representing sexuality. As their rivalry grows, Portman turns to self-mutilation – or is it an actual physical transformation?

Directed by Darren Aronofsky, who seems to enjoy being weird with film, Black Swan feels like an art film that's been thrust upon the general public – and being this much stranger than the room never quite helps with the box office. Then again, it's gotten this far, and Portman's role is all but assured to earn her an Oscar nomination, and very possibly a win. While it's difficult to imagine this have a double-digit million earning weekend, it's in all probability on its way to a largish final box office total. On close to 1,000 screens this weekend, expect around $6 million.

Last week's new films underwhelmed in virtually every respect, with The Voyage of the Dawn Treader winning a hollow victory at the top of the box office at $24 million. While it has the Christmas season to look forward to, its chances of breaking $100 million at this point are slim, a disastrous prospect for such an expensive film, and one that was hoped to help the Narnia franchise continue on. Getting all seven films in seems like a dicey prospect at this point, unless Walden Media has a stubborn streak. Both previous Narnia films have suffered huge second week drops of over 50 per cent, and I see no real reason to expect that to change. It should fall to about $11 million this weekend.

Things got worse for The Tourist after its $16 million opening weekend – it got nominated for multiple Golden Globes. Ordinarily that's something to take pride in, but not when it's greeted with guffaws and "that's the Globes for you". While a Globe nomination rarely has a major boost to a film's box office, it's entirely possible it could be a final straw for this film's chances, as aggrieved viewers double their efforts to talk down the film. I doubt it'll need much help, and we should see it fall to about $8 million for its second weekend.

And now for a film that actually has good word-of-mouth. Tangled fell just one-third in its third weekend, easily crossing the $100 million mark, and looks to be the leading candidate for "film most helped by Christmas week". It's always a wild, somewhat unpredictable week, but family films invariably lead the way in improving their performance during the stretch from Christmas to New Year's. That makes this weekend important for Tangled, as it needs to have a good baseline for that week. I scoff at the idea of Yogi Bear providing any kind of challenge to Tangled's audience, and it should come in with another $10 million weekend.

Harry Potter also has a decent amount at stake over Christmas, though it's been in steady free fall from its opening weekend. $300 million seems right out for a final total, but $275 seems easily in reach. Of course, it's already sitting at $260 million. Give it $4 million more, as it more or less bows out of box office contention.