Weekend Wrap-Up
Narnia, Tourist Mark Slow Start to Holiday Box Office
By John Hamann
December 12, 2010
BoxOfficeProphets.com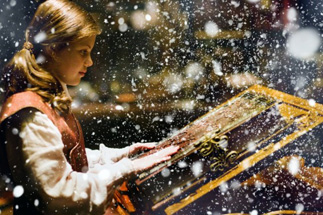 ---
After an unusually blah post-Thanksgiving weekend, where the top two films fell an average 60%, the box office was looking to bounce back in a big way this weekend. The openers looked hot: Angelina Jolie and Johnny Depp in The Tourist, an exotic thriller, and the third part of the Chronicles of Narnia series, The Voyage of the Dawn Treader. Unfortunately critics said both were cold, uncaring films. Would audiences abandon both for already-in-release fare like Harry Potter and the Deathly Hallows or Disney's Tangled? Or would they take their medicine and chomp down on the unsatisfying openers?

Our number one film is The Chronicles of Narnia: The Voyage of the Dawn Treader; however, with this opening weekend score, the folks at Walden Media and 20th Century Fox will be saying goodbye to a franchise that has under-performed since the second film, Prince Caspian, launched in 2008. First, The Dawn Treader, this weekend's opener, earned a soft $24.5 million from 3,555 venues, and had a venue average of $6,892. It cost $150 million to make (production costs only), so just to match that number, The Dawn Treader is going to need an open-to-domestic multiplier of over 5.0. The last Narnia film, Prince Caspian, opened to $55 million in May of 2008, and came up with only $142 million in domestic receipts, which means it had a multiplier lower than 2.6. That being said, the difference between a May opener and a December opener is all about legs. The first Narnia film, The Lion, The Witch and The Wardrobe, opened to $65.5 million over the same weekend as Dawn Treader back in 2005, and finished domestically with $291 million. It had a multiplier of 4.4, but I highly doubt history will repeat itself with this one.

So what happened here? Why is such a loved franchise going into the tank? The main problem with The Chronicles of Narnia is that there isn't a lot of name recognition beyond the first film, The Lion, The Witch and The Wardrobe. That name recognition goes down with each release. The next problem is that Walden just hasn't made great films out of the series. This one, Voyage of the Dawn Treader, is only 51% fresh at RottenTomatoes, so strong reviews weren't going to breathe life into the franchise. Reviews have always been a problem with this series. The first one did okay, scoring a 76% fresh rating, but I think those of us that have seen it wouldn't consider it to be a home run. The second film, Prince Caspian, came in at 67% fresh, so like the box office, reviews have also shown diminishing returns for the series.

The only good news for the series is that Narnia does work outside of North America. The first film earned $291 million domestically, but it earned $453 million overseas. The second film earned $141 million domestically, and $278 million overseas. This one, thanks to the holiday season, will likely earn $100 million domestically, and probably around $200 million overseas. However, with a $150 million production budget, and a similar amount spent on prints and marketing, this is going to end up a push for those involved. When these kind of amounts are at stake, I think Fox and Walden will take a long hard look before making another one.

Finishing second is The Tourist, and like The Dawn Treader, this one also struggled. Despite superstars Johnny Depp and Angelina Jolie showing up, The Tourist found only middling success, earning $17 million from 2,756 venues. This should cue the media to decry the end of star-driven cinema, but that really isn't the problem here. The problem (again) is film quality, as two of the biggest stars in the world sleepwalk through this one. The Tourist was only 20% fresh at RottenTomatoes at the time of this writing, with only a scant 23 critics finding something to like, amongst the 113 critics providing reviews.

The filmmakers threw Depp and Jolie into this one, with the idea that that would be enough - but forgot to make a compelling film. Critics complained of a lack of chemistry between the two stars, something definitely needed in a film that promotes "drama, romance and intrigue". Sony distributed this GK Films release for a fee, with GK putting up $100 million for the production, with likely a third of that going to the two leads' fees (Depp commands $20 million performance, Jolie $10-15 million). Sony paid for prints and advertising here, with revenue coming as a percentage of the film's performance. The Tourist will be lucky to bring in $60 million domestic, but it should do well overseas given its international setting and big names.

For the stars, the opening for The Tourist isn't the lowest of their careers, but is a waste of a film when both are in their prime. For Johnny Depp, we have to go back to Sweeney Todd for a lower opening ($9.3 million), but Paramount really missed an opportunity with that one, getting it out to only 1,507 venues at its highest point. The Libertine, Depp's drama from late 2005, earned only $2.2 million at its highest point, but again, it was only out to 819 venues. For a similar opening, we have to go back before the last two Pirates of the Caribbean films to The Secret Window, which opened to $18.2 million in 2004. For Angelina Jolie, I think we also have to go back to 2004 and Alexander, which opened to only $13.7 million. Yes, there were some lower openers over the years, but none were out to more than 2,500 venues. The Tourist is a large disappointment, as this could have been/should have been an Oscar contender.

Finishing third is Tangled, Disney's oddly marketed animated musical. Tangled held a lot better than it did over the post-Thanksgiving weekend, which is good news for Disney. In its third weekend, the very expensive Disney flick earned $14.6 million, off a not bad 33% from last weekend's $21.6 million take. Tangled crossed the $100 million mark on Thursday, its 16th day, the same amount of time it took the animated Paramount/DreamWorks creation, Over the Hedge. The good news for Tangled is that it will likely finish next weekend with more than $10 million (unless Yogi Bear really hits), then slide through the Christmas and New Year's weekends with similar amounts. Currently, the $260 million Disney film has earned $115.6 million.

Fourth spot goes to Harry Potter and the Deathly Hallows Part 1, and like all Potter movies, this one is losing some steam in its fourth weekend. The Deathly Hallows earned another $8.5 million in its fourth frame, off 50% compared to the previous weekend. Since opening to an outlandish $125 million, this Potter has seen some big drops – 61%, 65%, and now 50%. Its closest comparison, Harry Potter and the Goblet of Fire, earned $10.3 million in its fourth weekend, and had earned $244 million by the end of weekend four. After the same amount of time, Deathly Hallows has earned $257.7 million domestically, against a budget of what is likely $200 million. As every weekend goes by, The Deathly Hallows' chances of making it to $300 million grow slimmer and slimmer – but as a counter-point, it has also earned close to a half-billion overseas.

Fifth goes to Unstoppable, the Denzel Washington/Chris Pine thriller from director Tony Scott. Now in its fifth weekend, and buried under holiday and Thanksgiving releases, Unstoppable earned $3.8 million for Fox, and dropped 37%. Unstoppable was a $100 million production for the studio, and has done well since opening to $22.7 million in mid-November. It doesn't look like Unstoppable will take down The Book of Eli as Denzel's biggest film in the last few years, but is still a strong entry on the actor's resume. Give Unstoppable $74.3 million domestic, and another $50 million (and climbing) from overseas theaters.

In a suprise win, Darren Aronofsky's Black Swan finishes sixth, despite appearing on only 90 screens. The Natalie Portman/Mila Kunis thriller earned a remarkable $3.3 million from that slim number of venues, giving it an outstanding average of $37,024. The Fox Searchlight film cost $13 million to produce, and after only a very small limited release, has already earned $5.6 million. Black Swan is going to be a force to be reckoned with over the next few weeks, as it has an 87% fresh rating at RottenTomatoes and is carrying strong word-of-mouth.

Finishing seventh is Burlesque, the mostly failed musical for Screen Gems. Now in its third weekend, the Cher and Christina Aguilera musical continued its drop, earning only $3.2 million, down 48% from the previous frame. This one never caught on, as it was neither campy enough (Rocky Horror) or classy enough (Chicago) to gain any decent word-of-mouth. After opening to $12 million, Burlesque fell 49% in its second weekend, and now drops similarly. Against a budget of $55 million, Burlesque has now accumulated $32.6 million on the domestic front. Unfortunately for Screen Gems, their first big independent release is going to end up a failure.

Eighth goes to Love and Other Drugs, the Jake Gylennhaal/Anne Hathaway dramedy from director Ed Zwick. Now in its third weekend, Love earned $3 million and dropped 47%. This one likely would be little remembered, had it not dropped only 42% over the post-Thanksgiving frame, but with that hold, it will at least match its $30 million production budget, eventually. Give it $27.6 million so far.

Due Date holds on for one more weekend in ninth, with the Robert Downey Jr./Zach Galifinakis comedy in its sixth weekend. Due Date earned a small $2.5 million and was off 38%. Due Date benefited greatly from the Thanksgiving weekend, as it likely added $10 million to the coffers. After opening to $32.7 million, Due Date has earned $94.9 million on the domestic front, well beyond its $65 million production budget. It has earned another $82 million overseas.

Megamind is tenth this weekend, as the Will Ferrell/Tina Fey voiced comedy is losing the battle against the other kid fare. Megamind earned $2.5 million this weekend and dropped 49%. The $130 million Paramount/DreamWorks Animation release has now earned $140.2 million on the domestic front, and $50 million overseas.

Overall this weekend, totals are low, but that has been the trend over the last two years. This weekend, the top 12 films brought in $85.7 million. A year ago, with The Princess and The Frog on top, the top 12 earned $87.3 million. The year before that, with The Day The Earth Stood Still at number one, the top 12 earned $82.3 million, so it's not time to panic about the box office, especially with what's on the horizon. Next weekend brings Tron: Legacy, the 3D film we have all been waiting for. Also opening is How Do You Know, that yearly rom-com we get in December, while this year's Alvin and the Chipmunks comes in the form of Yogi Bear.