Weekend Forecast for December 10-12, 2010
By Reagen Sulewski
December 10, 2010
BoxOfficeProphets.com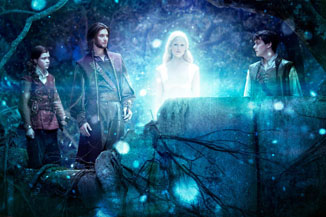 ---
Two of the more hoped-for heavy-hitters of the holiday season arrive this weekend as the big films of December start jockeying for position for the Christmas bonanza. This week, star power comes out to play, and a fantasy franchise looks to restart its momentum.

In 2005, The Lion, The Witch and The Wardrobe, the first of the films based on the Chronicles of Narnia, hit theaters, and put up Harry Potter/Lord of the Rings numbers, putting dollar signs in the eyes of Walden Media, who loved the idea of having six more of these films to make (though I maintain that A Boy and His Horse is largely unfilmable). Not quite understanding the meaning of the word "momentum," it took three years for the second film (it feels wrong, somehow, to call it a sequel), Prince Caspian, to come out, which started strong but wound up with box office more like a Madagascar film, which is nothing to sneeze at, but then these are tremendously expensive films to make.

It's with those lowered expectations that The Voyage of the Dawn Treader enters into the fray. An episodic nautical adventure, it reunites the Pevensie children with the now King Caspian on a mission to rescue seven swords of something or other. Point is, there's a boat and monsters and they fight and lessons are learned.

Five years later, it's clear that the heat from TLTW&TW won't be there for Dawn Treader, though the Narnia name still carries weight. A move to 3D and a sort of Pirates of the Caribbean adventure plot that's been glommed onto the story should help, however. It's kind of fuzzy, and a lack of clear idea about what it's about will keep it from being bigger or improving on the opening weekend for the series, but the action in the trailers and commercials looks solid. Reviews are quite weak, though, and may cause some shedding of the fanbase from Caspian, which opened to $55 million.

The main cast continues to be the largely anonymous group of British ragamuffins from the first two films, along with Liam Neeson as Aslan and Tilda Swinton as The White Witch. Directed by Michael Apted and opening at over 3,500 venues, The Voyage of the Dawn Treader should start with about $43 million.

While Dawn Treader handles family audiences, more adult fare heads towards The Tourist, an international thriller starring Angelina Jolie and Johnny Depp. A remake of a French film, Jolie stars as a thief who seduces Depp into a complicated heist plot based on his apparent resemblance to another thief and twisty-turny plot moments abound.

The Tourist is billing itself as a sexy, sophisticated and witty thriller, though reviews describe it as "none of the above." Still, the two leads seem almost perfectly suited for their respective roles and the style of film, and the slick ads may convince people to overlook or ignore those reviewers.

While Depp is arguably the bigger draw, his massive opening weekend numbers come in films that aren't really relevant to The Tourist – Alice in Wonderland and the Pirates movies offer little in the way of comparison here. Public Enemies, with its $25 million opening, and which was by and large sold on his face, is a much clearer picture of Depp's drawing ability. Jolie had a film this summer that's even closer to this genre in Salt, which opened to $36 million. That neither film was all that well received critically bodes well for The Tourist. Directed by the implausibly named Florian Henckel von Donnersmarck, The Tourist should see an opening weekend of approximately $27 million.

That brings us to our holdovers, the most significant of which are family fare as well. Tangled took the top spot from Harry Potter last weekend, falling the typically elevated post-Thanksgiving amount of around 55% to $21 million and will have crossed the $100 million barrier by the time you read this. The lesson as always: bet against Disney at your own peril. In a normal time frame, I'd be penciling in a film like this for around $175 million total, but the Christmas holiday could change things, if it manages to stick around for three more weeks at a significant figure. Tangled shouldn't have a lot to fear from Dawn Treader in its third week, and should see about $13 million this weekend.

Harry Potter and the Deathly Hallows Part 1 continued to show surprising softness in its third week, losing two-thirds off its Thanksgiving take to drop to second place and $17 million. The last Harry Potter film to open at this time of year earned another $60 million from this point with a slightly higher starting point, but there seems to be an overall harsher judgment going towards this film than others in the series. Warner Bros. likely already has this planned, but it would be well suited to have a re-release just before Part 2 comes out, as there may be a small but significant number of people who are waiting to see both films together. This weekend will be telling as to its final prospects, but I believe we're looking at around $10 million.

And that's essentially it for significant holdovers. Unstoppable probably leads the way with around $4 million, as all the other Thanksgiving films drop quickly from sight. It's an interesting week for limiteds, though, with The Fighter and The Tempest opening, and Black Swan and The King's Speech getting small expansions.