Movie Review - Tron: Legacy
By Shalimar Sahota
December 9, 2010
BoxOfficeProphets.com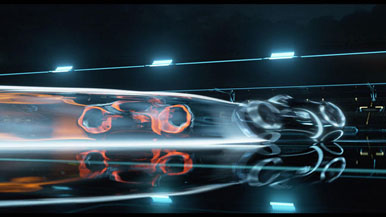 ---
Directed by – Joseph Kosinski

Written by – Adam Horowitz and Edward Kitsis (characters created by Steven Lisberger and Bonnie Macbird)

Starring – Jeff Bridges (Kevin Flynn / Clu), Garrett Hedlund (Sam Flynn), Olivia Wilde (Quorra), Bruce Boxleitner (Alan Bradley / Tron), Beau Garrett (Gem), Michael Sheen (Castor), James Frain (Jarvis), Rinzler (Anis Cheurfa)

Length – 125 minutes

Cert – PG

Parents beware, for after taking your children to see this, they'll be begging you for a flashing neon lit Frisbee this Christmas. They'll also probably try to cut someone's head off with it. Lord knows I would.

After a rapturous reception to concept test footage at the 2008 San Diego Comic Con, created by director and fellow fan Joseph Kosinski, Disney has since shown an unprecedented amount of support for Tron: Legacy. They've pumped an estimated $200 million into a sequel to a film that didn't really take off when originally released 28 years ago, and it's being helmed by a first time director who previously worked on commercials. Could this really be as risky as Tom Cruise with his pants down?

Unless you've been sleeping with Osama Bin Laden, you should have already noticed the buzz, with the trailers, magazine covers, bus posters, toys in the shops, and maybe even the odd few people walking around with neon lit clothes. Were it not for Kosinski and Comic-Con then we wouldn't have a sequel, let alone all the hoopla surrounding it. The film even credits the "fans in Hall H," under special thanks.

Legacy opens with Jeff Bridges as Kevin Flynn, digitally enhanced to look 20 years younger, telling his son Sam (and out of the loop audiences) a story about his virtual creation, The Grid. He smiles and leaves his son's bedroom for the last time, never to be seen again. If you found out that your father had a CG face, then you may argue this to be no bad thing.

Fast-forward to present day and Sam (Hedlund) isn't interested in working at Encom, the software company his father led to success, even though he has the brains to run it. After his mysterious disappearance back in 1989, Sam believes his father might be dead. A visit from long time Encom worker Alan Bradley (Boxleitner) suggests otherwise, as he tells Sam that he received a page (he's still "rocking the pager"), and the number came from Flynn's Arcade… a number that's been disconnected for 20 years.

Realistically, Flynn's Arcade should've been torn down after being abandoned for decades. Nevertheless, Sam makes a visit and discovers that his father has been doing a Bruce Wayne, with a secret underground lab hidden behind a Tron arcade cabinet. After a little tinkering on his father's computer, it's not long before he finds himself zapped into the world of Tron and arrives at The Grid.

Clu, a control program that runs The Grid, just so happens to look like Sam's father. Turns out Kevin had created Clu as a digital copy of himself to watch over things when he wasn't inside. However, this copy has gone bad, and the creator has lost control to his creation. Clu watches as Sam is sentenced to play a life and death game of Disc Wars at a futuristic gladiatorial arena. He survives after the mysterious Quorra (Wilde) breaks in and rescues him. It's soon a race against time as Sam tries to find his father and escape with him, before a portal back to the real world closes for good.

You don't need to have seen the original film to go with the flow here, though Legacy does contain references that fans will pick up on, such as the nod to the yes/no speaking character Bit, the games in Flynn's arcade and the toys we see in Sam's bedroom. It'd be nice to watch the original film again, but Tron is currently unavailable to buy in the shops. In an unusual move, Disney won't be re-releasing it on DVD/Blu-Ray until sometime in 2011, given their moratorium (cash swindling) practice of suspending the release of certain films. Currently going for crazy prices on eBay, maybe they're worried that unaware audiences will be put off the sequel after viewing the outdated original.

As a homage to MGM's The Wizard of Oz, where the scenes in Oz are in Technicolor, it's only after Sam is transported to The Grid that the film switches to 3D. However, there are a few deeper parallels. One could view Clu as the Wicked Witch (copy program) of the West (The Grid), who is after Kevin's magic ruby slippers (an all-powerful ID disc). All that was missing was Hedlund singing "Follow the Neon Lit Road" and clicking his heels while saying, "There's no place like Flynn's Arcade."

As a child, the thrill of seeing a Lightcycle for the first time when watching Tron broadcast on TV was incredible. After seeing an updated Lightcycle jumping over another one in 3D, the thrill is definitely back. Seeing Sam survive the games makes for Legacy's high point. I'll admit that I'm now already finding it hard to be blown away by 3D technology, though for Legacy, the effect is up there with the likes of Avatar and Coraline, and comes across as generally pleasing without being overly distracting. As a visual treat, it enhances the dark yet vibrant virtual world, though it isn't so far removed from the original, still retaining a retro look.

The young-looking Jeff Bridges as Clu would have been the special effects high point, had it been flawless. It's a brave effort, but the character looks visibly CG'd up when talking (face reflexes look a touch sluggish), with even Kosinski himself admitting that it's not exactly 100% perfect. With the exception of the opening scene, the minor faults kind of make unintentional sense with Clu being a copy.

When he isn't the antagonist, Bridges' Kevin is a more welcome presence in a rather relaxed role, with shades of The Dude from The Big Lebowski. Garrett Hedlund as Sam comes across as generally likeable, even helping a fellow Lightcycle player. Following him on his journey, there's almost a strange knowingness that he can't carry the whole film, with the attention shifting midway to the other characters. Olivia Wilde brings wide-eyed naivety as Quorra, being in awe of the Flynns, and is insanely curious, while Michael Sheen puts in a memorably flamboyant turn as club owner Castor, doing his Ziggy Stardust impression. The film could have done with a little more Bruce Boxleitner, whose returning role as Alan is more like an extended cameo.

A lot has been said about it being a father and son story. It tries so hard to be one, with moments of chitchat - and yes, there are tears when they finally meet - but some stilted dialogue fails to bring the emotion to the forefront. Emotional resonance does arrive when we see how far the lead characters will go to risk their lives for each other. With actions being bass heavier than words, the best example comes during Kevin's visit to The End of the Line club. I won't give anything away, but with the help of Daft Punk's score, Jeff Bridges totally owns that scene!

Daft Punk's inclusion came after they approached Kosinski about working on Legacy, and their mix of bass-thumping synth with traditional strings complements the film far better than I'd have thought. They cameo at The End of the Line club, along with the writer/director of the original Tron, Steven Lisberger, in a "how-nerdy-is-it-that-I-actually-recognised-him" role as a bartender.

Essentially Legacy is very much a children's film. While references and technical terms will fly over the heads of some, it's generally easy enough to follow. With a little too much thinking, you'll find a few things that don't make much sense. One issue is Quorra explaining that Clu's vehicles can't run off the Grid, which happens to be where Kevin resides. However, Clu does manage to make it there, though we're never shown how, nor why it took him so long. Also the film doesn't mention Sam's glaringly non-existent mother, or the hows on the inclusion of a roast pig.

As we've seen in films such as 2001 or I, Robot, with artificial intelligence taking a life of its own, they eventually turn on their creators, with technical innovation being presented as a double-edged sword. If you're after any more exploration, then you won't find it here. It may masquerade as a drama during those quiet moments, but for fans that have grown up with Tron over a number of years, in regards to story and special effects, this isn't quite the game changer we've been led to believe, no matter what the taglines may say. It briefly touches on larger ideas; be it an ISO in the Tron system being able to cure someone, or users often worshipped as Gods (there's a quick burst of bizarre brilliance when a program bows before Kevin), but it doesn't fully explore them. Nor do I feel will any potential sequels, which likely stems from Disney's fear of alienating the kids.

As Sam eyes a book on his father's bookshelf, Journey Without a Goal (possibly name-dropping Chogya Trungpa's similar sounding book), he responds with, "Must have a killer ending." It's a moment of wit, with the book hinting at his father's now enlightened approach to life (later blatantly stated when an exasperated Kevin yells to his son, "You're messing with my Zen thing, man!"). However, it could also apply to Kosinski's film. For a first-time director, he's managed to get more right than wrong. It may reach its eventual destination on a disappointing whimper, but the journey there is an absolute blast.