Weekend Wrap-Up
Potter vs Tangled, Post-Thanksgiving Style
By John Hamann
December 5, 2010
BoxOfficeProphets.com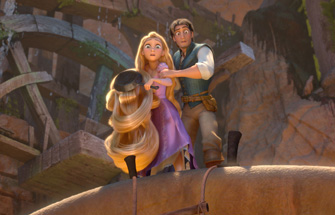 ---
The post-Thanksgiving weekend can be one of the more brutal weekends of the movie-going year, as surprisingly, the first weekend in December is a box office dead zone. A year ago, even the ultra-leggy Blind Side fell 50%, 14 more percentage points than its second biggest drop when earning more than $1 million per weekend. A year ago, there were three decent sized openers, and none of them debuted to more than $10 million. This year, there is only one new opener, The Warrior's Way, and even it is staying in hiding, showing up at only 1,622 venues. The showdown this weekend (again) is between Harry Potter and Tangled. Would the popular Disney toon overthrow the mighty wizard, or would Potter be king for the third consecutive frame?

Our number one film of the weekend is Tangled, Disney's very well-received, 3D animated musical. Like The Blind Side, Tangled finished at number one this weekend, with an A+ Cinemascore and 87% fresh rating at RottenTomatoes, but still got blindsided this weekend. After a three-day take over the turkey frame of $48.8 million, the Disney romp fell a woeful 56% to $21.5 million. It's important to remember how brief of a blip the first weekend in December can be for a film's box office run. Continuing with The Blind Side example, the Sandra Bullock flick did fall 50% over its third weekend, but over its next four weekends, the average drop was 9.99%. The first weekend in December is obviously not good; however, the next three weekends at the box office certainly make it up for it. Yes, there is lots of competition coming for kids in the form of Chronicles of Narnia: Voyage of the Dawn Treader and Yogi Bear, but Tangled is a good film that is getting loads of positive remarks, so it should see some better than average staying power.

Disney needs Tangled to show some sturdy legs. The LA Times reported a budget for Tangled of $260 million, as this effort has been in the works for many years. Despite that huge budget number, I think Disney is going to make out just fine. My math has Tangled at about $180 million by the end of December, with a chance at $200 million before the end of its domestic run. Logic then says Tangled will earn $300 million overseas, and Disney will see a profit by the time the first run of DVDs are sold, or even before. Tangled could have been a very ugly situation for the Mouse House given the budget, and they should be credited for turning this one around. The animated film is going to be Disney's fourth biggest domestic film of the year, behind Toy Story 3 ($415 million), Alice In Wonderland ($334 million), and Tron: Legacy, which opens on December 17th – note the theme of all four - 3D.

For the first time in its three-weekend run, Harry Potter and The Deathly Hallows has to settle for second. With almost $230 million in sales heading into the weekend, Potter could not maintain the momentum it needed to stay ahead of Tangled at the weekend box office. The Deathly Hallows earned $16.7 million in its third frame, and drops a heavy 66%. I still think the best comparison here is Harry Potter and The Goblet of Fire, as that was the last Potter film to open in November, and on a Friday. Goblet of Fire grossed $54.7 million over the Thanksgiving weekend in 2005, and then fell 64% to $19.9 million the following weekend. Deathly Hallows now has two consecutive weekends behind the gross of Goblet of Fire, but maintains the overall lead. Goblet had earned $230 million by the end of the post-Thanksgiving weekend, where Deathly Hallows has now taken in $244.2 million.

Will Potter make it to $300 million? Christmas can be a tough time of year to predict, but if stays on the trajectory of Goblet of Fire, it's going to be very close. Goblet took in $290 million back in 2005, and made about $45 million of that between the Monday following the post-Thanksgiving weekend and the weekend ending December 30th. If Deathly Hallows does the same, it will have about $290 million by the end of December, and should be able to crawl across the $300 million mark. That said, it could become the second highest grossing Potter (Sorcerer's Stone), if it gets ahead of the Half-Blood Prince, which took in $301 million. Overall, this is a very healthy Part 1 for Warner Bros., as Harry has brought in almost $400 million overseas – so far.

Third is a tie, and our first of the two films in this spot is Burlesque, which tries to overcome a somewhat soft $12 million take over turkey weekend. Hopes were high for a solid hold here, as the Cinemascore for the campy musical was an A-, which was supposed to prompt good word-of-mouth. This weekend, the Cher and Christina flick earned $6.1 million, and was off an actually not bad 49% - again - anything around or better than the 50% mark is considered a win. Screen Gems plunked down $55 million plus some big marketing costs for Burlesque, so this one is going to need any help it can get. The current take so far for Burlesque has reached $27 million, and it has yet to open overseas.

The other third place finisher is Unstoppable, as the runaway train flick with Denzel and Chris Pine moves from fifth last weekend to third this weekend. Now in its fourth weekend, the 20th Century Fox flick took in $6.1 million and drops a fantastic 47%, as anything below the 50% mark has to be considered a huge victory this weekend. Unstoppable has already earned three times its opening weekend, and while it won't earn back its $100 million production budget stateside, it has already pulled in over $40 million overseas, so this will end as another win for Denzel Washington. Give Unstoppable $69 million so far.

Love and Other Drugs actually holds slightly better than expected this weekend, as the Anne Hathaway/Jake Gyllenhaal flick was expected to be roadkill. After pulling in only $9.7 million last weekend, Love and Other Drugs drew $5.7 million, good for a not bad drop of 41%. Like its box office result, this one is coming off as just "blah" – a 42% fresh rating at RottenTomatoes doesn't help, or a B minus Cinemascore. The budget for this one was $30 million, so the pain won't be too intense for Fox, as Love has earned $22.6 million so far.

Finishing sixth this weekend is Megamind, the Paramount/DreamWorks animated entry, and another 3D film aimed at kids. Megamind earned $5 million after earning $12.6 million over the kid-friendly Thanksgiving weekend. The Will Ferrell/Brad Pitt voiced flick dropped an expected 60%, and now has a running total of $136.7 million, more than its $130 million production budget. Megamind is just getting started overseas, but already has a cume beyond $32 million. Next up for Paramount and DreamWorks Animation is Kung Fu Panda 2, which will surely open huge in May 2011.

Due Date spends another weekend in the top ten, thanks to a weekend gross of $4.2 million. Since opening to over $30 million, Due Date has struggled. It fell 53% in its second weekend, 42% in its third, 20% over the Thanksgiving weekend, and 41% now that we're back to a normal frame. The good news for this one is that has pulled in $91 million domestically and has already grossed $73 million overseas, against a production budget of only $65 million.

CBS Films' Faster was another movie that didn't recover following the Thanksgiving weekend. After opening to $8.5 million last weekend, The Rock's revenge flick earned only $3.8 million and dropped 55%. This one cost CBS $24 million to make, but they sold foreign rights to reduce the exposure. Faster has earned $18.1 million domestically.

The Warrior's Way, the truly bizarre looking martial arts western, finishes near the back of the pack this weekend, as the distributor failed to support this one. Out to only 1,622 venues, The Warrior's Way grossed only $3 million, as the marketing was remarkably absent. Upstart distributor Relativity Media embargoed reviews heading into the weekend, killing any sort of awareness the film might have. Surprisingly, both the New York Times and Variety gave it a positive review once the embargo was lifted, so somebody somewhere needs to be fired. On the positive side, this might be how you create a cult classic – absolutely blow the opening. At the time of this writing, reviews were completely mixed at RottenTomatoes, with six positive and six negative reviews, thanks to that silly embargo. I, for one, will be looking forward to this on DVD.

Finally in tenth is Russell Crowe's The Next Three Days. The Lionsgate flop earned $2.7 million and dropped 43%. It has a running total of $18.4 million.

Overall this weekend, it was a fairly normal frame considering the date. A year ago, The Blind Side led the box office to a $91.4 million top 12, but last year, due to the strength of The Blind Side, was a bit of an anomaly. The previous two years both saw top 12s in the $70 millions range, and this year is actually slightly better than that. The top 12 earned $81.3 million. Next weekend, things get interesting again. Openers include Voyage of the Dawn Treader, the Narnia film that will kill the series if it doesn't produce, and the Johnny Depp/Angelina Jolie pair-up in The Tourist.