Weekend Wrap-Up
Potter Roasts Box Office Over Turkey Frame
By John Hamann
November 28, 2010
BoxOfficeProphets.com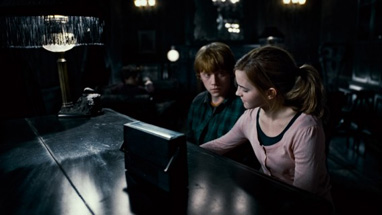 ---
After opening to $125 million a weekend ago, Harry Potter and the Deathly Hallows was a mortal lock to win the lucrative Thanksgiving session. The question was by how much. A good hold versus last weekend had some things working for it (the long weekend) and some things working against it (versus a film that did $24 million in midnight screenings). Potter also had Disney's new and very expensive Tangled to contend with, but I don't think the one robbed the other too much. Roadkill this weekend included Burlesque with Cher and Christina, Faster with Dwayne Johnson, and Love and Other Drugs with Jake Gyllenhaal and Anne Hathaway, as the kids were kings at the box office over the five day frame this weekend.

Last year was wild at the box office, with The Twilight Saga: New Moon on the way out in a big way (-70%), while the Blind Side (+18%) and A Christmas Carol (+28%) came back up. This year is different – the "hallowed" holdover held fairly, and while Tangled was fantastic, three other openers struggled. Like a Thanksgiving tradition, films aimed at families and the younger set dominated, and the rest pretty much failed.

The number one film of the weekend - but not by much - is Part One of Harry Potter and the Deathly Hallows. Potter 7 grossed $50.3 million over the three-day portion of the long weekend, and $76.3 million over the five-day span. It dropped 60%, and earned a $12,205 venue average from 4,125 screens. Harry and Friends crossed the $200 million mark on Saturday, only its ninth day of release.

The Deathly Hallows dominated the entire Thanksgiving session. On Wednesday, the Warner Bros. super-flick earned $14.4 million, a 41% increase over an equally busy Tuesday when the film earned $10.3 million. Interestingly, Potter 7 has been about $2 million ahead of Harry Potter and the Goblet Fire, which opened on the same date in 2005. Goblet of Fire's Tuesday before Thanksgiving number was $9 million, and the Wednesday was $14.1 million – very close to Deathly Hallows $14.4 million, and a sign this one could be losing steam. The Thursday tally was $11.5 million for Hallows, behind that of Goblet of Fire, which earned $12.4 million. Goblet may have earned more on Thursday, but the overall difference was still large. Up to Thursday, Goblet had earned $146.2 million, where Deathly Hallows had accumulated about $170 million, a difference of $24 million – exactly the total of the midnight screenings last week.

Potter earned $23 million on Friday, about even with 2005's Goblet of Fire. It crossed the $200 million mark on Saturday and ties the nine-day mark for the third fastest film to reach that mark. It joins box office heavyweights like Toy Story 3, Twilight: Eclipse, Spider-Man 3 and Pirates of the Caribbean: At World's End as the only films to earn $200 million in nine days. It took both Goblet of Fire and The Half-Blood Prince ten days to reach the same mark. Harry Potter and the Deathly Hallows has a total box office now of $220.4 million. It is still on track to become the biggest Potter film ever, at least on the domestic front.

Finishing second this weekend is Disney's Tangled, supposedly the last of their long line of "princess" films (I love a business strategy that says "abandon what made you famous"). The 3D animated flick grossed $49.1 million over three days and $69 million over five days. This is a stellar result for Disney, hearkening back to the late 1990s and Disney's dominance of the Thanksgiving frames. Tangled got out to 3,603 venues, and earned a venue average of $13,28. Considering that Potter only won the three-day portion of the weekend by a million bucks, Disney has to be delighted with this result. It will help them save some face, as the LA Times reported a $260 million production budget for the animated musical, which is almost a dinosaur in today's CG world. Tracking was looking for a $30 million (or lower) three-day and a $40 million five-day, so with Tangled we have a definite breakout success. Too often these type of films end up more on the downside, so I think Disney will be especially pleased.

Not only will Disney be happy with the box office result, they will also be pleased with critical and public opinion of the film, which will lead to outstanding merchandising opportunities down the line. The Cinemascore for Tangled is an A, and the reviews are of the rave variety. At RottenTomatoes, 99 reviews were counted, and of those 87 were fresh, giving this one a strong 87% fresh rating. Top critics gushed even more, with 23 out of a possible 25 giving a thumbs up, good for a 91% fresh rating. This is Disney's biggest Thanksgiving weekend opening since 2007's Enchanted. The Amy Adams film grossed $34.4 million over the three-day and $49 million over five days. Enchanted finished with $127 domestically, a number Tangled will have no problem taking down.

Proving it's a huge family movie-going weekend, Megamind finishes third – down only one spot from last weekend – despite four new films entering the fray. Megamind earned a solid $12.9 million this weekend – its fourth - despite what should have been crushing competition from Tangled and Harry Potter. It took in $17.6 million over the five day portion of the weekend. Megamind dropped 20% compared to its $16 million take last weekend. Over the Monday-to-Friday portion of the week, Megamind earned $8.3 million, a significant increase over the $4.5 million it earned over the similar period the week before. It has now managed to match its $130 million budget stateside, as it has a cume so far of $130.5 million.

Fourth place goes to new release Burlesque, Screen Gems' shot at November glory. The musical, starring Cher and Christina Aguilera, earned $11.8 million over three days, and $17.2 million over five. Unfortunately, this one cost $55 million, so it needed to open with $5 or $10 million more to prove effective for the studio, unless it is big overseas. It was too much camp for critics, as the folks at RottenTomatoes gave it a rotten rating of 32%, a score that's just not going to work for this kind of musical.

Also holding well and dominating is Denzel Washington's Unstoppable, which is benefiting from good word-of-mouth. Unstoppable earned $11.7 million over the three-day portion of the Thanksgiving frame, and $16.2 million over five days. It dropped only 10% compared to last weekend, and should finish as an $85 million film. It's already picked up over $30 million overseas, so the $100 million production budget shouldn't be in jeopardy. So far, Unstoppable has earned $60.7 million for 20th Century Fox.

In sixth is Edward Zwick's Love and Other Drugs with Anne Hathaway and Jake Gyllenhaal. This dramedy failed to penetrate the masses out there this weekend, as the Fox film earned only $9.9 million over three days and $14 million over five. The good news for Fox is that this one cost only $30 million to make.

Seventh is Faster starring Dwayne Johnson, noticeably not The Rock this time. Faster didn't do all that well, but it's not going to hurt upstart CBS Films all that much. Faster earned $8.7 million over three days and $12.2 million over five. Variety reported that the budget for Faster was $24 million, with Sony picking up foreign rights for half the budget cost. This marks the first time that The Rock has failed to open a film to more than $10 million, save for Southland Tales.

Due Date drops four spots to eighth place. The Robert Downey Jr. flick earned $7.3 million and dropped 18% from last weekend. Now in its fourth weekend, the $65 million Warner Bros. flick has earned $85 million.

The Next Three Days finishes ninth, as the Russell Crowe flick is getting the quick boot from the top ten. The Lionsgate miss earned $4.8 million this weekend, and was off 26%. Crowe's latest disaster has a running total of $14.6 million.

Morning Glory is also fading fast this weekend, as the Rachel McAdams film isn't clicking with audiences. Glory earned $4 million this weekend and dropped 23%. The $40 million Paramount entry has earned $26.5 million.

Overall, it was a very healthy Thanksgiving frame, despite the leftovers being more popular than the meal. The top 12 films rang up $173.9 million this weekend, which is just slightly down from last year's $175.2 million, when the top seven films all grossed more than $10 million. As is traditional in the box office year, the weekend after Thanksgiving provides a break, and next week is no exception. The only new release is A Warrior's Way – something about ninjas and cowboys, as well as some Oscar fare released into limited markets. A year ago, it was a bloodbath, as the best holdover had a drop of 50%. Expect more of the same.