Weekend Wrap-Up
Potter Hits New Heights With Deathly Hallows
By John Hamann
November 21, 2010
BoxOfficeProphets.com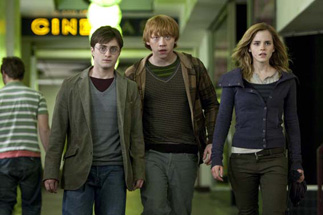 ---
You know it's a great weekend at the box office when you have two statistical "wow" moments before half of the moviegoing weekend is over. Harry Potter and the Deathly Hallows was magical this weekend, as the young wizard broke out, surprising prognosticators with its success. Warner Bros. should be celebrating, as not only is the first part of the final chapter more successful than some thought, it virtually guarantees the second part of Deathly Hallows will open with even more. Theater owners should be happy as well, as we have our second biggest November weekend on record.

Harry Potter and the Deathly Hallows Part One is obviously our number one film of the weekend, and becomes one of the top six biggest openers ever. Deathly Hallows took in an amazing $125.1 million this weekend from a super-sized venue count of 4,125. Potter 7 had a ridiculous venue average of $30,332. It finishes in the box office stratosphere - sixth on the all time opener list, behind only The Dark Knight ($158.4 million), Spider-Man 3 ($151.1 million), The Twilight Saga: New Moon ($142.8 million), Pirates of the Caribbean: Dead Man's Chest ($135.6 million) and Iron Man 2 ($128.1 million) . It beat the former biggest Potter opener – Goblet of Fire, which took in $102 million over three days – by $23 million. Production costs for Deathly Hallows are not immediately known – IMDb lists a budget of $250 million (the same as Half-Blood Prince), but those costs might be split between Part One and Part Two. Regardless, Deathly Hallows now has a strong chance at finishing as the highest grossing Potter film. It's looking to beat The Sorcerer's Stone, which took in $317 million stateside, and $976 million worldwide. North American sales for the franchise will cross the $2 billion mark by the time this Harry Potter celebrates Christmas.

The Deathly Hallows had its first box office "wow" moment on Friday morning, when it was announced that muggles bought $24 million worth of tickets for midnight screenings on Thursday night. That was $2 million more than the last entry, Half-Blood Prince, which opened in the summer when kids were out of school and didn't have to go to class Friday morning. It was at that moment that we knew something fairly special was going to happen this weekend. Friday's number cemented the fact that special was in fact happening. The Deathly Hallows earned $61.1 million on Friday (including the $24 million midnight screenings), a record for the Potter series (it was $3 million ahead of Half-Blood Prince, which opened to $58.1 million), and the fifth biggest day overall of all time. The Saturday-Sunday numbers would be the key factor in Deathly Hallows' opening weekend – how would the hold over the next two days compare to that huge Friday number? Goblet of Fire, the last Potter film to open in November and on a Friday, had a weekend multiplier of 2.55. Twilight: New Moon, the film that owns the single day record at $72.7 million, had a weekend multiplier of only 1.96. This latest Potter installment comes in at a 2.0, but with a heavy Friday and massive midnights, that's to be expected. The result is that Warner Bros. now has two films in the top ten biggest opening weekend list, as Harry Potter and The Deathly Hallows Part One joins The Dark Knight.

Speaking of The Dark Knight and its top scoring $158 million opening, The Deathly Hallows might have had a very strong shot at being the biggest opener of all-time had it been shot in 3D and charged the 15% premium. Regardless, the super-sized opening props the door wide open for Part 2 of The Deathly Hallows to become the biggest opener of all time, as that one should be exhibited in 3D, and charge the premium. There was a lot of pressure on the first part of Deathly Hallows to perform well, as the results from this film will almost certainly be mirrored in July when Part 2 hits screens. It is currently scheduled to open on a Friday, so if the date of July 15, 2011 holds, we could see The Dark Knight's record fall. If Warner Bros. moves the opening to Wednesday, July 13, 2011, we won't.

The Potter films have always received solid reviews, and Potter 7 was no different. Harry Potter and the Deathly Hallows was reviewed by 196 critics, and of those, 154 were fresh, giving this one a rating of 79%. Top critics at the site were similar, with a 74% fresh rating. That compares well with the other films in the series, as the other six films have a range of 78% fresh to 90%. It is just off the average rating for a Potter film, which comes in at 82.5%. Quality is at the heart of these films, and there has been no misstep over seven films. Hopefully, Part 2 will not be a Matrix Revolutions and compromise the franchise.

Finishing second this weekend is Megamind, which has been severely punished by Harry Potter. After dipping 37% last weekend to $29.1 million without any kid-friendly competition, Megamind fell an expected 44% versus Potter, earning $16.2 million. Still out to a quite wide 3,771 venues (the top four films have a combined venue count of 14,340 this weekend), the 3D animated flick had a venue average of $4,280. Megamind crossed the $100 million mark on Saturday, its 16th day of release, which gives an indication of where Megamind might end up. Shark Tale earned $100 million in 15 days, after opening similarly to Megamind ($47.6 million to $46 million). Shark Tale finished with $160 million domestically, and Megamind should come in close to that. The production budget here was $130 million, so after foreign coin is counted, Megamind will end up as a fairly decent win for the folks at Paramount at DreamWorks Animation, but this is certainly no How To Train Your Dragon ($217 million domestic finish). Its current domestic total is $109.5 million.

As odd as it seems, Unstoppable finished closer to Megamind than it did last weekend, when it opened. After debuting last weekend with $22.7 million - $6.4 million behind Megamind, the Denzel Washington flick took in $13.1 million in its second frame, now only $3 million behind Megamind after the second showdown. Unstoppable fell 42%, which isn't bad at all, considering the Harry Potter gorilla in the theater, hogging the larger venues. With that hold, the 20th Century Fox film should finish at the high end of the usual Tony Scott/Denzel Washington team ups in the $60-$70 million range. Unstoppable won't reach its $100 million production budget in domestic ticket sales, however, we don't have a lot of data yet, and with Thanksgiving on the horizon, I will wait another weekend before predicting its domestic finish. Denzel is quite popular overseas in this type of film, so $150 million worldwide (or more) is a real possibility. Currently Unstoppable has a running total of $42 million.

Due Date, with Robert Downey Jr. and Zach Galifinakis, is fourth this weekend, and only improves quite well on its 53% drop from last weekend. The $65 million hit from director Todd Phillips earned $9.2 million and dropped 41%. Due Date looks like it will be Phillips' least leggiest flick (besides School for Scoundrels, which we'd all like to forget), as it looks to finish just north of $90 million. So far, Due Date has earned $72.7 million, and has already pulled in more than $45 million overseas.

Russell Crowe hits a new box office low in The Next Three Days, his new opener this weekend. The Lionsgate prison break flick took in only $6.8 million from 2,564 venues, giving it an average of only $2,633. I like the idea of counter-programming smaller films against the box office behemoths, but they have to be the right kind of film. The Next Three Days is not one of them. It was only 42% fresh at RottenTomatoes, which isn't good enough to get the public's attention. Crowe sees another low point in his career, as this is his second lowest debut; only A Good Year's $3.7 million debut disaster in 2006 was worse for him. The good news for Lionsgate is that this was a $35 million production, and they shielded themselves from risk by selling some foreign rights for $25 million.

Paramount's Morning Glory is sixth, as it lost any momentum gained last weekend. Morning Glory earned only $5.2 million in its second weekend, a drop of 43%. A film like this needs to hold better in its second frame, even against a Harry Potter film. This $40 million effort is going to end up $10 million short. Give it $20 million so far.

Seventh is Skyline, which is proving that less isn't always more. After opening to $11.7 million last weekend, the effects-on-the-cheap sci-fi fell an insane 71% to only $3.4 million this weekend. This, my friends, is word-of-mouth at its finest. Just because you can do it for $10 million, doesn't mean you should. After opening to more than $10 million, this one is going to finish with just around $20 million. Give it $17.6 million so far and a ride to the Walmart $3.99 bin.

Eighth spot goes to Red, Summit Entertainment's six-weekend-old wonder. Red earned another $2.5 million this weekend to bring its domestic total up to $83.6 million. Made for less than $60 million, Red opened to $21.8 million and rode strong word of mouth to an almost 4.0 open to total multiplier, which is extremely strong for the genre. Red has also pulled in another $40 million overseas so far, to bring its worldwide total to over $120 million.

Tyler Perry's For Colored Girls finishes ninth this weekend, only two weekends after it opened in third with just short of $20 million. For Colored Girls earned $2.4 million, giving it another horrible drop of 63%. The $21 million dollar feature has now earned $34.5 million.

Tenth spot goes to Fair Game, the new political thriller with Sean Penn and Naomi Watts. Fair Game opened two weekends ago on 46 screens before expanding to 175 venues last weekend, bringing in a little over $1 million. Now out to 386 venues, Fair Game earned $1.5 million, and had a venue average of $3,808. Doug Liman's 82% fresh thriller has a running total of $3.7 million.

Overall this weekend, the news is good, but any comparison to last year is going to be tough. A year ago, not only was Twilight opening to $143 million, but The Blind Side also took in $34 million. That brought last year's top 12 up to $250 million, which is an amazing figure. This year's top 12 pales in comparison at $187.2 million, but is actually the second biggest November weekend on record. Next weekend things get really wild, as we have four openers entering the fray, along with Potter's second weekend. Next frame's openers include Tangled from Disney, Burlesque with Cher and Christina Aguilera, Faster with The Rock, and Love and Other Drugs, Edward Zwick's new romantic comedy.