Weekend Forecast for November 19-21, 2010
By Reagen Sulewski
November 19, 2010
BoxOfficeProphets.com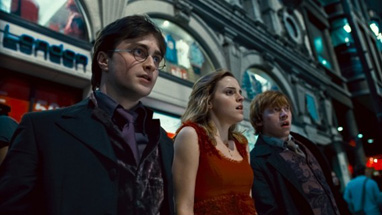 ---
There may be two new films hitting theaters this weekend, but let's face it, only one really matters. One of the largest grossing series in box office history hits its final stretch starting Friday.

On the Mount Rushmore of movie franchises, Harry Potter is the Teddy Roosevelt. Or maybe the Jefferson, I'm not sure exactly how this works. Point is, it's a big giant head carved into a mountain. I may have lost my metaphor here along the way.

Through the previous six films, it's made $1.7 billion in North America and $5.4 billion worldwide (which, for perspective, is approximately the GDP of Moldova). Add in several billion more in DVD sales, rental income and cable broadcast rights, and we're talking about one of the biggest juggernauts of all time, and a series that's made Warner Bros. a majestic pile of cash. So much so that Warner simply couldn't say goodbye so quickly, and split the seventh book, And The Deathly Hallows, into two movies, the first of which debuts at midnight Friday.

One could easily take the cynical viewpoint that this move is solely to generate more cash out of the series, and Renault was also shocked to find out that there was gambling going on in his establishment. But it's also justified in that it's a long book (though not the longest in the series) and the wrap-up to close to (so far) 15 hours of movie, so extending out the coda is worth it (take that, Return of the King haters). And it's not as if Harry Potter fans are complaining about more Harry Potter. That it's one of the more action-oriented books certainly doesn't hurt.

This is the first Harry Potter film to get a conventional Friday release since 2005's Goblet of Fire, which took in $102 million on the same weekend. While I don't expect a lower number than this, though fan fervor hasn't had new books to keep it stimulated. This should be more than offset by the series being in its homestretch, though I wouldn't be surprised to find out that there might be some small number of fans who would wait until both chapters are out (the next arrives in July).

It's at this point that it's worthwhile talking about the series' records. The best ever day was Half-Blood Prince's $58 million opening day, while the best weekend day was Goblet of Fire's $40 million Friday (both of which include sneaks). I'm not banking on that single day record being broken, but a figure close to that should suffice for its opening night. Also, the three-day weekend record (Goblet of Fire's $102 million) should fall, as well as the record for any three day period (Half-Blood Prince's $107 million start) as Deathly Hallows Part 1 debuts to $111 million.

The sacrificial lamb going up against it is The Next Three Days, a crime thriller starring Russell Crowe and Elizabeth Banks and directed by Paul Haggis (most notable for Crash). Banks plays a woman convicted of murder (oh, let's say she's innocent just for plot's sake) about to lose her last appeal and be sent away for life. Crowe is her husband, a mild-mannered professor who mounts a daring escape plan for her after looking up "how to escape from prison" on the Internet. I'm only half kidding there.

That a film is opening up against a Harry Potter film is a bit of a novelty in itself. In past years, studios have mostly left it alone on its opening weekends – the most significant film to open against one was Walk the Line – in large part due to the huge crossover demographics the Potter films hit. I'm a firm disbeliever in the notion of competition on opening weekends except in the notion of awareness – it's hard for smaller films to stick their head above the noise of an ad blitz like Potter's. That's probably secondary here to the fact that for the last few years, no one's really wanted to see Russell Crowe's films.

Robin Hood was one of the costliest flops of the summer 2010, while late 2008/early 2009 saw two of his thrillers (Body of Lies and State of Play) debut to an overall feeling of "meh", wrapping up under $40 million total. While American Gangster wasn't that long ago, most of that $130 million can really be attributed to Denzel Washington. It's the two failed thrillers that draw the closest comparison here, especially since The Next Three Days hasn't done an especially good job of selling its "everyman-against-the-system" angle. Look for about a $10 million opening weekend here.

Megamind earned a repeat at the top of the box office last weekend with a $29 million performance, and $88 million in the bank. One of the true demonstrated victims of competition was in exactly this position nine years ago, however - Monsters, Inc. took a 50% dive in its third weekend against the opening weekend of the first Harry Potter film after dropping less than a third in its second. And Megamind is no Pixar film. It's possible the effect will be less pronounced here since we're dealing with a smaller initial number – fewer people are left to make the choice between the two films – but I expect to take a significant hit, to around $16 million.

Unstoppable won the battle of new releases last weekend, opening to a little over $22 million, a remarkably consistent number for a Denzel Washington/Tony Scott film. A straight-ahead (literally) action thriller about a runaway train, it seems well-positioned to have a solid run. Several unpretentious crowd-pleasing action films have enjoyed better than expected legs of late, the most recent example being Red, which is somehow going to earn $90 million after a $21 million start. That seems like a noble number for Unstoppable to shoot for, starting with $14 million this weekend.

By contrast to some of those leggy films, Due Date cratered in its second weekend, dropping by more than 50% after a hot start of $32 million. While there had been some positive reviews for the film, the early word-of-mouth has been too negative to overcome and this looks to go down in the Todd Phillips oeuvre as an overall miss. Look for it to fall again to around $8 million.

While Skyline's $11 million was still enough to earn back its meager production budget, it's one of those results that's still a bit head-scratching. Although it essentially amounts to an FX demo-reel, that's kind of the same thing that could be said for a lot of sci-fi films these days. Perhaps it was the presence of no actual actors that anyone recognized that scared people off – or perhaps our bullshit dectectors have gotten better. In any case, the "Cloverfield, but somehow more amateurishly-shot" premise didn't hook people to any significant degree, and the film is already starting to go down in cinema lore for its howler of an ending. Expect this to fall off the map completely to around $4 million, with $25 million as an optimistic end total.

Morning Glory also underwhelmed with a $9 million opening weekend and a $12 million five-day total. The romantic comedy starring Rachel McAdams and Patrick Wilson, with special comedy sideshow from Harrison Ford and Diane Keaton, seemed to suffer from the same problem as a lot of films out this year that have relied of moderate star power – not being unique or special enough to inspire people to spend their cash on it. Audiences seem to be getting pickier about their films but really supporting those that they get behind with word-of-mouth. Morning Glory shouldn't suffer too badly – it's just bland, not bad – but will still drop to around $5 million.