Weekend Wrap-Up
Unstoppable, Skyline No Match for Megamind
By David Mumpower
November 14, 2010
BoxOfficeProphets.com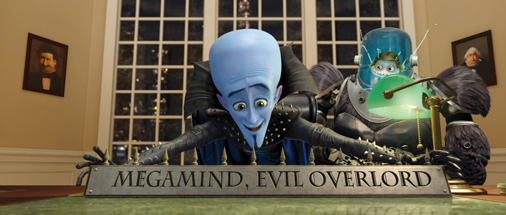 ---
Three new movies were released this weekend, but North Americans gave their vote to evil once more. Make all the political jokes you want, but I'm talking about Megamind, the Doctor Horrible premise redone as a major DreamWorks Animation release. Will Ferrell's latest blockbuster took on a new title from the Tony Scott/Denzel Washington combo as well as a science fiction flick that all but begged for comparisons to District 9 and a Broadcast News for 2010. No, this was not a weekend for originality; however, it was another demonstration that animation domination is not just for Sunday evenings on the Fox Network.

Yes, Megamind held off all comers to become the first title since The Social Network to repeat as weekend winner at the box office. The movie earned an estimated $30 million from 3,949 locations, a decline of 35% from its opening frame. The question is, "How does this stack up with other recent DreamWorks Animation holdovers?" And the answer is in the eye of the beholder. Looking at the five most recent titles from the animation house in reverse chronological order, Shrek Forever After fell 38.9%, How to Train Your Dragon declined 33.7%, Monsters vs. Aliens slid 45.0%, Madagascar: Escape 2 Africa dropped 44.5% and Kung Fu Panda depreciated 44.2%.

So, Megamind falls in the range we had expected in that it's not quite How to Train Your Dragon (though it's pretty close), but it's also showing solid holdover appeal relative to the ordinary behavior for the studio's releases. With a strong $89.8 million after ten days, this one is poised to show a lot of life between now and the start of 2011. I should point out that out of the half dozen DreamWorks Animation releases mentioned here, this is the lowest ten-day tally. How to Train Your Dragon had been the lowest at $92.1 million. All of the others were over $100 million by this timeframe.

In 1995, Tony Scott directed a marvelous submarine flick called Crimson Tide. The film starring Denzel Washington earned $91.4 million, the equivalent of $162 million at 2010 ticket pricing. At that point, a beautiful friendship was born between Washington and Scott. The director/actor duo have worked together on Déjà vu ($64.0 million domestic), The Taking of Pelham 1 2 3 ($65.5 million), and Man on Fire ($77.9 million). Their average opening weekend in the 2000s has been $22.2 million. The weekend estimate for Unstoppable is $23.5 million. Score this round for past behavior indicating future results. Exhibited in 3,207 locations, Unstoppable has a respectable per-venue average of $7,328. The downside here is that the presence of the new Captain Kirk, Chris Pine, did not add to the bottom line any. Meanwhile, this is Washington's second hit of the year on the heels of The Book of Eli's $94.8 million. The upshot is that Unstoppable has earned exemplary reviews thus far, currently sitting at 87% fresh at Rotten Tomatoes with 90% of top critics giving it the thumbs up. It should at least match the mid-$60 million performances of Scott and Washington's prior films if not surpass them.

Last weekend's other new release, Due Date, also holds its own against the three new competitors, beating two of them along the way to earn third place with $15.5 million. After earning $32.7 million during its opening weekend, Due Date fell a so-so 52%. No, it's no The Hangover for director Todd Phillips, as that movie dropped only 27.1% in its second weekend, but this is in line with his most comparable previous title, Starsky & Hutch, which started a bit lower with an opening weekend of $28.1 and finished with $88.2 million. That final total is a reasonable comparison for Due Date, which has so far accumulated $59 million.

The three new releases this weekend are best described as the good, the bad and the ugly. Skyline is not the good but at least it's not the ugly. The Universal Pictures science fiction epic suffered from poor early buzz it could never overcome. The end result is a $11.7 million opening weekend in 2,880 exhibitions, a per-location average of only $4,055. Of course, when we factor in the lousy critical reviews thus far, maybe Skyline isn't as huge a disappointment as it should have been, particularly factoring in its modest mid-teens budget. Only 11% of critics have given it a thumbs up and none (!) of the top critics like it. Early discussion of the Skyline trailer centered around the low budget production values that made it look like a television show pilot a la V and The Event. In hindsight, that may have been giving it too much credit. Skyline is going to vanish out of the collective consciousness almost immediately, eventually settling into its predetermined lot as late night television fare.

If Skyline isn't the ugly new release, that leaves only Morning Glory to fit that description. The Rachel McAdams/Harrison Ford comedy-drama earned $12.2 million in five days with $9.6 million of that coming over the Friday-to-Sunday period. After a slow $1.1 million Wednesday start, Morning Glory picked up a bit on Thursday and Friday, jumping to $1.5 million then $3.1 million. So, the outlook isn't quite as bleak as it looked after the first day. Given the $40 million budget, however, this is going to be a less than satisfactory result for Paramount Pictures, presuming no further unexpected growth. Reviews for Morning Glory have been something of a mixed bag, with more critics than not liking it (56% fresh at Rotten Tomatoes), but top critics are turning their noses up at it more than the rest. Only 43% of them like Morning Glory. Broadcast News it ain't.

Sixth and seventh place this week go to Tyler Perry's latest release and an unusual comic book adaptation. For Colored Girls debuted to $19.5 million last weekend, but fell a steep 65% to $6.8 million this weekend, giving it a running total of $30.9 million. This isn't surprising for Perry's directorial efforts as eight out of his previous nine projects have declined between 57% and 62% during their second weekends. The lone exception is Why Did I Get Married, which fell only 42.9%; maybe that's why it got a sequel. For Colored Girls is a film that had been described as potentially having more legs than Perry's other work, but this is clearly not the case. Going the opposite way in terms of legs is Red, which opened to a modest $21.8 million but is seeing its first weekend decline larger than 31% this week as it falls 41% to $5.1 million. In this day and age, that's spectacular. With a running tally of $79.8 million against a production budget of $60 million, Red is a huge winner for Summit Entertainment, words I've never typed without also including "Twilight".

Sequels comprise the remainder of the top 10. Paranormal Activity 2 finishes in eighth place with $3.1 million, giving the ode to camcorders and baby monitors a running total of $82 million. Saw 3D is the way the franchise ends, not with a bang but a whimper, at least in terms of quality. In terms of box office, $2.7 million more gives it a running total of $43.5, safely ahead of Saw VI's $27.7 million, but it probably doesn't have enough steam to catch the original Saw's $55.2 million, the fifth highest tally for the franchise. Everyone agrees Saw is done save for Lionsgate and even they are starting to take the hint. And Jackass 3D brings in another $2.3 million to boost its six figure total to $114.7 million.

The combined box office for the top twelve this weekend is $114.5 million, down 20% from last weekend's massive $142.9 million and also less than last year's $129.5 million. Next weekend sees the release of the next box office behemoth, Harry Potter and the Deathly Hallows Part One. I don't know about you but I already have my IMAX tickets printed out. Literally.