Weekend Forecast for Morning Glory
By Reagen Sulewski
November 10, 2010
BoxOfficeProphets.com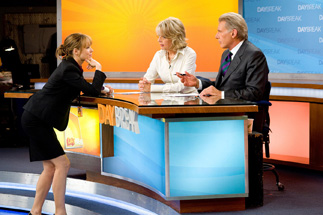 ---
While we've got an action-filled weekend ahead of us at the box office, there's one much quieter film getting a two day jump on those, for whatever that's worth.

The Wednesday opening for non-event films is one of those movie traditions, like the national release and Raisinettes, that keeps happening even long after the logic for them has disappeared (seriously, that's a horrible candy). In theory, the Wednesday opening is supposed to distinguish you in a crowded marketplace, but with a consumer base conditioned to Friday being opening day, and opening weekend figures having entered the public's consciousness, all you're doing is diluting your impact.

On that note, here's Morning Glory. Rachel McAdams stars as a young TV producer assigned to take over a struggling morning news show and manage its two mercurial stars, played by Harrison Ford and Diane Keaton. All this happens while she's falling in love and living her life in the big city. Sigh. If this sounds a bit like The Devil Wears Prada, just in TV, well, you've been reading my research. Stop that. Directed by Roger Michell of Notting Hill fame, it's written by Aline McKenna, who adapted Prada to the screen. The formula seems more or less intact here and could basically be called Single Girl In The Big City 2 (or, like, a billion).

This isn't a bad thing from the movie's perspective, as it's going to capture a lot of those Prada viewers even if it can't match the name recognition. McAdams is no slouch as a star – though a lot of her work has been as a second banana in things like Sherlock Holmes and The Wedding Crashers, she was a big part of The Notebook and The Time Traveler's Wife's success and has the not-too-shabby State of Play and The Family Stone (and the forgotten, but just as successful Red Eye) on her resume.

The rest of the cast isn't terrible either, with romantic interest Patrick Wilson having come into his own this summer, though I still find him completely interchangeable with about a dozen other 30-something actors. Ford is of course nowhere near the box office behemoth he once was, and has been reduced to direct-to-DVD releases in the past couple of years, but makes a lot of sense in a Nicholsonian-type role. Keaton might actually have the best track record of all of the supporting actors in this film of late, with Something's Gotta Give being a particularly impressive entry on her resume with over $250 million worldwide.

Morning Glory itself? Eh, it's looking passable, and should capture the loyal McAdams fans and anyone jonesing for a romantic comedy, but we're not about to see a breakout here. Look for an opening weekend in line with McAdams' past solo efforts, around $15 million, with about $4 million more coming in its first two days. Stay tuned for the full weekend preview at BOP.