Weekend Wrap-Up
Box Office Top Heavy With Three Strong Openers
By John Hamann
November 7, 2010
BoxOfficeProphets.com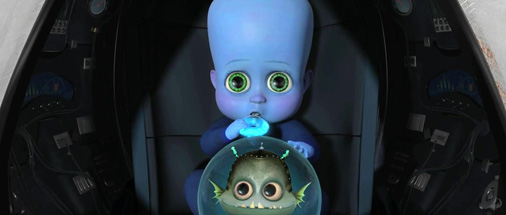 ---
After three weekends of gimmicks, the movie-going experience goes back to a somewhat normal state, much like TV commercials did following the midterm elections. Openers were of the "wow" variety over what is really the first weekend of the holiday movie-going season, and studios spent a combined $226 million on the three newbies. Those new films include the 3D animated Megamind from Paramount, which gets an early, fairly strong start on the lucrative season; Due Date from Warner Bros., as the studio tries to catch The Hangover again, without the headache; and For Colored Girls, a much more serious Tyler Perry outing, with a bevy of A-list talent.

November is trotting out the power hitters early this year, and our number one film, Megamind, may not have a hit a home run this weekend, but it's going to be very lucrative before it's through. Megamind earned $47.7 million, just short of the $50 million (or more) expected from the Paramount film. Megamind debuted at 3,944 locations, many of those of the 3D variety, and carried a venue average of $12,082. The animated flick that sports a voice cast of Will Ferrell, Jonah Hill, Brad Pitt and the lovely Tina Fey, opened to $12.5 million on Friday, and worked well all weekend, delivering a kid-friendly internal multiplier (weekend gross divided by Friday gross) of 3.81. I think it's important to remember that this was never going to have a summer-like opening, or a Pixar-November type opening ($70 million plus). Megamind doesn't lose those 3D screens until Tangled arrives from Disney on November 24th, which gives it two more weekends without competition.

While the opening should be seen as encouraging for the studio, I'm starting to think an interesting trend is emerging with animated films done in 3D. We cursed How To Train Your Dragon for its (at the time considered) low opening of $43.7 million back in March of this year, as well as Despicable Me's $56.4 million debut in July. We saw the fourth Shrek open $50 million lower than Shrek the Third, while The Legend of the Guardians: The Owls of Ga'Hoole evaporated before our eyes. All of these films have A) been animated; B) been shot with some element of 3D; C) under-performed over opening weekend, and for the most part, D) over-performed following opening weekend. It appears that as 3D becomes the norm, animated films in 3D do not benefit (as much as other live action 3D films do) over opening weekend. While Megamind may have thrown below its tracking estimate, I don't think there's a strong reason to believe this won't end up earning close to $200 million for Paramount and DreamWorks Animation.

Getting back to Megamind, could the opening have been bigger? The easy answer is yes, as marketing and reviews in my mind came up a little bit short. Paramount got somewhat unlucky debuting the trailer for Megamind in front of How to Train Your Dragon and Shrek the Fourth, which are noted for the disappointing opening weekends in the previous paragraph. It was then shown with a couple of terrible films, The Last Airbender and The Sorcerer's Apprentice, a good one in Despicable Me, and a great one in Toy Story 3. TV ads were good but not great, and until Will Ferrell does some better live action work, he will still remind me of Land of the Lost. Critical reception was also on the shoddy side, but we must remember that this one lives in the shadow of The Incredibles. At RottenTomatoes, 96 reviews were counted, and of those, 65 were positive, giving Megamind a fresh rating of 68%. The key word derived from the reviews is unspectacular, not really a word you want associated with your film that's starting the holiday season.

Finishing a closer than expected second is Due Date, the new comedy featuring Robert Downey Jr. (once reported to be the lead in Megamind), as well as Zach Galifinakis and Todd Phillips, one of the stars and the director of The Hangover. Warner Bros. was looking to catch that Hangover magic again ($45 million opening, $277 million finish) with Due Date, and while it didn't match that opening weekend, we have to remember it's November, not early June. Due Date did quite well this weekend, earning $33.5 million from 3,355 venues, giving it a venue average of $9,985. Tracking was looking for $30 million, and improving on that number this early in November has to be considered a win for the studio. Due Date was not a cheap film to make, as some comedies are these days. Due Date cost Warner Bros. $65 million to get to theaters (sans-marketing), a number this one won't begin to see for another weekend.

Why did this one not behave more like a sequel to The Hangover? Because it's not Hangover 2. Seriously, Due Date and The Hangover are very different films, with Due Date using that Dinner for Schmucks/The Office type of "uncomfortable" humor, and The Hangover going for the more straight ahead laughs. Critics weren't impressed, and I imagine word-of-mouth will be similar. Of the 126 reviews counted at RottenTomatoes, only 49 were fresh, giving Due Date a fresh rating of only 39%. That's about a mile away from the 79% fresh rating that The Hangover got. Regardless, the opening is decent – on par with films like Sex and the City 2 ($31 million), The Other Guys ($35.5 million), and Couples Retreat ($34 million).

For Colored Girls opens in third, as Tyler Perry sees another strong opening, his zillionth consecutive hit. For Colored Girls earned $20.1 million this weekend from 2,127 venues, which is a fairly typical screen count for Perry. With the low venue count, the For Colored Girls screen average of $9,450 is competitive with Due Date's average ($9,985). The opening is close to Perry's average (about $25 million), which is somewhat surprising given the topics discussed in this drama (rape, abortion). The cast is a who's who of leading black actresses, including Janet Jackson, Whoopi Goldberg, Thandie Newton and Macy Gray, which may have helped put butts in seats. Knowing how Perry films play out, it will likely be a $50 million finish for Lionsgate and For Colored Girls, well ahead of the $21 million production cost. Of the openers this weekend, For Colored Girls will see profitability first.

Holdovers also create some interest this weekend. Red, after finishing $12 million behind Saw 3D, and $6 million behind Paranormal Activity 2, passes both horror flicks to finish fourth. The leggy Red took in another $8.9 million this weekend – its fourth – and drops only 17%. The $60 million Summit Entertainment flick has now earned a very respectable $71.9 million, and I'm still looking for this one to make it to $90 million.

After finishing in top spot last weekend with $22.5 million, Saw 3D lands in fifth in its second frame. Saw 3D earned only $8.2 million and dropped a painful 66%, a big drop even for Saw standards. The last Saw film dropped 63%, moving from $14.1 to $5.3 million. Like all post-Halloween weekends over the last seven years, Lionsgate isn't too upset. Already their $20 million film has earned $38.8 million, and it will make a similar amount or more overseas.

Paranormal Activity 2 is sixth. After dropping 59% last weekend, the low budget Paramount release doesn't do much better this weekend. PA2 earned $7.3 million this weekend and dropped another 56%. Where the news is better than that of the Saw franchise is the total gross-to-budget ratio. Paranormal Activity 2 cost Paramount $3 million, and has so far raked in $77.2 million.

Seventh goes to Jackass 3D, which improves following a big drop last weekend. Jackass 3D earned $5.1 million and was off 40%, much better than the 60% it lost last weekend when it gave up its 3D screens to Saw. The $20 million Jackass 3D has now earned $110.8 million, and will finish as the top earner amongst the three gimmick flicks released in October.

Hereafter, the Clint Eastwood/Matt Damon miss, lands in eighth place. Hereafter earned $4 million and was off 37% compared to last weekend. Warner Bros. is going to pay for this one, as Hereafter had a $50 million budget, and it's on its way out of the top ten with $28.7 million.

Ninth goes to Secretariat, a film that has performed decently over its run. Secretariat earned $4 million this weekend, its fifth, and drops only 20%. Credit the faith-based marketing campaign for a gross of $51 million so far against a $35 million production budget

The Social Network finds itself in the number ten spot. Now in its sixth weekend, The Social Network earned $3.6 million and dropped 20%. It looks the David Fincher flick will top out with about $90 million, as so far it has accumulated $85 million.

Overall, the box office is red hot, thanks to $100 million from a strong top three. The top 12 films this weekend managed to bring in $146.9 million, well ahead of the $106 million the top 12 pulled in last year. A year ago, the box office started poorly, as Disney released the 3D Christmas Carol maybe a weekend or two early, and the rest of the openers failed to impress. Next weekend, three more openers hit screens, including the very interesting looking Skyline, Unstoppable with Denzel Washington and Captain Kirk, and Morning Glory with Rachel McAdams, Harrison Ford, and Diane Keaton.