Friday Box Office Analysis
By Kim Hollis
November 6, 2010
BoxOfficeProphets.com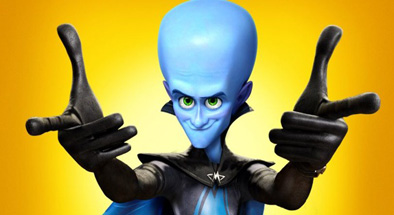 ---
Welcome to November, a glorious land of animated 3D films, big-name road trip comedies, and Tyler Perry. We've gotten through the gimmickry and the horror. Can the first weekend of the month live up to some big expectations?

Megamind

The DreamWorks Animation film featuring the voices of Will Ferrell, Tina Fey, Brad Pitt, and many others got off to a solid start on Friday, with $12.5 million in its first day. This may not seem like a spectacular number, but it's important to keep in mind that these films usually do quite well on Saturday and Sunday - with an emphasis on Saturday. Kids are in school and families wait until the weekend off to head out to theaters. How to Train Your Dragon, Monsters vs. Aliens and Madagascar: Escape 2 Africa, the previous non-Shrek releases from DreamWorks all had first weekend multipliers (weekend total divided by Friday total) right around 3.6, and I see no reason that Megamind will be any different. This would give it a three-day total of $45 million, and given that the voice cast of Ferrell and Pitt has been heavily advertised, it might even edge up a bit more.

For that matter, the movie should be able to look forward to a solid run at the box office. How to Train Your Dragon proved that a "disappointing" opening means nothing, but that audiences hungry for quality family entertainment will throw their dollars to films that have even a smidgen of quality. Although reviews aren't glowing, they are primarily on the positive side (having seen the film, I can say that it is perfectly charming if unoriginal). With Thanksgiving weekend coming up soon, Megamind will also have that five-day holiday period to use to its benefit. I would think that the film should have little trouble beating its $130 million budget, but it might not have the awesome merchandising potential provided by How to Train Your Dragon.

Due Date

Robert Downey Jr. and Zach Galifianakis teamed up for a road movie reminiscent of Planes, Trains and Automobiles, and the result is going to be quite satisfactory for Warner Bros. Due Date took in $12.1 million on Friday, and should be well on its way to an excellent run at the box office. Yes, it's supposed to be mediocre, but we've seen before that high quality isn't altogether important in these kinds of comedies. Frequently, they're the consensus choice for group outings. Look for a $32 million debut weekend, which is a fine start for a movie with a $65 million budget.

For Colored Girls...

Finally, we have the latest entry from Tyler Perry, For Colored Girls. There's no Madea in this one, but rather some fairly serious subject matter, including abortion, abuse, rape and abandonment. Even so, since the source material is a known commodity (in this case a play by Ntozake Shange), it had good audience support on its first day, taking in $7.4 million. We all know that Perry movies are frontloaded, and this shouldn't be an exception. $18 million for the weekend sounds about right, which is almost enough to cover the $21 million budget. Lionsgate has to love them some Tyler Perry.

Notable Holdovers

Saw 3D fell an expected 76% from last Friday, as it's only natural that the bottom is going to fall out of a Halloween-targeted film. It may have a weekend total of about $7.2 million, which shows us that the bloom continues to be off the rose for the franchise, but Lionsgate isn't going to care since they've already earned back the movie's budget and then some.