Weekend Forecast for November 5-7, 2010
By Reagen Sulewski
November 5, 2010
BoxOfficeProphets.com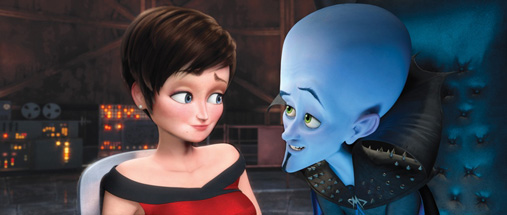 ---
So enough of the prelude. With all the gimmicky and stunt movies out of the way, we've reached the point of the movie season where the heavy hitting concepts and stars come out to play, with nine-figure budgets the norm instead of the result of horrible overruns. And November starts off with the classic fall battle – animation vs. star-driven comedy … vs. Tyler Perry.

Megamind is the odds-on favorite to take this first leg of the box office battle, seeing as it's a flashy 3D animated film featuring Will Ferrell and Brad Pitt. What it's about is almost immaterial in light of that, but let's go into it anyway.

This is DreamWorks/Paramount's take on the Superman tale, though for copyright reasons we'll be calling him Metro Man here, and we'll also be examining the flipside of that story. In the Megamind world, two children from a doomed planet are sent to Earth (again, DC lawyers, please pay no attention to this not at all derivative story!), one landing in a rich family's mansion and becoming a hero, the other landing in a prison for the criminally insane and becoming a villain. And they say nature vs nurture is settled.

Rivals throughout the years, Megamind (voice of Ferrell) eventually defeats Metro Man (Pitt), at which point there's the "now what?" moment, compounded by the arrival of an even bigger villain requiring Megamind to flip sides to get that praise he always wanted. Superhero Psychology 101, really.

In addition to Pitt and Ferrell, the movie also has the voices of Tina Fey as the completely-different-from Lois Lane reporter character and David Cross as Megamind's minion Minion (Despicable Me producers on line two...), a talking fish in a jar on a robot's body. Okay, that's different at least.

As the second execution of this basic "villain does good" concept this year, it's possible that audiences won't be up for a second go-round, but I'm skeptical of that – slickly produced animated features with celebrity voices flop only if they look absolutely dire. While this didn't start out well in its campaign – that rapping ad was phenomenally incompetent – it recovered in time to look like most other films of its type. It's hard to figure out if it's going to have the same warm-hearted center as Despicable Me, which propelled it to nearly $250 million, but it should at least have the benefit of a similar start, at around $54 million.

Due Date pairs up two of the hottest commodities in Hollywood lately, Robert Downey Jr and Zach Galiafianakis on a road trip comedy, a la Planes, Trains & Automobiles. In fact, it's pretty much exactly that, with Downey playing the slightly prissy character on his way home for an important family event, while Zach G is the buffoonish character who ends up putting obstacles in Downey's way. So, Galifianakis is not that far from his character in The Hangover, which Todd Phillips also directed.


Based more or less on the comedy of the awkward, with Zach G playing one of the most socially maladapted characters in recent memory, it's proving to be a surprisingly divisive film, with a lot more misses than hits on its jokes than you'd expect from this team. Either you want to see Zach G bounced around in the back of a pick up truck or you don't.

However mediocre the reviews may be, the film has done an excellent job of selling what it's about, which is broad physical comedy punctuated with the oddest possible things to be said in a situation. This may end up not having any legs whatsoever (though it wouldn't be the first bad comedy to defy the critics – see: Couples Resort) but the marketing department has done its job of selling what's there. The Hangover started with a remarkable $44 million, but that's probably not going to repeat here despite the direct connect with from its director and star – the concept simply isn't as strong – but we ought to see a great start of around $32 million here.

Our third release of the week is just what everyone asked for – a series of vignettes adapted from a play based on a series of poems! For Colored Girls, excising about two-thirds of its original title (Who Have Considered Suicide When The Rainbow Is Enuf, in case you were wondering) is Tyler Perry's latest, but not the fun, sassy kind of Tyler Perry with transvestites and comedic overacting.

Instead, it's dramatic overacting, based on the Tony-nominated winning play from Ntozake Shange (oh, you've never heard of her either) and stars just about every significant contemporary black actress out there, including Janet Jackson, Kimberly Elise, Thandie Newton, Kerry Washington, Whoopi Goldberg and Phylicia Rashad (Angela Basset, call your agent).

This one's probably for Perry superfans only, with what's a pretty depressing lineup of themes and subject matter (rape, abortion, divorce, etc.). The lofty heights of things like Why Did I Get Married are definitely out of reach. Still, Perry carries a tremendous amount of clout at the box office and should get this to about $13 million.

Which brings us to our Halloween leftovers. While I'm still digging through leftover fun size bars, most of the movie-going public is done with Halloween at this point, and both Paranormal Activity 2 and Saw VII are just the stale candy corn in the bowl. The comparison for Paranormal Activity is tough to make based on last year since it was still expanding at this point, but for Saw, it's clear – a drop of as much as two-thirds is in the cards. I don't see a reason for PA2 to be special in that regard, with means both films should drop from $24 and $16 million to around $8 and $5 million apiece.

Another three-letter titled film is fairing much better. Red has dropped just 30% in two consecutive weeks, with over $60 million in the bank. While that's still not a lot for a Bruce Willis action film, that's still a lot better than it could have been considering how poorly comedic action has been playing these days. It's about to be drowned out by November releases, but should still add another $7 million this weekend and flirt with $100 million domestic.

It's here we say goodbye to some other of October's releases – Jackass 3D has taken repeated (if expected) knees to the balls over the past few weeks, but will still wind up with about $110 million total; Hereafter exits from significant Oscar contention after failing to ignite word of mouth, and should finish with about $45 million; and Secretariat might still see some recognition but will itself top out around $60 million.