Weekend Wrap-Up
Saw 3D Wins The Fight; Paranormal Activity Wins the War
By John Hamann
October 31, 2010
BoxOfficeProphets.com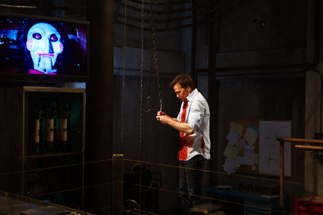 ---
It was the big horror showdown at the box office this weekend, as the new kid on the block – the scary Paranormal Activity 2 - was facing off against the Halloween staple of the last seven years – the grisly Saw – which was rolling in 3D for the first time this weekend. Supposedly the final entry in the series, Saw 3D was looking to bounce back from an abysmal showing last year when Saw VI opened to only $14.1 million, 50% less than the last four films in the blood spattered series.

Funny how history repeats itself. Seven years and seven Saw films ago, it was Halloween 2004, and just like this weekend, the ghoulish night fell on a Sunday. The horror surge of the first half of the decade was in full bloom, as The Grudge had opened the weekend before Halloween in 2004 to $39 million, and was looking to bask in good word-of-mouth over its second frame. Its only competition was the adult-skewing Ray, and a small, $1.2 million horror flick called Saw from upstart distributor Lionsgate, whose only claim to fame at that point was releaseing Fahrenheit 9/11 and Monsters Ball. Seven years later, the shoe is on the other foot. The Paranormal Activity franchise is now the cheaply-made horror money machine, while the Saw franchise now struggles in theaters rather than going straight-to-DVD. The thing that's the same this weekend as seven years ago is that Halloween night is landing on a Sunday, and as far as box office goes, that's a pretty good thing.

In 2004, the original Saw popped, earning $18.3 million from only 2,315 venues, and despite the big opening, it placed third. Ray finished second with $20 million, and The Grudge repeated with $21.8 million, off only 44% from the previous weekend. The actual Halloween Sunday was a much better day for Saw, as that was the only day over the weekend the R-rated horror flick finished first in the daily rankings.

This weekend, Saw 3D is the winner, but Paranormal Activity is going to win the war. Saw 3D earned a solid, but not spectacular, $24.2 million from 2,808 venues, many of those 3D and charging the 15% uptick. Saw 3D had a venue average of $8,618. This version of the splatter fest cost about $20 million to make, so the franchise manages (barely) to go seven for seven at beating its production budget with its opening weekend gross. Production costs for the entire series finish off at about $68 million, and opening weekend totals tally about $180 million. Prior to Saw 3D, worldwide totals for the series had reached $730 million against that $70 million initial investment. If this were to be the last film of the series (until it continues in the future or is rebooted), it would end it on a high note of decent profitability, even if the big money numbers for the series lived from part two to part five. The 3D aspect of this Saw couldn't propel it to the box office heights of the Jackass variety, or get it ahead of some horror 3D brethren like My Bloody Valentine, which opened to $21.2 million in early 2009. Obviously, 3D alone is not driving audiences to theaters.

Finishing second is Paranormal Activity 2, which did the expected for a sequel horror flick. Paranormal Activity 2 earned $16.5 million in its second frame, down 59% from last weekend. I think it's important to remember that $6.3 million of last weekend's $40.7 million came from midnight screenings on Thursday, so it could be argued that the Paramount film's real opening gross was $34.4 million, which would make this weekend's drop more like 51%. Saw II dropped only 47% following Halloween in 2005. Regardless, Paranormal Activity 2 has already earned $65.7 million, and should earn $80 to $90 million over its run. All of this was done against a production budget of only $3 million, and we are just talking domestic returns. The demonic sequel has already earned almost $25 million overseas, and its just getting started. With these kind of production costs, and the want-to-see factor propelling it, I think the Paranormal Activity franchise can be just as popular as the Saw franchise, and the good news for Paranormal Activity is that there will be no Saw film to face off against next year.

Third spot this weekend goes to Red, which has another fantastic weekend. After a $15 million second frame and a slim 31% drop last weekend, Red does it again this weekend, holding strongly. Red earned another $10.8 million and drops only 28%, pulling ahead of Jackass 3D, which dominated the opening frame between these two films by $30 million. The $60 million Red has now earned $58.9 million – last weekend I was looking for a $75 million finish from Red, but with this hold we can bump that up to $80 million. It's interesting to see a star-driven action film face off against three of the biggest gimmick movies of all time, and not only survive, but thrive as well.

Fourth spot goes to Jackass 3D as it sees another big plunge this weekend. Following its 58% dive last weekend, Jackass 3D does it again, earning $8.4 million and falling 60%. Obviously, the large opening frame, 3D ticket prices, and other gimmicky options at theaters are keeping repeat viewers away. The good news for Paramount is that Jackass 3D did manage to cross the $100 million mark this weekend, and should finish with about $125 million. The running total for the $20 million pain extravaganza has hit $101.6 million.

Clint Eastwood's Hereafter drops a spot to fifth this weekend and has a pretty unspectacular hold. Hereafter earned $6.2 million in its second weekend of wide release and dropped 48%. It has a running total of $22.2 million against a budget of about $50 million.

Sixth goes to Secretariat, the faith-based horse racing film, now four weekends old. The Diane Lane Disney flick earned $5 million and dropped 28%. The small $35 million film (with the $50 million ad budget) has now earned $44.8 million.

Seventh is The Social Network, now in its fifth frame. The David Fincher flick earned $4.7 million and dropped 35%. The Sony awards bait film has now earned $79.7 million against a $50 million budget. Overseas, this one has already brought in over $30 million.

Life As We Know It dips to eighth. The Katherine Heigl flick earned $4.1 million and dropped 33%. The $40 million Warner Bros. flick now has $43.6 million in the kitty. Unfortunately, there will still be more of these types of films.

Ninth goes to Ben Affeck's The Town, which has shown some serious resiliency. The Town never had a drop higher than 38% since the start of its run, and doesn't change anything this weekend. The Town earned $2 million and was off 27%. It has a running total of $87.7 million.

Finally, in tenth we have Conviction, more awards bait starring Hilary Swank. The drama platformed to 565 theaters this weekend and was able to ride that expansion to $1.8 million at the box office, a 502% increase over last weekend when it was available only in limited release.

Overall, this weekend is just ahead of 2009 in film. This year, the top 12 films picked up $86.7 million. Last year, with Halloween on a Saturday, the top 12 found $82.9 million. Next weekend brings us away from these gimmicky films and back to regular routine. Openers next weekend include Due Date with Robert Downey Jr., Megamind, with the voices of Will Ferrell, Tina Fey and Brad Pitt, and For Coloured Girls from Tyler Perry.