Friday Box Office Analysis
By Tim Briody
October 30, 2010
BoxOfficeProphets.com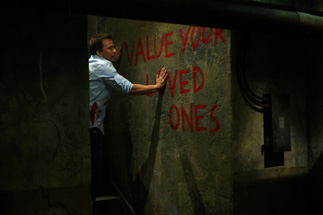 ---
[tm:5043_]Saw 3D[/tm]

The final(?) entry in the Saw franchise earned $10.8 million on Friday, which is a solid rebound from last year, when Saw VI opened to $6.7 million. It's not a complete recovery from the remarkable consistency the franchise showed over the third, fourth and fifth films in the franchise ($14.4 million, $14.7 million and $14.3 million respectively) but with Paranormal Activity still providing direct competition, it's not surprising.

Obviously, a completely terrible weekend multiplier is in the works, and not even Halloween falling on Sunday will save it. Saw V had a 2.1 and even the kneecapped Saw VI had a 2.0, which coincidentally is also what [tm:5013_]Paranormal Activity 2[/tm] had last weekend. With the decline Paranormal Activity took this weekend, Saw 3D goes out winning the weekend with around $22.3 million.

Paranormal Activity 2

After last weekend $40 million opening, Paranormal Activity falls pretty hard with direct competition from Saw 3D and plunges 68.5% from last Friday to $6 million. There should be some recovery from its 2.0 multiplier from its opening weekend, but Saw is just too far ahead for it to overtake it. Give it a second weekend of $15.9 million.