Weekend Wrap-Up
Paranormal Paramount Rules Box Office
By John Hamann
October 24, 2010
BoxOfficeProphets.com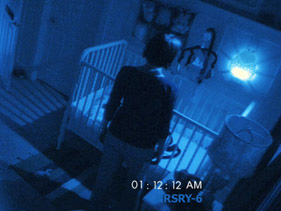 ---
Following a series of weekends where the box office was extremely lackluster, we now have two consecutive weekends of openers beating up on expectations. Last weekend brought the surprisingly large Jackass 3D and its $50 million opening frame; this weekend brings Paranormal Activity 2, the ultra-low budget, one location film, where the highly successful original opened only a year ago. The Jackass 3D gimmick worked very well last weekend, hammering expectations – would this weekend's gimmick do the same? Paramount certainly hopes so – they are the studio behind both Jackass 3D and Paranormal Activity, two films that carry a combined production cost of only $23 million.

Only a year ago, Paramount Pictures rolled out one of the most highly successful no-budget films ever in the form of Paranormal Activity. The one location film was made for only $15,000, using a home video camera and actors who were paid only $500 for a week's work. Paramount went the viral marketing route to create awareness for this extremely small but very scary picture, rolling out the horror flick at college towns via midnight screenings that were marketed via social networking. The film earned $77,873 from 12 screens over the September 25, 2009 weekend and had an okay venue average of $6,489. The average was low due to the film playing only once per day (midnight screenings), but to literally packed houses. Over the second weekend, the site count went up to 33 screens, and the weekend gross exploded, bringing in $532,000 - a 500% increase – as round the clock screenings started and the buzz was loud. The third weekend brought the expansion up to 160 sites, and this was when Paramount knew they had something special. Paranormal Activity grossed $7.9 million from those 160 screens, and the film earned an average of $49,379, an average usually dedicated to Oscar wannabes with big directors and big stars, opening in only four locations. Paranormal Activity peaked over weekends four and five, pulling in grosses of $19.6 million and $21.1 million from 763 and 1,945 venues, making it a mega-hit. With a venue count never above 2,712, Paranormal Activity went on to earn $107.9 million at domestic cinemas and another $85.4 million overseas. Paramount spent only $350,000 picking up the distribution rights, and another $10 million to market it, which makes it one of the shrewdest acquisitions ever.

A year later we are back in the house of Paranormal Activity, and while the title suggests sequel, this one is really a prequel, with the filmmakers were looking to avoid the Blair Witch Sequel curse (first film gross: $140 million, second film gross: $26.4 million). A tight budget was adhered to again, with this one coming in at only $3 million. Midnight screenings on Thursday were hot, with Paranormal Activity 2 bringing in $6.3 million through late night screenings alone. Based solely on production budget, this one was profitable before getting to regular screenings on Friday. Tracking estimates for the weekend were sitting at $30 million, but by the time midnight amounts were reported, we knew that tracking estimate was going to be off. The Friday gross was reported at $20.1 million, but after that $6.3 million is stripped out, the Friday gross is really $13.8 million, still higher than expected. The three-day gross for Paranormal Activity 2 came in at a powerful $41.5 million from 3,216 venues, giving it a venue average of $12,904. For the second straight weekend, tracking estimates were obliterated, as the draw for these gimmicky films was underestimated.

So how did producer Oren Peli manage to catch lightning in a bottle not once but twice? By making two very spooky movies. People love to be scared, especially at this time of year, and despite the sequel looking a lot like the original, Paranormal Activity 2 delivered what the audience was expecting. Critics thought it worked, too. Of the 62 reviews counted at RottenTomatoes at the time of this writing, a surprising 44 were positive, giving this one a 72% fresh rating thus far. The first film was 82% fresh with 150 positive notes out of a possible 183. Horror films lately have seen good and bad reviews, but few have made any money. Let Me In was 89% fresh but opened to only $5 million. Piranha 3D was 75% fresh, but opened in sixth with just $10 million. The only successful horror flicks in the last year have been the Nightmare on Elm Street remake ($33 million opening) and The Last Exorcism ($20 million opening), but both folded fast after their first weekend, bringing only about double their opening frames over their entire runs. Paranormal Activity has brought something fresh to the horror movie market, and obviously audiences are thankful. It will be very interesting to see how the fresh scares hold up against the more stale horror (Saw 3D) next weekend.

Finishing second is Jackass 3D, last weekend's box office ice breaker. After a $50.4 million opening frame, some thought Jackass 3D might drop off heavily this weekend, and it did have a pretty hefty drop, though not as bad as it might have been. The Johnny Knoxville film delivered a gross of $21.6 million in its second frame, falling 57% from its opening frame. Even with the heavy decline, the film's second weekend total still exceeds the movie's production cost. Paramount obviously took full advantage of 3D screens prior to the opening of Saw 3D, and the studio now has a running total of $87.1 million to show for it. As much as it goes against reason, it looks like Jackass 3D has a shot at earning $120 million from domestic cinemas alone. The even better news for Paramount Pictures is that they have the number one and number two film this weekend, with a combined total of about $63 million (against combined budgets of $23 million).

Last weekend's number two film, Red, drops to third this weekend, but it has a fair hold for an action film. The Bruce Willis starrer earned $15 million in its second frame and was off 31% from its opening weekend. It's almost too bad that the $60 million Red opened against Jackass 3D and faced off against Paranormal Activity 2 in its second weekend. This is a good film (70% fresh) that is getting lost amongst more gimmicky entertainment. Regardless, Red is going to be a $75 million finisher and then live long on DVD. So far, Red has earned $43.5 million.

Fourth goes to Hereafter, the new film from director Clint Eastwood and starring Matt Damon. Despite the pedigree of director and star, Hereafter struggled with critics, and has failed to build buzz a la The Social Network. Hereafter opened at 2,181 venues this weekend and earned $12 million, slightly more than tracking was anticipating. It had a venue average of $5,504. Some critics find it boring, and the result is a 51% fresh rating at RottenTomatoes. An expansion for this one feels doubtful, but we will have to see how it holds up next weekend. Hereafter feels a little like opportunity lost. For Damon, this is his third consecutive disappointment, following Invictus, The Green Zone and now Hereafter. Hopefully, the Coen's remake of True Grit will change all that.

The Social Network has another strong - but not spectacular - hold as it finishes fifth this weekend. Now in its fourth weekend of release, The Social Network earned $7.3 million and dropped 29%. The David Fincher film has now seen drops of 31%, 33% and now 29%, after opening to $22.4 million. The Social Network is still looking like a $90 million finisher, as it has a gross so far of $72.9 million.

Sixth place goes to Disney's Secretariat, which has another solid weekend as it holds up quite nicely at the box office. The horse racing film earned $6.9 million and fell an excellent 26%, showing that the uplifting, Christian-based marketing campaign is having a solid impact. So far, Secretariat has earned $37.4 million. Although the movie only cost Disney $35 million to make, we do know that they have spent an additional $50 million to market the film.

Life As We Knox It is our seventh place finisher, as the Katherine Heigl/Josh Duhamel movie earned $6.2 million. It fell 31% from its previous frame, which is pretty solid. So far, Life As We Know It has earned $37.6 million for Warner Bros. Since it cost $38 million to make, the movie is set to be profitable pretty shortly.

Finishing eighth is The Legend of the Guardians: The Owls of Ga'Hoole, Zack Snyder's shot at children's programming. The Legend of the Guardians earned $3.2 million in its fifth weekend, and was off 25%. The Warner Bros. release has a domestic total of $50.2 million, but has also earned $42 million overseas.

Ninth goes to Ben Affleck's The Town, which has turned into a big win for Warner Bros. In its sixth weekend, The Town earned $2.3 million and was off 32% from last weekend. The thriller has a domestic total of $84.7 million, and has picked up another $25 million overseas.

Finally in tenth is Easy A, Screen Gems' highly successful release. The $8 million film earned another $1.8 million this weekend and was off 34%. It has a total so far of $54.8 million.

Overall, it's another very good weekend for the box office. The top 12 films this weekend took in a very strong $120.4 million, which is right on target with the $119.5 million pulled in last weekend. A year ago, the original Paranormal Activity was on top, as Saw 6 couldn't earn $15 million over its opening weekend. The top 12 films a year ago brought in $105 million, leaving this weekend way out front. Next weekend has Halloween landing on a Sunday, so the box office should improve on the $82 million earned last year, when the 31st landed on a Saturday.