The Amazing Race 17 Recap
Episode Four
By Daron Aldridge
October 18, 2010
BoxOfficeProphets.com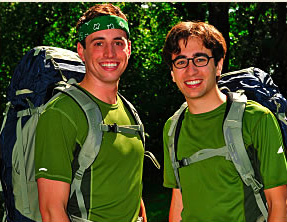 ---
Last week, the producers pulled out the first nonelimination leg of the season and bit earlier than usual. The beneficiaries of Phil's benevolence were father and son Michael & Kevin. Their struggles in Ghana were truly befitting of a last place finish. But their stay of Amazing Race execution gives them a shot at redemption. Let's just hope their Speed Bump task isn't more difficult than rolling a bike rim with a stick.

We kick off this episode with some footage of how the teams "chose" to spend their pitstop break – by helping paint and fix up the Ghana school they visited on the previous leg. This immediately reminded me of Survivor: Africa when Lex won the new truck and delivered medical supplies. It was a very feel-good Extreme Makeover: Home Edition moment. But you're here for the Amazing Race and not the human race, right?

The producers give me a break from having to follow when and in what order each of the teams leave thanks to a lack of flights from West Africa to the ARCTIC CIRCLE. More specifically, they are heading to northern Sweden but still. The most significant revelation is that Team Glee Connor & Jonathan are actually missing their Princeton graduation to be on the race. In fact, their graduation is apparently being held during this leg.

Because of the travel limitations, each team is booked on the same flight connecting through Frankfurt, Germany, but aren't required to use the tickets. As the teams congregate at the Lufthansa counter waiting for them to open, last place (and future Speed Bumpers) Michael & Kevin use their cabbie's phone to check on an earlier connection in Germany.

Score!! They find one that lands about two hours ahead of the freebie flight. Surprisingly for people in a heated competition, father and son share this information with their alliance of father and daughter Gary & Sunshine…er…Mallory, the impossibly perky Miss Kentucky. It might just be the cynicism but I think that both of these teams view the other as a valuable partner because they think they can outrace them to the mat. The whole "keep a team you can beat in the race" mentality is what I would be using, but probably wouldn't admit it on national TV. I say that but Gary seems genuine because he points out that the father and son team really need that time advantage to deal with their extra task.

Similarly, the doctors Nat & Kat are exercising their brains too by using the Internet Café at the airport to find the same earlier flight. Unfortunately, Team HSN Brook & Claire, who are now sporting ridiculously gaudy athletic wear for some reason, successfully found them and these teams decide to work together also. The doctors are eager and happy to join forces.

Our eagle eye singers notice Mallory & Kevin chatting up the Lufthansa worker and correctly conclude they have a better connection. Alas, they strike out as those four teams get the remaining tickets. Connor aptly summarizes the situation as the "worst graduation." As the teams connect in Germany, we have four teams (doctors Nat & Kat, Team HSN, and the remaining parent child teams) looking at a pretty sizable lead and the others are in a "five-way sprint to not be last." That's the power of positive thinking courtesy of former first-place team Connor & Jonathan.

The teams are now heading off to an Ice Hotel, where furniture and such is 100% made of ice. In the non-freezing cold months, said ice items are placed in a giant freezer/storage building. It's in this building that the teams get their next clue, which is the name of a lodge etched in a 2'x 1' block of ice that I will not even attempt to respell here with its umlauts and dozens of letters per word.

The doctors and Team HSN get there first and get their ice clues out of there. I feel like there are many, many Schwarzenegger-esque Mr. Freeze puns to use here but I will refrain. Overshooting the Ice Hotel and now a few minutes behind the leaders, Gary & Mallory are squarely in third and Michael & Kevin face their Speed Bump as the fourth team.

Not to quibble about the difficulty of the Speed Bumps the last couple of seasons but requiring the team to sit on a chair made of ice for only ten minutes seems pretty lame. Essentially, the Speed Bump is a ten-minute penalty because the father/son duo finishes it on the first attempt.

The penalty doesn't mean squat, either, because the three leading teams get lost taking a dirt road looking for the clue. So, despite having to do a laughably easy Speed Bump, Michael & Kevin are back in first at the Roadblock. As Phil gives us another cultural lesson about the importance of dog sled teams the majority of the year in Sweden, we see that the teams will have to complete a pretty fun-looking task. They have to "drive" a dog sled team down a path using a training sled with wheels (since there is a lack of snow on the ground) and grab five flags. If they miss a flag, then they have to do an extra lap for each one missed.

Dad Michael steps up for his team and doesn't encounter any problems with it other than the distracting, ridiculously pointless fake bear that looks like reject from Disney World's animatronic workshop. The wandering three other teams show up and Mallory, Kat and Claire are the lead mushers for the Roadblock. Diminutive Mallory is the only person that misses a flag and dinged with an extra lap. I halfway expected the producers to cue up Randy Newman's "Short People" at some point.

The second flight touches down and everyone is making a mad dash to the Ice Hotel in a caravan of Saabs. Once there, a couple of teams take their ice clue and others wisely just write down the message. Dating couple Jill and Thomas seem to have been shed from their caravan and are in last place with no one else around. In no particular order because it really doesn't matter at this point, the second batch of teams, save for Jill & Thomas, consists of Team Glee Jonathan & Connor, volleyballers Rachel & Katie, and dating couples Chad & Stephanie and Team Inked Nick & Vicki. But still armed with the Express Pass, Jill & Thomas could easily leap frog them all.

Back at the Roadblock, ror some reason, Team HSN has a side project of kissing as many task people as possible and with Claire giving the Roadblock cluemaster a peck on the cheek, they are apparently up to six kisses. This added game seems awfully weird and wholly unnecessary but to each his/her own. Michael & Kevin get their clue first and depart for a train station with the other three not far behind them.

As the second grouping gears up for the Roadblock with Connor, Stephanie (who REALLY wants a dog…hint, hint Chad), Nick and volleyballer Rachel doing the honors, Jill & Thomas appear to have made up some headway, only to squander it by not noticing the marked path and they begin running about a mile in the wrong direction. Please see my previous admonishment of teams not paying attention to the fact that every route marker/marked path/race flag is the same color. I will give Thomas credit for not exploding at Jill for the mess up like would have been expected but Thomas and Chad, the other guy with potential aggressive tendencies, have surprised me with their lack of outbursts.

Michael & Kevin get to the train station first, which incidentally has no relevance to the Detour. The Detour is Sleds or Beds. For Sleds, both team members have to use a tech sled to reach the bottom of a downhill course in less than one minute and 58 seconds. For Beds, they have to construct an old school tent and bedding with fire pit. Knowing that Michael is the least physically fit of any one on the race, Kevin concedes going with the fun task and they head to Beds.

The doctors are in second and opt for Sleds, as do each of the other two teams in the first batch. The first attempt is foiled by Kat banking a turn and going through the netting. They have little to worry about, though, because Gary & Mallory get exactly 1:58 on their first try, which is one second shy of beating that time. More successful on their second run, Nat & Kat get the final clue first and head to the Norwegian border. That is where they end up – as team number one.

And even though they were fourth at the Detour, Team HSN aces the Sleds on the first shot which puts them as the second team heading to the pitstop but Gary & Mallory smoke the course on their second run by about 30 seconds and are on their heels. In an inconsequential footrace to Phil for second and third place, Gary & Mallory reclaim second and Team HSN takes third.

At the Detour, Michael & Kevin have seemingly staved off elimination and finish the Detour with more than half of the teams behind them; they officially get in at the pitstop in fourth.

Connor & Jonathan start their Sleds with a stoked Chad and scared Stephanie behind them. Chad's better half expresses extreme trepidation toward the challenge. Based upon the "skills" that she demonstrates with numerous crashes, she would have been better off if they could just roll down the course. The ire of Chad is starting to flare up in the heat of the competition. He should take solace in the fact that he's not on the same team as the supremely inept sledders of Team Glee. They fall over and over and log times that initially just miss the mark but get comically bad after each attempt.

Securely in last place and not wanting to be eliminated while still holding onto the Express Pass, Jill and Thomas go to the Beds task and turn it over for their last clue. Seeing the troubles the others are having the Sleds and the amount of time the Beds takes, this was completely the right move in my mind. They hit the mat in fifth place.

Due to the pleas of Stephanie, Chad gives in and they switch to the Beds task. To the extreme frustration of the sole remaining teams that can't sled to save their lives (i.e. Connor & Jonathan and Rachel & Katie), tattooed Nick & Vicki, who have had only about five minutes of airtime tonight, nail the Sleds on their first shot. They eventually hit the mat in sixth place.

So, here is where the Detour stands: Chad & Stephanie are finishing up, Katie & Rachel are just getting started and Team Glee finally follows suit and switches tasks. The arrival of the singers and the volleyballers puts a glint in Chad's eye as they now have a reprieve. After they completed the task, Chad acknowledges that he shouldn't have pushed her to do a task that scared her. Well…it seems that I may have been wrong about Chad. They are number seven.

It's a battle for last between volleyballers Katie & Rachel (who I, incidentally, picked to win it all) and a battered and beaten Jonathan & Connor. Even though Phil tells them it is by the skin of their teeth, he checks in the girls as number eight, meaning that Team Glee is no more on the Amazing Race. They harmonize "Pomp and Circumstance" as they approach the mat, knowing they are last. Since it's highly unlikely they will have back-to-back nonelimination legs, the guys had to know this was it for them. After Phil breaks the news to them, Connor beats me to the graduation/elimination analogy I was going to make for them.

I originally predicted Team Glee would make it to seventh place and happy to say that I wasn't too far off.

It looks like next week we get our first disgusting food challenge (or rather, a lesson in culinary cultural diversity) of the race. Have a great week and remember to not eat dinner while viewing next week's episode.