Weekend Wrap-Up
Jackass Does Not Stunt Box Office Growth
By John Hamann
October 17, 2010
BoxOfficeProphets.com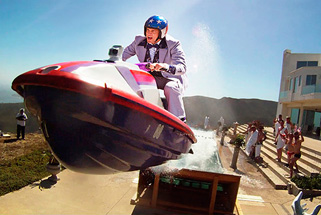 ---
BAM! After a couple of dull weekends at the box office where no one seemed excited about anything, everything changed over this mid-October weekend. Johnny Knoxville and friends blew the cover of the box office with Jackass 3D, and Red didn't do so bad on the 2D front, either. Holdovers in the form of The Social Network, Life As We Know It, and Secretariat also fared well, fitting in nicely to cover all the demographic bases. Between coming off of a couple of slow weekends, and a frame that was huge last year (where five films grossed more than $11 million), the box office got caught up in a perfect storm of success.

Our number one film of the weekend is Jackass 3D, the third and most expensive film in the series to make. Jackass 3D earned a wild $50 million from 3,081 venues this weekend, and had a stellar venue average of $16,228. Due to the 3D element of this episode of Jackass, production costs were the highest ever, coming in at a still slim $19 million. To say that Jackass 3D is a breakout success is a complete understatement. Tracking was looking for $30 million over the entire weekend, and the event flick drew $21.7 million in Friday night business alone. Due to the "event" nature of these films, internal weekend multipliers (Friday gross divided by weekend gross) are often quite low due to the 'rush to see' factor. If Jackass 3D had earned $21.7 million every day of the weekend it would have had a take of $65.4 million; however instead of a multiplier of 3.0, this one came in at 2.3, which means it was just as frontloaded as the first two films, as the original Jackass had a multiplier of 2.3, and the second a multiplier of 2.45.

Frontloaded over opening weekend or not, these are better overall earners then say the Saw films. The first Jackass had open-to-domestic-total multiplier of 2.83, after opening to $22.8 million and finishing with $64.3 million. The second opened to $29 million and finished with $72.8 million, giving it an overall multiplier of 2.5. Jackass 3D is doing one of those rare things we see at the box office today – it likely is profitable, including all marketing costs paid, after only three days of release.

The Jackass films are a rare breed. Not at all documentaries, and definitely not for kids, Johnny Knoxville, director Jeff Tremaine and producer Spike Jonze have found a way to hack into the primal zeitgeist of American youth, make people laugh, and make a ton of money doing it. Critics are just as funny when talking about these movies. At RottenTomatoes, 38 reviews were counted by the time of this writing, and of those, 25 were fresh, giving Jackass 3D a fresh rating of 66%. When we look closer, though, the site's "top critics" rating sat at 23% - lower than the overall rating by 43 points. The top critics HATE Jackass 3D (much like I hated Life As We Know It last weekend), but the regular joe critics LOVE it. I have never seen such divisive crop of critics in all my life. Jackass 3D to me is the adult version of the Hannah Montana/Miley Cyrus Best of Both Worlds movie. Both are done in 3D, both have hate it and love it groups, and both were wildly successful – amongst completely different demographics. Only at BOP will you hear that Johnny Knoxville=Hannah Montana.

Finishing second this weekend is Red, which is based on a DC Comic series of graphic novels. Red has an impressive cast that includes Bruce Willis, Helen Mirren, Morgan Freeman, John Malkovich, Mary -Louise Parker, and Karl Urban. Summit Entertainment was able to turn a good idea and that cast into a remarkable film, and moviegoers caught on, as Red earned $22.5 million from 3,255 venues. It had a venue average of $6,912. Red was expected to earn $20 million (and did), but I have to wonder if it would have earned more had Summit chosen not to open Red on the same weekend as Jackass 3D. Red could have opened last weekend against Life As We Know It and Secretariat, and the second weekend of The Social Network, but chose to open with Jackass 3D and not have to battle it for a hold over the second frame. It might have been a good idea. While Jackass 3D probably won't be in freefall next weekend (Jackass 2 dropped 49% in its second frame), Red should have better legs, as this appears to be a crowd pleaser. Reviews were great, as RottenTomatoes counted 119 reviews, and of those 84 were fresh, leaving Red with a 71% fresh rating, which is pretty good for a comic-book/Bruce Willis movie. I like Red's chances against a movie lineup over the next two weekends that includes only sequel horror films, Paranormal Activity 2 and Saw 3D.

For Bruce Willis, Red is his biggest opening in a long time, if we don't count Live Free or Die Hard ($33.4 million in June of 2007). Prior to the fourth Die Hard, Willis' last $20 million plus debut was Sin City, which opened to $29 million in April of 2005. Prior to that, we have to go all the way back to 2000's Unbreakable, which brought in $30 million over its first frame. Red cost Summit Entertainment $58 million to make, so after foreign coin is counted, the studio is going to see a tidy profit off of this one.

Third goes to The Social Network, our number one film over the last two weekends. Despite the two films above it earning about $70 million, The Social Network still held well, which speaks to the demographic spread we are seeing this weekend. The David Fincher award-bait movie earned $11 million in its third frame, and was off a solid 29% considering the new films in the marketplace this weekend. Now, after three weekends of release, the $50 million Sony production has brought in $63.1 million, and looks to finish with about $90 million.

Fourth is Secretariat, which held well as it had the Disney sports movie demo all to itself. Secretariat earned $9.5 million and was off a very small 25%, which may be a payoff due to the faith-based marketing surrounding the film. Secretariat and its $35 million production cost is not out of the woods yet. It has a running total of $27.5 million, but also carries a marketing budget rumoured to be as high as $50 million, which may make the real cost of this one more like $85 million.

Life As We Know It finished fifth this weekend after finishing second over its opening frame. Like The Social Network and Secretariat, Life As We Know It had a demographic (in this case the rom-com fan) all to itself and was able to hold decently. The Katherine Heigl film earned $9.2 million and was off 37%. The $38 million Warner Bros. effort has now brought in $28.9 million, and could finish with as much as $50 million before its domestic run is complete.

The Legends of the Guardians: The Owls of Ga'Hoole lands in sixth this weekend, down from fourth last weekend. The Zack Snyder 3D flick earned $4.2 million this weekend and was off 39%. The $80 million Warner Bros. kids flick now has a running total of $46 million and a foreign gross of about $30 million.

Seventh goes to Ben Affleck's The Town, which is in its fifth weekend, and gets buried by time and competition. The Town earned $4 million and was off 37% as the adult targeted Red, Jackass 3D, and The Social Network get in its way just a little bit. Regardless, the $37 million thriller has a domestic running total more than twice its production budget. The Town has earned $80.5 million and could still see $90 million before it's through.

Eighth goes to My Soul To Take, as the little-seen Wes Craven flick gets chopped in half over its second weekend. Soul earned $3.1 million and was off 54% compared to last weekend. Horror is cheap, though, as this one cost $25 million to make so this one won't hurt Universal like Land of the Lost did. Give the horror flick $11.9 million earned so far.

Ninth is Easy A, as the well made high school flick hangs on to a top ten spot for another weekend. Easy A earned $2.7 million and was off 38%. This Screen Gems effort has been huge for the studio, as it cost $8 million to make and has earned $52.3 million so far.

Finally in tenth is the end of Wall Street: Money Never Sleeps. The Oliver Stone flick earned $2.4 million over what will be its last weekend in the top ten, and dropped 49%. While under-performing at the domestic box office ($47.9 million so far), it's having better luck overseas, where it has picked up $36 million so far.

Overall, the box office was way up over last weekend's top 12 ($81.3 million, the lowest October top 12 since 2007), but was up against a very lucrative weekend last year. A year go, the box office was led by Where the Wild Things Are which took in $32.7 million, and was followed by big films like Paranormal Activity, Law Abiding Citizen, and Couples Retreat. The top 12 managed $127.6 million. This year, the top 12 found $121.3 million, an admirable total, but just a little behind what happened last year.