Weekend Wrap-Up for October 8-10, 2010
Network Leads Soft Box Office
By John Hamann
October 10, 2010
BoxOfficeProphets.com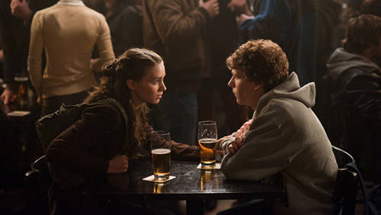 ---
It was crowded at the top of the box office this weekend, but not in a good way. A soft set of formulaic openers faced off against the second weekend of The Social Network, which was looking to hold well this weekend. Debuting films this weekend included Life As We Know It, starring one of my non-faves, Katherine Heigl; Secretariat, the horse-race film Disney was hoping would replicate The Blind Side (no Bullock equals no Blind Side, in this man's opinion); and Wes Craven's My Soul to Take, the Scream director's first time back behind the camera since 2005's Red Eye.

Things could change when actual numbers come out tomorrow, but for now, our number one film of the weekend is The Social Network, repeating at number one. After an apathetic opening weekend where the David Fincher helmed drama earned $22.4 million, the Oscar hopeful needed to hold decently to keep its award momentum going. A 50% drop would have been devastating. With the repeat at number one, a second weekend gross of $15.5 million, and a weekend drop of only 31%, The Social Network will have the box office cache to compete with the big boys at the Oscars this year. For all of you clamoring about The Hurt Locker's box office and how it beat Avatar on Oscar night, I think it was a David vs Goliath situation, with people voting for the underdog (and Academy members didn't want to listen to James Cameron's acceptance speech). The Social Network got lucky, as it faced two softies over its second weekend, but watch – the "Network repeats at number one" stories will be all over the media. I see the Jesse Eisenberg drama taking in about $80 million domestically in the end, or about twice its $40 million budget. It currently sits with $46 million.

Finishing second is Life As We Know It, the new "found a baby" rom-com from Warner Bros. The opening weekend is just as blah as the concept for this one, Life As We Know It earned $14.6 million from 3,150 venues. The Katherine Heigl flick was number one on Friday, but fell back over Saturday and Sunday. Still, if estimates are off, it could come back to take top spot tomorrow (probably not, though). It had a venue average of $4,646. The opening is akin to other blah rom-coms released over the last few years, like The Back Up Plan ($12.2 million opening), When in Rome ($12.4 million opening), and Made of Honor ($14.8 million opening). This is typical October filler, and didn't carry a lot of risk. Life cost $38 million for Warner Bros. to make, and was co-financed with Village Roadshow.

Not surprisingly, critics hated Life As We Know It. The rom-com grabbed 104 reviews at RottenTomatoes at the time of this writing, and only 30 were positive, giving this one a fresh rating of 29%. Katherine Heigl needs a hit in a big way. Life As We Know It follows in the steps of the awful Killers, which also under-performed in June of this year. Killers opened to $15.8 million and topped out at $47 million, despite having a lucrative June release date. Heigl has never been close to my heart, as she has a tendency to dump on projects that have made her successful - Knocked Up and Grey's Anatomy being just two examples. The marketing of Life As We Know It seemed to be more about remastering Heigl's image. Maybe it will help her next release, One For the Money, where she plays a lingerie buyer who turns into a bounty hunter. Heigl's name is the only one above the title on that one and she also produces, so her career could be on the line.

Secretariat finished third this weekend, as Disney's faith-based horse racing flick stumbled out of the gate. The Blind Side wannabe opened to $12.6 million from 3,072 venues this weekend, where the Sandra Bullock starrer started with $34 million. With the ending to this one obvious, I don't quite get why Disney turned a fairly safe $32 million bet into a nightmare by spending 1.5 times the production budget on marketing. I could see it if you had a title that was hot, but Secretariat's 66% fresh rating doesn't exactly yell "go out and see this one." As far as legs, it will be interesting to see where this one goes. Seabiscuit earned over five times its $20 million opening weekend ($121 million domestic), and Secretariat has the Disney brand, but I doubt it, due to lack of quality and its inability to hold up as well over opening weekend.

Legend of the Guardians: The Owls of Ga'Hoole manages to stay in the top five this weekend. Those darn owls earned $7 million, and the movie was off 36% compared to last weekend. After a troubling $16 million opening weekend, The Owls have come back a bit due to mostly solid holds over the last two weekends, although that $80 million budget figure is still a ways off. The Owls may be able to eke $60 million out of North American theatres, then do the same overseas. In short, the Zack Snyder flick won't be a disaster. Give it $39.4 million so far.

Fifth spot goes to our other opener this weekend, Wes Craven's My Soul To Take. The Universal 3D flick is the third horror release out over the last two weekends, and this one fared much like the other two – poorly. My Soul To Take earned only $6.9 million from 2,572 venues, with about 1,800 of those being of the 3D variety. Produced for about $25 million, the Universal release is simple October filler, not costing the studio too much in the end. Like last weekend's Case 39, Soul was not screened for critics, but of the reviews that are available, one has to wonder why Wes Craven would return to directing after a six-year absence for this one. Maybe it was a warm up for Scream 4, which opens in April 2011.

Sixth goes to Ben Affleck's The Town, which had another solid hold in its fourth weekend of release. The Town earned $6.4 million this weekend, off 35% from the previous frame. The $37 million Warner Bros. release has now pulled in $73.8 million, and looks to finish with about $85-90 million.

Wall Street 2 finishes seventh this weekend as the sequel continues to struggle. After dropping 47% last weekend, Wall Street: Money Never Sleeps dropped another 54% this weekend, earning only $4.6 million. The $70 million Michael Douglas starrer has a domestic cume so far of $43.7 million, and looks like it will finish with less than $60 million.

Screen Gems' Easy A finishes eighth. The high school comedy, now in its fourth weekend, earned $4.2 million and dropped 38%. The $8 million Emma Stone flick how now earned six times its production budget, as it sits with $48.1 million.

Ninth goes to Case 39, which finishes the weekend with $2.6 million, down 51% from last weekend's $5.4 million debut. You Again, the lame comedy starring Kristen Bell, found only $2.5 million as it dropped a pretty heavy 57% from last weekend. Its domestic total is $20.7 million.

Overall, this weekend the box office was quite soft. A year ago, Couples Retreat opened to $34.3 million and led the top 12 to $95.6 million. This year, with no $20 million opener, let alone a $30 million opener, the box office struggled, turning in a top 12 worth $81.4 million. This could open the door for a big weekend in the next frame. Jackass 3D opens for Paramount, and with openings for the previous films coming in at $22.7 and $29 million, the 3D price increase could propel this one over $30 million. Also opening is Red with Bruce Willis, Morgan Freeman, and Helen Mirren, which has seen some decent reviews so far.