Weekend Forecast for October 8-10, 2010
By Reagen Sulewski
October 8, 2010
BoxOfficeProphets.com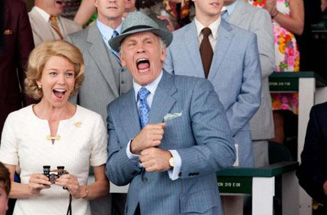 ---
The onslaught of fall films continues this weekend with four new films hitting wide release, but after a couple of weeks of oddball movies leading the way, this group gets a lot more conventional.

How conventional? The leading candidate to top the box office charts is a romantic comedy with Katherine Heigl looking after a baby. Life As We Know It has Heigl and Josh Duhamel as two people thrown together when they're named as guardians of their mutual friends' toddler. This apparently comes as a surprise to them, although this strikes me as the kind of thing you'd want to talk to them about first.

This is one of those "boy, you single people really don't have meaning in your life unless you have a kid" movies, which Hollywood puts out every so often with the idea that they're teaching us a lesson, possibly out of guilt for being deeply unsatisfied workaholics themselves. At least this time they're not just doing it to punish single career women, like in Raising Helen.

Despite being by all accounts completely unlikeable in person, Heigl remains a pretty reliable draw in romantic comedies. Knocked Up, 27 Dresses and The Ugly Truth average about a $27 million opening weekend, with The Killers being the first chink in her armor, thanks to some really bad ads and a sketchy premise. While reviews for Life As We Know It aren't great, babies and couples are usually a pretty sure fire method of finding success at the box office. Those poop jokes just write themselves, I guess. Heigl should find herself back into her normal range of movie openings with around $24 million here.

Inspirational sports movies are back this weekend with Secretariat, the story of the horse that won the 1973 Triple Crown, the first in decades to do so, and which did so in ridiculously dominating fashion. It's also the story of the horse's owner, a woman (by itself an extreme rarity in those days) who was determined to raise champion horses despite the boys' club nature of the sport and the extreme financial difficulties of her stable. Diane Lane stars as Penny Chenery, in what looks like her best ever shot for a Sandra Bullock Oscar.

Disney is producing, in The Rookie/Miracle/Invincible style, though this time the quality of the story they've found and its familiarity may help it break out more into the public at large, rather than just sticking with the sports fan demographics. Its spiritual predecessor, Seabiscuit, earned $120 million and was nominated for seven Oscars. That level of awards contention might be pushing it for Secretariat, which seems to lean more towards the schmaltz, but three or four might not be out of the question, including a possible Best Picture nomination.

This is all dependent, of course, on the movie actually being a hit, or to what level of hit it might become. Reviews show that Disney seems to have gotten this one right, and as far as sports figures go, Secretariat is among the most well-known figures whose backstory hasn't been beaten to death. While not likely to approach last year's start for The Blind Side, I'd not be surprised by an opening of about $22 million.

Horror audiences, apparently underwhelmed by both of last week's offerings, have My Soul to Take to look forward to this weekend, which is more in line with the usual "attractive young people get slaughtered" expectations. Written and directed by Wes Craven, who's experienced a late career renaissance, it's about a group of seven teens who share the same birthday, who are then stalked by a serial killer who was supposedly put to death on that date. Wait, you're asking, isn't this just Nightmare on Elm Street with a guy with a calendar fetish? To which I respond – you're capable of pattern recognition? Are you sure you're a slasher film fan?

Although it hardly matters, the film wasn't screened for critics, which is pretty much the international movie sign for "it sucks". As such, this film's looking to make as much as it can in the first weekend and try and escape scot-free. This film seems to fit into the usual actiony-CGIy style that horror fans seem to prefer these days, and has some effective looking chills, so I'd expect a modest but unspectacular debut of around $10 million.

The "zany comedian plays straight in a drama" is a pretty standard trope these days, where your average funny man (or woman) is forced to endure the "Wow, you can act!" reviews – as if being hilariously funny in character wasn't acting. Zach Galifianakis is the latest to approach this in It's Kind of a Funny Story, though he's really only a supporting character here.

He's one of many psychiatric ward patients who patients interact with relative newcomer Keir Gilchrist, a teen who's checked himself in to deal with his clinical depression. I know, what a fantastically entertaining-sounding idea for a movie, right? A watered-down version of Cuckoo's Nest, it seems watchable more or less just for Galifianakis' performance, which is getting placed into the "tour-de-force" category by many reviewers. However, it's only opening in around 700 venues, which reflects lowered, and perhaps quite realistic, expectations by the studio. Its debut should be in the $5 million range.

After a decent debut at $22 million, the big question surrounding The Social Network is whether it can sustain the initial enthusiasm. Reviews and word-of-mouth do seem to be universally in the direction of positivity, and any of the criticisms about the uninterestingness of the material are irrelevant in the wake of its opening weekend. I feel that this is still the buzz movie of the weekend, and show put in a showing of about $17 million.

Legend of the Guardians made the most of its second weekend and its near 3D exclusivity with a $10 million showing. Even with this, it's still destined for just $60 million or so for a final total, and it has to be viewed as a disappointment. Give it $7 million for this weekend.

The Town, meanwhile, is making a longshot run at $100 million after two straight weekends of legs. The Ben Affleck-directed crime thriller has been making a case for itself as one of the top films of the fall, and should have a fourth weekend total of about $6 million. That's about the same number that Wall Street 2 should see in its third weekend, which after a surprisingly strong debut, is turning into the punchline that we all kind of thought it was.