Monday Morning Quarterback Part I
By BOP Staff
October 4, 2010
BoxOfficeProphets.com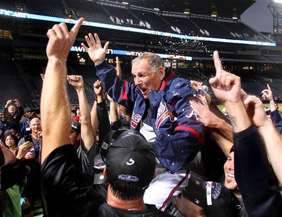 ---
*Gets into chicken fight with Mark Zuckerberg, Bill Gates and Richard Branson

Kim Hollis: The Social Network, arguably the best-reviewed film of the year, won the weekend with $22.4 million but failed to break out. Is this a good enough result for Sony, or do you consider the opening weekend something of a missed opportunity?

Brett Beach: This is the third weekend in a row where a movie ostensibly targeted at adults (or at least not aimed directly at the youth market) has opened at number one, which I take not only as a sign that yes the fall season is officially here, but gives me a small measure of joy. At the same time, perhaps this hurts all three as well since adults don't necessarily rush out opening weekend to see something, and then must decide between several worthy options.

I am torn between thinking that The Social Network left some money on the table and that it opened well within reasonable expectations. I don't think talk I read of $30 million and above was really all that likely. Unless word-of-mouth somehow runs counter to the great reviews, I do see this playing well for the next few months and making up for whatever flavor of underwhelming this leaves behind. This was not a star vehicle, nor was it ridiculously expensive, so my instinct is ultimately to claim this as a (small) victory for now but veering towards a solid win as we head towards year's end.

Matthew Huntley: Good call, Brett. Just two weeks ago, The Town opened to similar numbers and is showing respectable legs at the box office (thanks to its reviews and adult demographic), so there's no reason to think The Social Network shouldn't perform the same.

Speaking of demographic, it's been speculated the reason The Social Network didn't break out was because its audience base was too limited - i.e. it was geared toward adults living around major cities - and the Midwest section of the country failed to respond. I know it's hard to believe when the movie is about a little phenomenon called Facebook, but it's something to consider. On that same note, did anyone else notice the word "Facebook" isn't on/in any of the posters/billboards/trailers? I'm willing to bet many people didn't know what the movie was about (I know, that's also hard to imagine). Did you also notice there was never any reference to any other David Fincher/Aaron Sorkin works in the ads (perhaps, "From the director of Fight Club and the writer of A Few Good Men, or something along those lines)? Only their names were used, which might have had many people (perhaps in the Midwest) asking, "Who?" What are peoples' thoughts on this?

To answer Kim's question, no, I don't think this is a missed opportunity. If there is, in fact, real Oscar buzz to go along with the film, or at least some awards season buzz, it will eventually pay off. As Brett also mentioned, sub-$40 million budget won't be that hard to make up.

Josh Spiegel: As the week went forward, I figured that $30 million was the ceiling for The Social Network's opening weekend, so $22 million is a perfectly solid number, especially considering the film's well-deserved Oscar buzz. When I heard that the budget was in the range of $40-50 million, I became even more baffled at the immediate reactions of other box-office predictors. The movie's word-of-mouth should be solid (even if some of the praise may seem hyperbolic, the movie's really great), and it should be in theaters for pretty much the rest of the calendar year.

What's more, though the marketing may not have referenced Fincher or Sorkin's previous works (and maybe I'm the only one, but I feel like a) Fincher's well-known enough and b) none of his previous films would make an obvious reference point for The Social Network), I can't stress enough that this movie had the best trailer I've seen in a long, long time. In the same way that the movie does, the trailer made the content seem a lot more ominous that it should on paper.

Joshua Pasch: Admittedly, every now and again there is a movie that I want to see so badly that it ends up skewing my expectations for what it should gross at the box office. Such was the case here as my imagination got the better of me. I thought for sure that tracking was underselling Social Network's potential and I had hopes this could break out to the tune of $28-32 million. I even thought there was an outside chance that this could've been one of those openings that shocks everyone on Monday morning with a $40+ million weekend. Granted I recognized that number was unlikely, but even considering it shows how much potential I thought this had.

At work last week, someone (albeit someone with little to no knowledge of how the box office functions) prognosticated that The Social Network would "open to $100 million this weekend because the audience includes 500 million facebook users." Not the most sound logic I've ever encountered, but apparently, I wasn't the only one with high expectations.

Regardless, $22 million is just fine for an adult drama and my high hopes and unrealistic expectations are now being redirected at the film's legs. I'm going to say it now, this one will be as leggy as Fincher's last film, Benjamin Button. That would put the gross for this right around $110 and no one will be asking whether money was left on the table after that.

Tim Briody: In hindsight it would have been rather hilarious for us to have had this conversation via Facebook. This is a totally okay opening and the table is now set up for a nice run over the next couple weeks and some major awards noise.

Shalimar Sahota: Similarly, I was expecting somewhere in the region of $30 million; however, I wouldn't consider this to be a disappointment. My theory on why it didn't take off on the weekend is kinda the same as what Matthew highlighted; maybe people just didn't know what it was. And those that did were probably put off by the whole premise. I mean, it's a film about the genesis of Facebook. I remember when it was first announced and just thinking, "how exciting can that be?" I can only assume some potential audiences were thinking the same thing. However, as already said, being a well reviewed adult drama, I wouldn't be surprised if word-of-mouth allowed this to survive long enough to make its way to near enough $100 million.

Edwin Davies: In the short term, I think Sony might be a bit disappointed that it didn't make more, especially given the $30 million-plus numbers being thrown out there during the week, but then again that was always going to be a stretch given that there aren't any huge stars in it (Justin Timberlake being the exception, but he's never been a draw when it comes to films) and Fincher's never been someone whose films have broken out to huge numbers, instead living long, fruitful lives either in theaters or on DVD.

I think that'll be the case with The Social Network, too. The rapturous reviews and deafening Oscar buzz will keep it chugging along for the next couple of months, probably giving it a total in the $80-90 million range.

I've been thinking about why it didn't make more this weekend, and I'm wondering if anyone else has encountered a phenomenon that I have, which is that people are putting off seeing it because they can't believe that someone has made a film about Facebook, and find the whole idea quite ridiculous. I don't know if this extends beyond my group of friends, but I can see why people might hold off seeing the film for a while because they find it to be a rather strange proposition.

Kim Hollis: I'm not disappointed in the opening, and honestly wasn't sure to expect. I saw the film with eight other people (my boss to my team to see it for work - no, really) and it was an early afternoon crowd and therefore small. Even so, it had interesting buzz, but people were finding it hard to believe that a movie about Facebook and with these stars could possibly be as good as the reviews were saying.

Reagen Sulewski: If you're disappointed in this number, you're underestimating just how tough a sell this film was. This is a film with no particular stars and about a subject that makes people roll their eyes reflexively. This was a hit movie pulled out of nothing by sheer will, and thanks to an almost concerted and coordinated effort by critics to make sure people saw this.

David Mumpower: I joked in a status update on Facebook the other day that I wouldn't be discussing the movie because it was too recursive. Still, when a friend chimed in about his slight disappointment with the film, I made the comment there that this is one of the strangest releases in recent memory. Who is the hero in The Social Network and who is the villain? Is Mark Zuckerberg the villain? The hero? An anti-hero? How does Eduardo Saverin fit in? He's clearly intended to be sympathetic for the most part, but he's also the Michael Vick of the film. Also, it's difficult to describe him as the hero when he's better described as the victim more than anything else. And even if that's true, how much victimization are we watching about someone who is well on his way to being a billionaire at 26?

The Social Network involves subject matter lacking in easy answers or even resolution. Facebook is a kingdom today, but we've seen many sites like this stand at the top of the hill for a while only to fall later. We are discussing a period piece with the period being five years ago. There is nowhere near enough distance from those events, so the whole affair plays out as a binary take on the California gold rush in the mid-1800s. This is an arthouse film disguised as a Sony blockbuster and while I had hoped it would earn $100 million domestically, this is a respectable opening weekend on a par with the prior Ben Mezrich adaptation, 21, which debuted to $24.1 million on the way to a $81.2 million North American tally. And that title had more sizzle to sell since it was based on Vegas dreams.

The one trouble spot The Social Network had that it was never getting beyond is that in order to garner the support of Facebook, they would have needed Zuckerberg's seal of approval. When they asked for that prior to the start of production, he demanded too much in terms of story control. To tell the story they wanted, they had to cede the tie-in that may have made the $100 million opening...well, that was still overly optimistic, but this could have been a sell-out project that debuted to $60 million. Would Sony have rather had that or an exponentially better film that earns less but isn't a puff piece? Well, they're a vast, multi-national corporation, so this is a surprising turn of events in that regard. Selling out is what Sony does best, which is why their name brand matters so much. Like the movie itself, there isn't an obvious right or wrong answer between quality and shameless commercialism. The Social Network has walked a fine line between the two and largely came out okay in the end.

First round knockout.

Brett Beach: Having not seen The Social Network yet, but having viewed Inception once, I have to rely on previous bias and say that Team Fincher/Sorkin will mop the floor with Team Nolan. The Social Network has the feel of a film that deserves to be seen more than once, whereas Inception "required" more than one viewing. There were precisely three images in that film (all involving Joseph Gordon-Levitt) that I have carried with me since this summer. The rest was simply craftsmanship of a high order, with a pinwheel at its center instead of a heart. I think Inception will be this year's Benjamin Button: lots of nominations, not many wins. And that The Social Network stands to win some top Oscars.

Plus, in my mind it's The Game/Sports Night/Zodiac/Studio 60 on the Sunset Strip/Seven/Charlie Wilson's War vs Memento/Batman Begins/The Dark Knight. No competition.

Josh Spiegel: For almost completely different reasons, I mostly agree with Brett. I've seen both films (Inception more than once) and am much more in love with Inception--that movie's got emotion, and interestingly enough, far more than The Social Network does - but The Social Network is both conventional enough and unique enough to garner more Academy praise.

Also, gotta be honest: that head-to-head match of previous works? Nolan wins for me in a walk. Sports Night's a classic, as is Zodiac, but Memento, The Dark Knight, and Inception are tops in my book.

Joshua Pasch: It's not even close, David-Social Network-Fincher leaves Christopher-you must still be dreaming if you think Inception has a real Oscar chance-Nolan in the dust, both everyday, and in the Social Network/Inception showdown.

Inception is heady and ambitious, but my own qualms with the film's shortcomings aside, its not the stuff Oscars are made of. The Social Network doesn't perfectly fit the bill, either, with its teenage cast and very simple, almost emotionally cold storyline working against its Oscar chances. It is, however, an incredibly well crafted and acted drama with a surprising funnybone - it's the same type of dark comedy that made Fincher's Fight Club so likable (though it's not nearly as crude or dark).

Ultimately, I think Inception will be relegated to the technical categories for the most part while Social Network garners several of those prestige noms but not many victories.

Matthew Huntley: Since I'll be seeing The Social Network tomorrow, I can't say with utmost confidence what the heavy favorite is between these two films. However, if I had to choose, I think Fincher's film has the upper hand because it is now October, and with Social Network being on everybody's mind at the moment, it has a greater chance of staying in people's heads until the end of the year. Inception definitely has some indelible scenes, and its running time and box-office can only work to its advantage (we all know the Oscar folks love long, money-making hits), but as far as awards season is concerned, it has the misfortune of being a July release, which rarely get remembered when it comes to the more prestigious categories.

To continue the Fincher/Nolan debate, I think Fincher is the better character/mood/tension director, while Nolan is more talented when it comes to grandiose spectacle and innovation. Perhaps the two should direct a movie together. Imagine the possibilities. But who would get top billing?

Edwin Davies: I haven't seen The Social Network yet, but based on what is being said about it I think that it has a better chance of winning on the night than Inception. I love Inception, but I can see that it's a film that is way too ambitious and out there for Academy tastes, and there's a timely quality to The Social Network that would allow the Academy to look hip and with it (certainly more hip and with it than me, someone who uses the phrase "hip and with it") rather than the stuffy bunch of old people that they actually are.

On the other hand, I think Inception will still get a ton of nominations - it's that rare film that is both a critical darling and a blockbuster - and I reckon that Christopher Nolan is in with a shot of winning Best Original Screenplay as a consolation prize (since The Social Network is based on a book it'll be nominated for Best Adapted, so they won't be competing against each other for that award) but the lion's share on the night will go to team Durden/Bartlett.

Kim Hollis: I'm going to agree with the rest of the crew to go with The Social Network as the stronger awards candidate. I think both films are in the running for Best Picture, as well as Best Director. You should see one of each in the two screenplay categories, as well. I will echo what Brett said in that The Social Network is a movie you *want* to see again. Inception is one that you feel you *must* see again to capture the layers. I think both films are absolutely terrific, though, and if you asked me to choose between them right now I'm not sure what I'd say. I will note that anyone who thinks Jesse Eisenberg is a one-note Michael Cera rip-off should have their minds changed with this performance. I've liked him ever since Roger Dodger, but he gives Zuckerberg some depth. Likewise, future Spider-Man Andrew Garfield is getting a marvelous introduction to the world.

Usually, I like Nolan significantly better than Fincher (and I admire Sorkin a great deal, with Sports Night being my favorite thing he has ever done). I'm not sure that's the case here, which is saying a lot. Of Fincher's previous films, Zodiac is the only one I found this solid, and I still like The Social Network substantially more than that one.

Reagen Sulewski: Sober second thought is starting to set in on Inception (which is primarily why just about every Oscar hopeful releases as close to December as possible now), but I don't know that it was ever a front-runner in the first place. Nomination material, sure, but any film that starts off with science-fiction as a descriptor is automatically running two steps behind in the race.

David Mumpower: First of all, I love that there are three mentions of Sports Night in this thread and I didn't make either one. That tells me we're bringing in the right people here at BOP. Answering the question as asked, I am not seeing the situation as set in stone like some of my counterparts. What I believe right now is that Inception has a better chance at getting nominated, but that if The Social Network does get the nod, it has a significantly better chance at winning. The latter film is of the moment and has heat that may dissipate quickly. The former film has already stood the test of time. I expect Nolan to get another nod as a showing of respect for what he has accomplished in earning $770 million on a Primer-flavored blockbuster. Conversely, I think that if we get to February and The Social Network is still in the conversation, it has a chance to duplicate The Hurt Locker's feat of garnering renewed interest due to its exemplary storytelling. At this moment, what I will say with some confidence is that neither of these films will wind up winning. Both will probably fall into that category of well regarded movies that didn't get as many Oscar victories as they should.