Weekend Wrap-Up for October 1-3, 2010
Network Rules Softly; Let Me In, Case 39 Bomb
By John Hamann
October 3, 2010
BoxOfficeProphets.com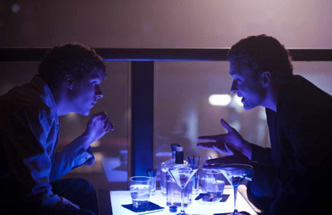 ---
It could have been a big weekend for the movies this weekend, but for some reason it did not turn out that way. We had two openers that received great reviews, had connections to pop culture, and carried some buzz, but neither lived up to expectations. Openers included The Social Network from one of the better directors of the last 15 years in David Fincher, and Let Me In, which was based on the international hit, Let The Right One In. The other opener, Case 39, was a traditional September/October dump – shot in 2006 and barely worth a mention. Holdovers didn't fare much better, as Wall Street 2 collapsed, and the Owls of Ga'Hoole started their long march toward obscurity.

Before I looked at the Friday box office results, I pictured in my mind what they would look like. I was expecting a $30 million plus weekend for The Social Network, so the Friday number had to come in at least $10 million. For Let Me In, I was expecting a $10 million plus frame, so I was expecting a $4 million Friday. I was also expecting Ben Affleck's The Town to rise above Wall Street 2. I was wrong on all counts. The Social Network had a Friday gross of around $8 million (easily 20% lower than I was expecting), and Let Me In bombed – barely grossing more than a little-marketed Renee Zellweger horror flick that feels dated (and is). Finally, The Town failed to get by Wall Street 2, even though the Michael Douglas sequel fell more on Friday than the expected 50%. North America, I am disappointed. Forgetting The Social Network under-performance (it will play forever), we have shelved a good, smart, horror film in Let Me In in favor of Disney pap like You Again.

Yes, the number one film of the weekend is The Social Network, Sony's intelligent, fast-paced story about the creation of Facebook. From director David Fincher, bringer of maybe the best two films of the last 15 years (Se7en, Fight Club), and writer Aaron Sorkin (The West Wing), The Social Network was a lock for an Oscar nomination prior to its debut. It opened at 2,771 venues and earned $23 million, far less than the $30 million or more that tracking was expecting. Several media sources have pegged the budget on this one at less than $40 million, with IMDb saying $50 million. Regardless of the budget and whether the opening is soft or not, this is going to be a huge winner for Sony, as The Social Network should play strongly throughout October and into November. It also ought to find a decent sized audience overseas.

For director David Fincher, The Social Network represents the second biggest opening of his career. He got started in 1992, with Alien 3, which is actually my favorite entry in that series. It was no box office smash, and most audiences and critics didn't like it. It opened strongly enough, at $23 million (in 1992 dollars), but faded fast, finishing with a $55 million domestic total (it grossed over $100 million overseas). Next came Se7en, a lock for my top five films of all time. Fincher's warning of apathy was ironically his biggest hit over a 13-year span. It opened to $13 million, but went on to earn over $100 million domestically and another $228 million overseas. Se7en gave Fincher the Hollywood cred to make any film he wanted without studio interference. So, after making The Game with Michael Douglas and Sean Penn ($14 million, $50 million domestic finish), he made Fight Club.

I read a book once about how shocked Fox executives were when they saw Fincher's cut of Fight Club, believing it to be unreleasable. They were wrong. Fight Club opened in only 1,922 venues (good try, Fox), and despite being under-sold, the Ed Norton/Brad Pitt flick earned $11 million over an October weekend in 1999, and went on to earn $37 million domestically, and over a $100 million worldwide. I can only imagine the profits still being earned off of DVD and Blu-Ray sales today. Fincher then took more of a turn toward the traditional as the new decade began, making Panic Room in 2002 with Jodie Foster (and a young Kristen Stewart). Panic Room carried the biggest opening of Fincher's career at $30 million, and finished with $95 million in the US, with another $100 million coming from overseas. Then came Zodiac – his only almost-flop – as that one earned only $33 million in the US (despite being critcally lauded), and $50 million overseas, against a production budget of $85 million. Then, in late 2008, Fincher released The Curious Case of Benjamin Button, which carried a huge risk for Paramount, as the negative cost alone came in at $160 million. Button didn't earn that much domestically ($127.5 million), but picked up over $200 million overseas. It also earned Fincher his first Oscar nomination.

That brings us to today and The Social Network. Reviews for this one are as impeccable as they get. Of the 161 reviews counted at RottenTomatoes, only five were negative, mostly from the crew that enjoys going against the grain (yes, I'm looking at you AGAIN Armond White – folks, if you live in New York, don't get your movie reviews from something called "New York Press" - this guy hated The Town, Inception, and The Social Network, just to name a few). Top Critics were 100% fresh for The Social Network. They call it "something special," "not to be missed," and "the best movie of the year." Yes, the movie is about Facebook, but it's good, exciting, well-made cinema, and I implore you to see it.

Those darned owls manage to take over second place, as The Legend of the Guardians: The Owls of Ga'Hoole holds up pretty well in its second frame. Following its $16 million debut, The Owls fell 33% this weekend to $10.9 million, which is not bad at all, particularly as there isn't a lot of competition for families in the coming weeks. This $80 million film probably won't make that amount back domestically, but it could still work overseas and bail out Warner Bros. and Village Roadshow, partners on the production. It should see more than $50 million stateside, but will likely need another $100 million overseas to pay for production and marketing costs, if not more. The Owls of Ga'Hoole has a running total of $30 million.

Finishing third this weekend is Wall Street 2: The Squeakquel (a BOP inside joke). After a slightly under-whelming $19 million debut last weekend, Wall Street: Money Never Sleeps did the expected this weekend, falling 47% and earning another $10.1 million. Wall Street 2 is obviously not building on strong word-of-mouth, as it behaves more like a sequel than an original adult drama. Budget estimates for the greed sequel are all over the place, with a reported range between $53 and $80 million. I'm looking for this one to finish with about $60 million, before taking a run at overseas cinemas. Currently, the Oliver Stone flick has brought in $35.9 million.

Fourth spot goes to The Town, which surprisingly couldn't get past Wall Street 2. Now in its third weekend, The Town earned $10 million, and was off a larger than expected 36%. The Town has seen some stiff adult cinema competition since it opened, facing off against the open of Wall Street 2 in its second weekend, and The Social Network in its third. The Town is still going to do very well versus its $38 million production budget. It looks like the very well reviewed Ben Affleck flick is going to top out around $90 million. So far, The Town has earned an impressive $64.3 million.

Easy A, the Screen Gems teen-hit, falls to fifth this weekend. Made for only $8 million (10% of what it cost to make the Owl movie), Easy A is easily the biggest cost-to-profit hit of the fall season so far. After two weekends of grosses above its production budget, Easy A earned another $7 million this weekend for a drop of 34%. Easy A now has a domestic cume of $42.4 million and you can look for the Emma Stone flick to finish with about $60 million.

Sixth this weekend goes to Disney's You Again. In its second weekend, the family friendly Disney fare earned $5.5 million and dropped 34%. I find it depressing that the second weekend of this awfulness beats the opening of Let Me In . Give You Again a running total of $16.4 million. I figure I will be subject to repeated viewing as my punishment in hell. Thank you Disney.

Case 39 is seventh, and gets past the better reviewed and buzzed about Let Me In. The Renee Zellweger horror film that somehow avoided debuting on an airplane or a low-tier Korean cable channel was shot in 2006, and somehow fooled people out of $5.4 million (that money could have gone to charity, or could have given Armond White an education). May this Paramount Vantage production leave us quickly.

Finally in eighth we have Overture's Let Me In, which didn't work, and will have to settle for an opening weekend of $5.3 million from 2,020 venues. It had an average of $2,622. As mentioned, Let Me In, much like The Social Network, had excellent reviews heading into the weekend, with 94 positive reviews out of a possible 110, good for a fresh rating of 85%. If it was good, why didn't anyone go see it this weekend? I think the first problem was that it was under-marketed, which could have been a result of Overture being brought in to the Relativity Media fold. As it turns out, Relativity Media is an investor in The Social Network, and is only involved with Let Me In due to the pick up of Overture Films. It seems to me that the child from the first marriage might have gotten more attention than the child from the second marriage. There was also less risk in the production of Let Me In compared to that of The Social Network. Let Me In cost less than half of what Network cost to produce, so Relativity worked the press more for The Social Network. Let Me In lived in the dark where the media seemed to be concerned, and this weekend's gross is the result. Why Relativity/Overture didn't platform this film out leaves me confused, as awareness could have been slowly built over a number of weekends. This result for Let Me In will likely lead to a domestic loss, where there never had to be one.

Ninth goes to M Night Shyamalan's 80 minute Devil, a film that never really caught on. Devil earned $3.6 million in its third frame, and dropped 44%. The Universal release has a domestic total of $27.4 million earned so far.

Finally in tenth is Alpha and Omega, the ugly-looking animated flick about wolves. The kiddie pic earned $3 million, and has a domestic running total of $19 million.

Overall, the box office is not only down from last weekend its also down from last year. A year ago, Zombieland was on top with $24.7 million, as it led the top 12 to $92 million. This year, the top 12 earned $87.5 million, off from the $90.7 million earned last weekend, and last year's totals. Next weekend looks pre-packaged: Warner Bros. has a rom-com with media darling Katherine Heigl called Life As We Know It (she will soon complain to the press that it's not life as she knows it). Also opening is a Disney sports movie called Secretariat, along with My Soul to Take from Wes Craven. And yes, it's in 3D. Huzzah! Hopefully, people will choose to see this weekend's openers next weekend.