Top Chef Finale
By Jason Lee
September 20, 2010
BoxOfficeProphets.com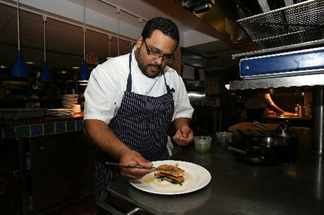 ---
So, it's been a few of days since the Top Chef finale actually aired. I wasn't able to actually watch the finale last Wednesday, so I've been on guard all week, doing my best to avoid any chance of someone mentioning to me who won. But lo and behold, here I am, about to start the finale, and frankly, I have no idea who should be favored for this title. If last year's finale was unpredictable because every chef was insanely amazing, this finale is unpredictable because everyone is pretty good.

So who do we have? We have Hot Angelo, who seems to have lost the momentum he had during the first half of the season. We have Kevin, who's been solid the entire way through, even if he hadn't won many challenges. And we have Ed, who, for my taste, has somehow transformed himself into the villain of the season. The way he played mind games with Angelo during the entire first part of the finale really grated on my nerves.

But the finale is here and all the speculation is about to end. The three finalists had barely finished congratulating each other for making it to the very end, when Padma comes out and asks them all to come back before Judges Table. They walk back out and spot the knife block. Everyone knows what's coming.

Padma tells them that the judges would like to give the chefs as much time as possible to plan their meal, so they're going to announce the challenge right now. The chefs will be competing head to head, creating the best four course meal they've ever cooked. The first course will be a vegetable course, the second fish, the third meat and the fourth is a required dessert. And of course, they've flown in some extra hands to help out.

It's too bad the Top Chef producers spoiled the surprise by featuring the sous-chefs in the promo last week, but yes, as everyone knows, we have Hung, Ilan and Michael V. coming back as sous-chefs.

Incidentally, I love how supportive all the past winners are of the show. It's not like American Idol, where the winners immediately distance themselves. I think the Top Chef winners all genuinely like and appreciate what the show did for their lives and for the culinary arts.

In any case, the chefs draw knives to see who they're paired with. Ed wants Michael V. because he rocked it last year. Kevin wants Michael V. because he worked for him years ago. Angelo wants Hung because he wants to sleep with him. I mean, he wants an Asian chef because Angelo cooks Asian food and they're in Asia.

Ed draws Ilan, Kevin draws Michael and Angelo ends up with Hung. There are two very happy chefs right now.

All six go back to the loft to get to know each other, but Angelo cuts out early because he's not feeling well. Meanwhile, Ilan gives the chefs what I think is really sound advice: don't try and do anything new, cook from who you are. Amen.

The next morning, Angelo can barely move. He says that he's in excruciating pain and can barely open his eyes. A doctor shows up and gives him some meds to help with the pain, though it won't shorten the duration of the illness. He gives him a 20% chance of cooking the next day.

Meanwhile, the five chefs show up in the kitchen to see what proteins they'll be working with. They know they have a duck and meat course, but they're not sure what's at their disposal. Apparently, Tom and Eric woke up early to scour the market for the best proteins. Eric pulls out a red mullet (also known as rouget), some cuttlefish, cockles and slipper lobsters. Tom has some pork belly for them and a whole duck. Clearly the rouget will have to be the focus of their seafood dish and the duck will be the star of the meat dish, but all proteins will need to be integrated somehow.

And I'm sure you're wondering what's happening to Angelo. Well, Hung will be in constant communication with him via phone so that he can execute Angelo's vision. If Angelo still can't cook tomorrow, well, Tom says that they'll deal with it then.

The chefs head to the grocery store to pick up the rest of their ingredients. Kevin is listening dutifully to Michael V.'s suggestions Ed is getting annoyed by Ilan's constant stream of advice, and Hung is doing a great job of trying to get everything Angelo needs.

They soon flood the kitchen and prep work starts. Ed laments the fact that he already cooked his fried banana fritter in the last episode. I agree, he sort of wasted the dish. Everyone loved it so much, it would have been a nice advantage to be able to serve it for the real finale.

Meanwhile, Angelo is back in the hotel getting checked out by the doctor again. The doctor offers him an antibiotic shot that has a 3% chance of working. Angelo will take whatever he's got. The doctor pulls out a needle and sticks it in. "I bet that's not the first time he's gotten something stuck in his behind," I idly think to myself.

The next morning, Angelo is feeling better. He gets cleared to cook by the doctor and then immediately jumps to his sketchpad. Ed comes over to inquire as to how he's feeling, and when Angelo responds affirmatively, anyone watching can tell that Ed is just a wee bit disappointed. "It would have been cool to have just me and Kevin in the finale," he tells the camera.

Back in the kitchen, there's only a few hours before dinner gets served. Angelo is thrilled that Hung is such a fast worker. Ed thinks that Angelo is scared. Kevin feels like he's taking a huge risk with his dishes.

In the dining room, a bunch of chefs start milling in. I immediately smile when I see Susan Fenninger show up (she's such a joyful woman), but am confused as to who the other diners are. No introductions are given, so I guess we're just supposed to take away that these are serious names in the Asian culinary world.

The veggie dish is first and we have a pickled royale mushroom and pork belly char siu bao from Angelo, a terrine of eggplant and zucchini from Kevin, and a chilled corn veloute from Ed. Tom comments that Angelo's dish needs work, Susan didn't get enough "oomph" from Kevin, and Eric thought that Ed's dish was well-executed. Tom notes at the end, though, that all three dishes were restrained.

The fish course is next and Angelo has a sauteed rouget with poached cuttlefish, Kevin has a pan seared rouget with cuttlefish noodles, and Ed has a stuffed rouget with glazed slipper lobster. Dana Cowen appreciates the well-cooked rouget from Kevin, Eric found Ed's dish to be too complicated, and some other guy (no clue what his name is) thought that Angelo's dish was the one that you'd remember out of the entire three.

The meat course follows, and Angelo servies up a sauteed duck breast with foie gras, Kevin has a roasted duck breast with a duck dumpling, and Ed has duck two ways: a roasted duck breast and a braised, stuffed duck neck. All diners agree that Kevin's duck is cooked the best, Susan loves the ginger salad in Angelo's dish, and Padma loves the flavor of Ed's dish.

The dessert is last and as Top Chef fans will know, this is where someone inevitably crashes and burns. Angelo has a Thai Jewel (coconut vanilla cream with crushed ice), Kevin has his version of a Singapore Sling (some purple thing with fruit inside), and Ed has a toffee date pudding with fleur de sel.

Amazingly, all three desserts are good. Angelo's dish is comforting and tasty according to Gail, another diner loves the caramel in Ed's dish, but the one that takes the cake (sorry about the dessert pun) is Kevin's dish. Everyone absolutely raves about it. One diner even says that Kevin just created their national dessert.

It's clearly a really close race but I'm thinking that Kevin probably has this one in the bag.

Back at Judges Table, Gail thinks that this is one of the best finales they've had. Eric loved that the chefs took inspiration from Singapore. Padma is happy that everyone had to work with all the same ingredients so that we could see the difference in their personalities. Tom notes that the judging panel is made up of four people with very different views and tastes. Sounds like he's ready to argue this thing out.

It sounds like Ed won the veggie round. Eric didn't find Angelo's dish to really highlight the vegetables, and Gail wasn't excited by Kevin's dish (Padma called it "timid"). Meanwhile, Padma calls Ed's dish spectacular and Gail loved it.

I think Kevin wins the seafood round, with Eric complimenting the cooking technique used in the rouget and Tom saying that all components were in harmony. Meanwhile, Gail says that Ed's dish was "confusing" and Angelo gets complimented only on his aromatics and broth.

It sounds like Kevin won the meat course as well. Tom wasn't a fan of the meringue that Angelo used and Ed overcooked his duck. Kevin, as mentioned during the diner cooked his duck the best, though it doesn't sound like it was an AMAZING dish. I think this might have been the weakest round for the chefs.

Finally, we have the dessert round. There's no question, Kevin won this one. Angelo comes in a close second, but Gail enthusiastically talks on and on about how Kevin's dish transforms from a really subtle dining experience into something that packs a real punch.

At the end of the discussion, Padma notes that they have "a clear winner." Wow, that's a change. Usually the judges are up in the wee hours of the morning discussing who should win. The fact that one chef stood out is a real change.

Based on everything I've written, you guys know already that I'm predicting a win by Kevin. "Tonight, the Top Chef was the one who took the most risk but also cooked the best meal," says Tom. Yup, it's gotta be Kevin.
Padma looks up at the three chefs.

"Kevin…"

"… you are Top Chef.

"I AM!?!?!" he exclaims.

"Yes, you are," she says with a smile.

//

And with this proclamation, Top Chef DC ends. Everyone is incredibly happy for Kevin, and the other two finalists immediately congratulate him. The judges come around to embrace the three chefs, and from the back, the three sous-chefs and Kelly emerge to share in the celebration. It's a great moment for Kevin . . . but I think I'd feel more excited if this were a more exciting season.

As it is, Kevin is one of the least dominant Top Chef winners in the history of the show. He only won one Elimination Challenge over the entire season, a mark only matched by Harold (Season 1 winner) and Hung (Season 3 winner), and both of those seasons had fewer episodes (11 and 13) than this current season had (16), which means fewer Elimination Challenges to win.

Kevin also only won one Quickfire Challenge, which ties him with Stephanie and Ilan for fewest Quickfire wins by a Top Chef. Of course, Stephanie won four Elimination Challenges and Ilan won two, so they pass him in that respect.

But as any cheftestant will tell you, the only thing that matters is who wears the crown in the end. And Kevin won it, fair and square. Major congratulations to him.

Last note: David Mumpower and I were chatting after the finale and while we both stand in awe of how close Hung took Angelo to winning this title, seeing Kevin named Top Chef only increases our admiration of Michael Voltaggio. Why? Because during the episode, Kevin mentioned that he used to work under Michael V. So counting Hung and Marcel who also worked for him, that means that two Top Chefs and one Top Chef runner up has come out of Michael Voltaggio's kitchen. That's pretty damn amazing.

So if I decide to quit law school and become a chef, I bet you have a pretty good idea of where I'll be sending my resume.