Weekend Wrap-Up for September 17-19, 2010
Four Openers Breathe Life Into Dead Box Office
By John Hamann
September 19, 2010
BoxOfficeProphets.com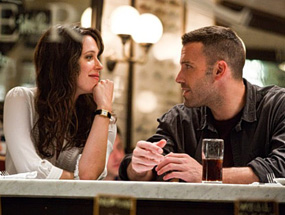 ---
Thank goodness that's over. After a weekend where we had the lowest top 12 box office total in two years, four new films – none of them close to blockbusters – have awakened the box office this weekend. New openers include Screen Gems' Easy A with Emma Stone (Wichita in Zombieland); Ben Affleck's The Town with award winners Jeremy Renner, Jon Hamm and Affleck himself; The Devil from producer M. Night Shyalaman; and Alpha and Omega, a poorly sold kids flick from Lionsgate.

Our number one film of the weekend is a bit of a shocker, as tracking was looking for Easy A to finish on top. BOP's resident forecaster, Reagen Sulewski, got it right this weekend, as Ben Affleck's The Town finishes in the top spot this weekend. Adults were obviously starved for entertainment, especially after seeing George Clooney's The American. Expected to open with about $15 million, The Town earned that by Saturday night, and finished the weekend with a stellar three-day gross of $23.8 million, just outside of the top ten biggest openings for the month of September. The Town opened at 2,861 venues, and carried an average of $8,319. The Warner Bros. production cost only $35 million to make, and will be Affleck's second directorial financial success, as his Gone Baby Gone earned $35 million worldwide against a budget of $19 million.

All of a sudden, one of my favorite acting targets for disdain has turned into a wonderful director. Ben Affleck has had one of those weird careers that make Hollyweird exactly what it is. As a young actor, Affleck played the perfect a-hole in films like Dazed and Confused and Mallrats, but instead of a career playing the villain, his next two film roles changed his fate. Affleck played Holden in Chasing Amy, and then went on to win an Oscar for writing Good Will Hunting, a film that cost $10 million to make, and grossed $226 million worldwide. Following Good Will Hunting, Affleck became more of a mindless movie star, appearing in crap like Reindeer Games ($23 million domestic), Armageddon ($201 million domestic), and Pearl Harbor ($198 million). He came back to better roles in 2003, appearing in Changing Lanes and Sum of All Fears, but then went completely into the sink with three films: Gigli ($6 million domestic total, 6% fresh), Surviving Christmas ($11 million domestic, 7% fresh) and Jersey Girl ($25 million, 40% fresh). Then, in 2006, Affleck appeared in a more serious role in the film Hollywoodland, and while it wasn't huge at the box office, it marked a turn in the actor's career. He next directed Gone Baby Gone (which he also co-wrote), starring his brother Casey. Gone Baby Gone was 94% fresh at RottenTomatoes, garnered an Oscar nomination for Amy Ryan, and won Affleck numerous critics awards for best new director.

Having re-invented himself as a director, Affleck is both behind and in front of the camera in The Town. The casting was perfect, as Affleck surrounded himself with great actors in the likes of Jeremy Renner (Oscar nominee for The Hurt Locker), Jon Hamm (Golden Globe winner for Mad Men) and Chris Cooper (Oscar winner for Adaptation). The Town so far has earned a darling 93% fresh rating at RottenTomatoes, and we might have our second Best Picture nominee of the year so far. While Affleck really isn't a comeback story like say a Mickey Rourke, Oscar does like a fighter, and he has proven to be just that.

Finishing second is the predicted winner, Easy A, which had a solid weekend as well. Easy A earned $18.2 million from 2,856 venues, and had an average of $6,373. Considering this is a high school movie without a huge name above the title, I think Screen Gems will be more than pleased with this result, for a number of reasons. First, this seemingly forgettable pic cost only $8 million to make, and was financed by Screen Gems itself and a small company called Olive Bridge Entertainment, which means this is easily another one-weekend-winner for the geniuses at Screen Gems. Secondly, Easy A is 85% fresh at RottenTomatoes, but is an amazing 96% fresh when looking at "top critics," or the ones people actually read or see. So, not only is this a one-weekend-winner, its also likely to have some legs, meaning this one could be a big windfall for Screen Gems. The studio is white hot right now, as last weekend it had the number one and number two pictures in Resident Evil: Extinction and Takers, which we will get into below. The biggest winner here may be Emma Stone, as in addition to Zombieland, the actress may become the next It Girl in Hollywood.

Third spot goes to Devil, the soft horror film (it's PG-13) from producer M. Night Shyamalan, which was picked up by Universal Pictures. Devil feels like it could have been big, but wasn't all that, as it earned $12.6 million from 2,809 screens. It had an average of $4,480. Like The Town and Easy A, though, this is going to be financially successful, as the production cost came in at only $10 million (Universal paid $27 million to distribute), an amount it earned half of on opening night. For some reason, this one was not screened for critics, despite (at the time of this writing) having nine positive reviews out of a possible 20. If your film isn't completely awful, why hold it back from critics who can help you with your marketing? This is a horror film, and should have been critic proof. Regardless, Devil will be a financial winner, but not more than that. It won't restore any magic to the Shyamalan brand.

Fourth spot goes to last weekend's winner, Resident Evil: Afterlife, and the drop was as bad as expected. The fourth film in the franchise earned $10.1 million in its second weekend, but was down a nasty 62%. This shouldn't be a surprise to those that follow the fortunes of this franchise. The last RE outing, Extinction, dropped 66%, the second film dropped 62% in its second frame, as did the first. It is important to remember that Sony's financial strategy with this franchise does not end in the US, so while its domestic take of $44 million so far versus a budget of $60 million does not look good, remember that it earned $42 million over its first overseas weekend. This franchise is like the zombies that star in it. It can't die unless the head is severed from the body.

Fifth goes to the most forgettable of our new releases, Alpha and Omega from Lionsgate. The 3D animated wolf story earned only $9.2 million from 2,625 venues, and likely would have done much worse had there been another kid flick in the top 10. Alpha and Omega was 15% fresh, and sadly contains Dennis Hopper's last performance. It ends a hot streak from Lionsgate that included The Expendables (which has now rolled over the $100 million mark) and The Last Exorcism ($40 million earned versus a $2 million production budget).

Sixth starts the bad memories of last weekend, as Takers finishes with only $3 million. Now in its fourth weekend, the Screen Gems effort fell 47% from last weekend, but is another win in the Screen Gems column. Takers has earned $52.3 million against a budget of only $32 million. It's been a winning year for the studio, as they have released Legion ($65 million worldwide, $26 million budget), Dear John ($80 million domestic, $25 million budget), Death at a Funeral ($43 million domestic, $21 million budget), and now Takers, Resident Evil: Extinction, and Easy A.

Seventh goes to Clooney's The American, a film that started strong but faded fast. In its third weekend, The American took in only $2.8 million and was off 51%. The $20 million Focus film has now earned $32.9 million.

Eighth is Inception, which is ten weekends old. Inception earned $2 million and was off 28%. It has earned $285.2 million domestic, and $450 million overseas.

The Other Guys finishes ninth in its seventh weekend. The Will Ferrell flick took in $2 million and was off 40%. It has a running total of $115.4 million against a $100 million budget.

Tenth goes to Eat Pray Love, which is in its sixth frame. The Julia Roberts flick earned $1.7 million this weekend, and has a domestic total of $77.7 million.

Overall this weekend, things were a lot better than last weekend, and about the same as last year. This weekend, the top 12 films brought in $88.5 million, much better than the $65.8 million brought in last weekend, and on target with the $87.3 million brought in over the same weekend last year. A year ago, Cloudy With A Chance of Meatballs opened to $30 million, and went on to earn $125 million domestically. Next weekend, 300 and Watchmen director Zack Snyder brings a kids flick about owls to the big screen in Legend of the Guardians: The Owls of Ga'Hoole, Oliver Stone finally opens Wall Street 2, and Kristen Bell and Betty White open You Again.