Friday Box Office Analysis
By Tim Briody
September 18, 2010
BoxOfficeProphets.com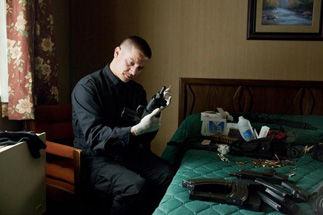 ---
[tm:4688_]The Town[/tm]

[bp:105_]Ben Affleck[/bp]'s second directorial effort is Friday's top earner with $8.2 million. This is a pretty solid opening to wake up a sleepy box office. With stellar reviews, The Town immediately becomes something to watch over the next few weeks. This is going to be his largest opening as a lead actor since 2003's Daredevil (although it probably won't reach the $27.7 million of the ensemble He's Just Not That Into You), and should earn more than the first film he directed, the well received Gone Baby Gone did in its entire run. The Town should easily win the weekend with $25.4 million.

Easy A

Emma Stone's teen sex comedy Easy A is a solid second on Friday with $6.7 million on Friday. This is also a very good opening and will be buoyed by solid reviews and word-of-mouth over the next few weeks. I'm also hoping that it restarts the late 90s/early 2000s trend of classic literature adapted into teen movies, as long as it leads to more movies like this. A weekend of $18.7 million is a good weekend for Easy A.

[tm:4744_]Devil[/tm]

Horror film du jour Devil earned $4.8 million on Friday, probably a few bucks more than it deserved but [tm:5016_]The Last Exorcism[/tm] did open to $20 million just a few weeks ago. That film had a spectacularly bad 2.16 weekend multiplier, and unfortunately, the same fate will not happen to Devil. Give it a weekend of $12 million.

[tm:4333_]Alpha and Omega[/tm]

The animated entry earned $2.3 million on Friday, which is still pretty bad but it's not an out and out disaster. Call it $7 million and something you'll have completely forgotten existed by the time you see it in the DVD discount bin.

[tm:4999_]Resident Evil: Afterlife[/tm]

To the surprise of absolutely nobody, Resident Evil: Afterlife plunges 72% from last Friday to $3 million. This is pretty much the wheelhouse for the Friday-to-Friday declines for the Resident Evil films (Resident Evil: Extinction went from an opening Friday of $9.6 million to a second Friday of $2.3 million). Things will get a little better over the remainder of the weekend, so look for a second frame of $10.1 million.