Weekend Forecast for September 17-19, 2010
By Reagen Sulewski
September 17, 2010
BoxOfficeProphets.com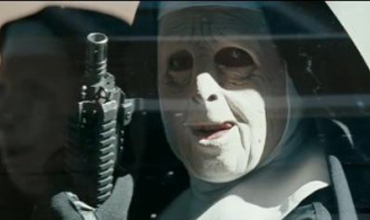 ---
Only three weekends into September, and this month's releases have been chewed up and spit out already, at least for the most part. With just one returning film likely to earn over $5 million this weekend, Hollywood takes the opportunity to fill multiplexes back up with four new wide releases.

Leading the way is the film that will finally, no seriously this time, no foolin', will kick off the 2010 Oscar race. The Town, written, directed by and starring Ben Affleck … and I've lost you. But anyone who's seen Gone Baby Gone should realize now that Affleck, despite his late '90s and early '00s missteps, is actually a directorial force to be reckoned with. In any case, Affleck returns to the Boston milieu with this adaptation of a Chuck Hogan novel about a crew of bank robbers in the Charlestown district.

Affleck leads this crew, which also includes Oscar-nominee Jeremy Renner, to pull off the mythical one-last-heist, and in the process accidentally kidnapping a bank teller (Rebecca Hall). Trying to make sure that she doesn't know anything about them, Affleck initiates a romance with her – much to the chagrin of his crew, who see him pulling away from their loyalty. Meanwhile, an FBI agent (Jon Hamm) attempts to bring down Affleck's crew while navigating the tumultuous Boston criminal underworld.

Where Takers was this summer's high school production of Heat, The Town may be closer to the real deal, with actual actors who can read lines naturally. One of the best reviewed movies of the fall so far, The Town looks to be a tense thriller with Affleck proving himself to be a stunningly capable director. I know, I'm scared too. More likely to be a film that builds than opens big, The Town should still manage to take top spot at the box office with around $18 million.

It's difficult to know what to make of Devil. It's a rare beast in being a horror film with a concept that I don't think has ever been tried before – five strangers are trapped in an elevator, with one of them, possibly, maybe, being the devil. On the other hand, it's based on an idea from M. Night Shyamalan, who also produced, and I wouldn't trust him to direct traffic at this point. His dime-store religious moralizing has also infected his film-making as well, and I put low odds on him not inserting that into the film as a producer.

Of course, not everyone shares my opinions of Shyamalan, though that group of people is growing, enough that his name induced groans at most theaters when the trailer for this film came up. Is the concept just too good to screw up? Unlikely, though a great hook will at least bring those that haven't been completely burned on him yet.

It certainly won't be because of the cast, which is a group of nearly anonymous actors (arguably the most famous being Mr. Christina Hendricks, Geoffrey Arend. "Who?" you ask? Exactly). And it's impossible to tell if the film actually works, as it wasn't submitted for critics (which of course means it doesn't). Horror fans haven't proven themselves to be that discriminating of late (The Last Exorcism? Really?), so this is probably good for that upper teens range that many of them have earned of late – let's say $16 million.

Easy A is another example of the "high school anthropology" genre, which includes films like Mean Girls, Saved! and 10 Things I Hate About You, which use their premise more as way of investigating teenage social politics than anything. This film plays with sexual politics in particular, with Emma Stone playing a virginal teenager who agrees to serve as a surrogate girlfriend for a gay friend (Dan Byrd from Cougar Town) for her high school, in order to throw the jocks off his trail.

The plot works a little too well, and suddenly Stone's character is the school slut, whose "services" are suddenly in demand by all the school's misfits. Meanwhile, a group of religious students (led by Amanda Bynes) decide that she's an evil presence that must be stopped.

Borrowing liberally and literally from The Scarlet Letter, Easy A is as close to a star-making film for Emma Stone as it's going to get (Zombieland certainly helped but wasn't on her to sell it). That it looks to be a smart, funny film on its own doesn't hurt, and its strong supporting cast (in addition to those mentioned above, there's also Stanley Tucci, Patricia Clarkson, Lisa Kudrow, Thomas Haden Church, Penn Badgely and Alyson Michalka) give that veneer of respectability.

Box office wise, the best performer of this kind of movie is Mean Girls, which opened to $24 million. However, that's a bit of an aberration, as Lindsay Lohan already had a fair bit of fame at the time. More typical is the $10 million of Clueless or the $8 million of 10 Things I Hate About You. I think Easy A can manage a bit better than that but we're likely looking at something in the area of $12 million.

Lastly, we have the requisite family film, an animated comedy called Alpha and Omega. Hayden Panettiere and Justin Long voice the title characters, two wolves relocated from Alberta to Idaho with the idea of, well, making more wolves (are we sure this is a family film?). As Panettiere is a high status Alpha wolf and Long is an Omega... well, that's not going to happen, apparently, and they set out to find their way back home. Hijinks ensue, lessons are learned, yada yada yada.

The animation on this is, quite frankly, embarrassing for 2010, with the phrase "video game cut scene" coming to mind. I'm reminded of films like Fly Me to the Moon and Doogal, animated films that took down production companies. Thankfully, ads have been minimal for this and you're unlikely to be subjected to this as a parent. Expect this one to vanish without a trace at just $3 million opening weekend.

Last weekend's box office chart was incredibly top heavy, with Resident Evil: Afterlife representing about 40% of it. The fourth film based on the video game series, it had its best ever opening weekend with $26.6 million, possibly on the back of being the first of the series in 3D. Other recent 3D outings for films have met with resounding "meh"s though, so this improvement definitely represents some health in the franchise. That's not to suggest that it means legs for the film, as it's always suffered severe drop offs in its second weekend. The opening weekend is enough to satisfy Sony, though, and we'll continue to see Milla Jovovich as Alice as long as these continue to break $20 million on opening weekend. For this second weekend, look for it to tumble to around $11 million.