Top Chef Recap
By Jason Lee
September 13, 2010
BoxOfficeProphets.com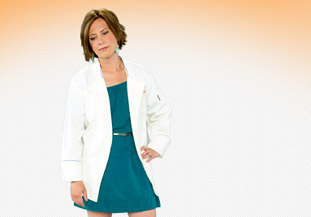 ---
The finale is finally here, and you can color me excited. While this season hasn't featured the strongest chefs (unlike the Las Vegas season) or the most compelling drama (like season two in Los Angeles), we've ended up with a pretty good group of chefs.

The first part of every Top Chef finale starts out the same. They arrive one by one in the city of the finale, ruminating on the path they've taken to get here. I'm personally eager to see which chefs A) realized that it would be smart to study some Singaporean cuisine before arriving and B) have drastically changed their hairdo.

Kelly arrives first, and she looks (disappointingly) exactly as she did before. No faux-hawks or anything. She's excited to explore a part of the world that most people don't have the opportunity to visit. Ed shows up and (sigh) looks the same, too. He believes that he can take this title, noting that he didn't come all this way to pack his knives and go. He predicts bloodshed in the finale.
Incidentally, the group is congregating at what looks to be a local Singaporean market.

Kevin arrives wearing a stupid looking hat. Ed asks if he's about to embark on a safari. It's a nice moment of wit from someone who's usually so uncouth. Hot Angelo is last and he already looks like he's sweating. Welcome to hot, humid Singapore.

Tom shows up, congratulates the cheftestants and makes some small talk about their long journey, from DC to Singapore. He calls Singapore "one of the most exciting food destinations in the world," and introduces Seetoh, Singapore's leading authority on food,. Kelly's impressed; she's read his book. I'm impressed that she made the effort to read a book on Singaporean cuisine.
Seetoh will guide them through the market, giving them a taste of Singaporean street food. The cheftestants remark about the joys of eating authentic foods from different cultures and the aromas in the market. I don't know about them, but I'm smelling a Quickfire Challenge.

And sure enough, Seetoh mentions that they're going to "check out one last place before calling it a night." They walk around a corner and find Padma. The jig is up. The cheftestants are aware that they'll be Quickfiring things up before they get to go to sleep.

Now that they've had a chance to experience the market, they're going to try their hand at cooking their version of Singaporean street food. They'll only be allowed to cook using one piece of equipment: a wok.

This is a brilliant challenge.

Oh yeah, and Padma throws in one CRAZY twist. For the first time this late in a season of Top Chef, the winner of the Quickfire will get (my mind throws out ideas: a car, a vacation, a bottle of famous wine)…IMMUNITY.

Wow.

The winning chef will get his ticket punched for the finale.

The stakes are high and the chefs start cooking their brains out. It's already a hot and humid night, and everyone's sweating within 30 seconds of being in front of a wok. Kevin's worried because he's never used a wok before, but Angelo is supremely confident. Ed is pretty confident, too, saying that he's had a wok at home for years.

Angelo serves up some chili frog legs with a rambutan salsa and vegetarian sea urchin. Kelly took inspiration from today's market trip and cooked some Chinese noodles with lobster cockles and bean sprouts. Kevin has a seafood stew with lobster cuttlefish and crispy shallots. Ed has a stir fry with noodles, black pepper sauce, steamed lobster and gai lan.

I have no idea who's in first - I think maybe Kevin, but it turns out that Ed's won the immunity. Wow. Angelo is seriously pissed. Actually, all three of the other chefs look pissed. Ed, meanwhile, is beaming away.

Padma says that immunity will play a big role in the Elimination Challenge because they'll be working as a team. WOW. That's a surprise. They'll be creating a menu for an event hosted by Dana Cowen, editor of Food and Wine Magazine, celebrating the multicultural nature of Singaporean cuisine. Kevin is worried about working on a team with Angelo, saying that he sometimes gets overbearing.

Because they'll be doing dishes for 80 people cooked a la minute (meaning, everything done to order), each person decides that the best course of action is to only cook one dish each. Of course, while shopping, Ed finds this batter that Singaporeans use to fry plantains. He buys it, deciding that he'll show everyone else up by doing two dishes.

They head into the kitchen for one hour of prep. Angelo and Ed immediately start sniping at each other. It's really quite annoying.

Tom enters and is aghast when he learns that they'll only be serving four dishes. "Four dishes? For 80 people? I really think you need to do at least two dishes each."

"I'm doing two dishes. Of course." Ed smirks. What an a-hole.

The other three chefs immediately start fishing for ideas for a second dish. Everything seems to be going fine (hectic, but fine) until Angelo notices some blood on the floor. He wonders if it's duck blood or chicken blood - but no, it's Kelly's blood. She's cut her hand and it won't stop bleeding. It's disgusting. Seriously. She puts on a glove to finish prep work but the glove keeps filling with blood. I'm almost gagging.

The next day, the cheftestants head over to the Tanjong Beach Club for the event. Kelly feels good, saying that her dishes really represent her well. Ed is being uber sarcastic in the kitchen. He remarks to us that usually his sarcasm makes people think that he's a douchebag, but this time, he's purposefully being a douchebag to upset Angelo.

A-hole.

Service starts and the cheftestants immediately start having issues with their wait staff. Things aren't organized, the wait staff members don't speak super fluent English, the chefs can't read their handwriting - considering that they're cooking everything to order, it's a total mess.

But soon the judges arrive and it's game time.

First up, we have Kelly with a chilled cucumber yogurt soup with bitter melon. Tom likes the acid in the dish, Gail loves the yogurt and the hint of heat, Padma likes the use of indigenous ingredients, Seetoh likes the concept of the soup.

Kevin has a clam chowder with flavors of Asia. I think it's a strange sounding dish but Dana Cowen loves the flavors and so does Tom. Seetoh likes the flavor of the broth.

To finish the first course, Angelo has a spicy shrimp broth with ginger. Dana finds it comforting and yummy, but notes that it's quite complex. Padma compliments the complexity as well, while Seetoh loves the strong presence of prawn.

The main courses are next and the judges first sample Angelo's lamb tartare. Dana is blown away because she doesn't like tartares, but loves this dish. Tom likes it, too, and Seetoh calls it "spot on."

Ed has a sweet and sour pork, and Dana says one word: "yummy." Tom says that it's very good, with flavors from the market, but more refined. Gail loves that there are ingredients from all parts of southeast Asia. Dana wishes that she had a bottomless bowl of the dish.

Wow, Ed is going to win the Elimination Challenge, too, I guess.

Kevin has a strange-sounding dish comprised of a farm egg with pearl tapioca. The egg is apparently difficult to prepare the way Kevin did it, but was done perfectly. Tom likes the flavor, saying that he took a big risk and came out with flying colors.

Finally, we have Kelly's seared prawns with red curry. Seetoh is in love with the guava in the guava apple salad. Gail says that it's really complex and that the curry is really "of Singapore."

We have one dessert and it's Ed's banana fritter. Apparently, it's the best thing of the night. Dana loves it. Gail wants a mountain of them. Seetoh loves it, too, but wishes that he had some coconut ice cream to go along with it.

Sounds like the dinner was a huge success. I'm not sure who's going home, but I am sure that Ed wins.

As is their custom in the finale, all four chefs are called to Judges Table. Tom says that the dinner tonight was easily the best food of the entire season.

Angelo is complimented on his lamb, with Seetoh saying that it was so smooth, he wouldn't have known that it was even lamb. Seetoh also loved the intense, brave and bold use of the prawns in the soup. Tom liked the soup, but said it was more like a sauce than a soup. Padma found it too salty, and Gail said that the flavor was so strong that it smacked her in the face (backhanded compliment?).

Seetoh loved the yogurt and cucumber soup, saying that the flavor exploded in his mouth. Tom, on the other hand, thought that the fish was not handled well during preparation, saying that the texture was off. Gail liked her red curry, but wished it had more heat. Again, Seetoh goes crazy in talking about her guava apple salad, saying that he's going to copy it. Kelly looks happy, but not super happy at hearing that.

Ed is walking up and down Praise Avenue with the judges. They loved everything. He's so clearly the winner. Tom calls his banana fritter "perfect stoner food," which he says is a compliment. Gail only had one criticism of his banana dish: she wanted six but only got two.

Gail loved the elevated quality of Kevin's clam chowder, though Seetoh wanted more heat. Padma loved the farm egg, with Tom noting the risk he took in making it. Overall, they're very complimentary towards him.

I think Angelo goes home and he agrees with me. Kelly, on the other hand, thinks that her time in Singapore is up.

The chefs come back out to hear their fates. They were supposed to put a twist on the food of Singapore and they succeeded. Seetoh says that they picked a winner, but that they had to resort to microscopic detail to figure out which chef was hands down the best. And it's…Ed. Wow, that had absolutely no suspense.

Tom notes that it's tough that these remaining three chefs had to come all the way around the world, only to have one go home. Kelly put a great twist on her dishes, but the fish was grainy. Kevin made a fantastic clam soup and finished with a homestyle dish, though it needed some texture. Angelo made two dishes; one was too salty but the other was a surprise that stunned all the judges.

And…it's Kelly going home. Sigh. I was really rooting for her to win. I started the season not liking her, but she eventually won my admiration, and then my support. I'm really sad to see her go.

Angelo immediately starts crying and Kelly gives him a hug. "Stop that," she says chidingly with a smile. She goes up to thank the judges for allowing her to take part in the competition. When she tells them "Thank you for all your feedback, I'm a better chef because of it," she starts to get choked up and starts crying. It's really sad.

And all of a sudden, we're onto the finale. For the second year in a row, we have all men in the finale. I'm rooting for Angelo to win this thing, but I'll be satisfied as long as Ed doesn't win.

He's such an a-hole.