Weekend Wrap-Up for September 10-12, 2010
Box Office Dead, But There Is Afterlife
By John Hamann
September 12, 2010
BoxOfficeProphets.com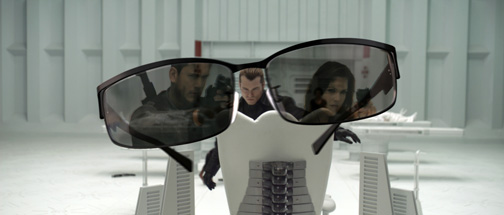 ---
The post Labor Day frame at the box office is always anemic, but this week we are really seeing bottom. This weekend brings the slowest frame since September 8, 2008, which was also a Labor Day follow-up. That weekend's top 12 brought in an embarrassing $50.3 million, and no film made more than $7.8 million. The difference between that weekend and this one is Resident Evil: Afterlife, the fourth "film" in the video-game based franchise. BOP's David Mumpower wrote a love letter to the video game and film franchise in BOP's Weekend Forecast. Be warned: There will be no love letter in this column.

Resident Evil: Afterlife (in 3D, natch) is our number one film of the weekend, as we reap what we sow. Afterlife earned a franchise-topping $27.7 million this weekend from 3,203 venues, and of those, about 2,100 were 3D venues, and added the mark up. It had a venue average of $8,648. Screen Gems distributed the $60 million picture, grabbing all domestic and most international markets for a reported $52 million.

It looks like it will be another good investment for Screen Gems, but not domestically, as this franchise has never been successful in North America. The first Resident Evil flick cost $35 million to make (pre-marketing and prints), and earned $40 million in the US. With marketing included, Resident Evil would have carried a loss for the studio (until maybe home video, maybe), but that's not the world we live in anymore. The first film managed to earn $60 million overseas - $20 million more than the domestic total, and all of a sudden we have a franchise. The next two films played out the same. With a budget of $50 million, the second film, Apocalypse, earned $50 million in the US and $75 million overseas. The third film, Extinction, opened and earned almost exactly the same domestically, but increased its overseas total to almost $100 million. So, heading into the release of the fourth film, it had cost $130 million to make the first three movies in the franchise – however, with marketing included, my guess at a combined budget would be between $200 and $225 million. The combined domestic total for the franchise stood at about $141 million (or a big loss), but the worldwide figure was about $380 million.

The fourth film will keep the pattern alive. You didn't have to be a rocket scientist to estimate Afterlife's opening weekend. Using the second and third film's opening take ($23 million), and adding 15% for those 3D venues, and then tossing in a little for inflation, you come up with about $27 million. And unless something extraordinary happens, and it doesn't fall around 65% next weekend, Resident Evil: Afterlife will earn about $58 million at the North American box office. Like the films, with the same product over and over again with the same effect, the box office is the same. For what I think we can all admit to being mindless entertainment, isn't $20 bucks too much? Am I alone here? Bueller?

The rest of the top ten makes me want to be sick, as we don't have a returning film grossing more than $6 million (yes, I'm in a mood). Too often I talk about how studios are too dependent on release dates – had some studio released a decent film this weekend – hell if they had RE-released a decent film this weekend, it would have had a chance at a top ten spot, but no, we are left with what are quickly becoming rancid leftovers.

Number two this weekend is either the The American with the D- Cinemascore, or Takers, three-weekends old and carrying its 30% fresh rating. Both of these films NEVER should have opened at number one (they both did) or had a second weekend in the top three (uh-huh), but here we are. This weekend, Takers is listed in second, and again the studio should be commended for turning crap into gold via a smart release strategy over a stupid period on the calendar. Takers earned $6.1 million this weekend and was off 44%, however, Screen Gems has turned what should have been a direct to the Walmart $3.99 bin into a minor (and I emphasize minor) hit. Takers cost Screen Gems $32 million to make and it has earned $48.1 million. Why? Because there was nothing else to see.

The American is currently listed at number three. The George Clooney snoozer earned $5.9 million and dropped 55% from its $13 million win last weekend. This is an adult drama being sold as a thriller and it dropped more than 50% over what will be the slowest weekend of the year. This is a box office paradox, but everything is this weekend. Give The American $28.3 million after two weekends, and give a win to Focus Features, who will have a financial success with this one, despite it being – at best- an expensive arthouse flick.

Our next match-up is between two very different films, Machete and Going the Distance. It's somewhat of a surprise these two are facing off, as Machete beat Distance by about $5 million last weekend. Current estimates have Machete on top with a weekend gross of $4.2 million, good for fourth. The drop was huge, coming in at 63%, but somewhat expected. Grindhouse, which Machete is a child of, also dropped 63% in its second weekend (and 68% in its third). Machete was made for $20 million, and has now earned $20.8 million domestically.

Going the Distance is fifth, as the Drew Barrymore/Justin Long snoozefest has a so-so hold. Distance earned $3.8 million this weekend and drops 44%. The drop won't help much in the long run, as the budget for this Warner Bros. flick came in at $32 million, and it has so far grossed $14 million. We have four new releases next weekend, and three the week after, so this turd is going to get flushed pretty quick.

The Other Guys manages to hang on in the top ten for a sixth weekend, despite there being no real reason for this to happen. The Other Guys earned another $3.6 million this weekend and fell 32%. The $100 million Sony release has now earned $112.7 million.

The Last Exorcism gets filleted this weekend, much like it did last weekend when it dropped 64%. The cheap Lionsgate pickup earned another $3.4 million this weekend, and dropped a loud 53%. Give the $1.8 million film a domestic total of $38.1 million so far.

The Expendables continues to wander toward a $100 million domestic total, but it will have to wait until it's out of the top ten to do it. The Expendables earned $3.2 million this weekend, and dropped 51%. It has earned $98.5 million domestic, and over $125 million overseas.

The nine-weekend-old Inception continues to earn, as it pulled in another $3 million this weekend. The $160 million Warner Bros. film has now earned a remarkable $282.4 million stateside, and $425 million overseas, which means it has crossed the $700 million mark worldwide.

Eat Pray Love manages another top ten weekend. The five-weekend-old Julia Roberts flick earned $2.9 million this weekend and dropped 40%. The $60 million Sony flick has now earned $74.6 million, and hasn't seen a foreign release as of yet.

As discussed above, the top 12 total is abysmal, coming in at $68 million. Its not even worth comparing to last year (but if you want to, those films earned $76.2 million). Let's hope next weekend shakes the dust off the box office. New openers include the horror flick Devil, Easy A, an intelligent looking high school film (is that possible?), The Town, from director and star Ben Affleck, and a Lionsgate film I've never heard of, Alpha and Omega.