Top Chef Recap
By Jason Lee
September 7, 2010
BoxOfficeProphets.com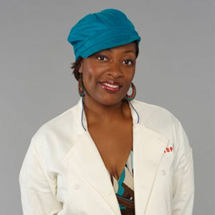 ---
It's hard to believe that there are only five chefs left. Usually, I know we're getting to the end of the season because all of the remaining chefs are AMAZING. It's like (to use a food metaphor) a really great red wine reduction; it's done when it's at its most potent. Maybe it's just because of the caliber of chefs we had last year, but the fact that we're one episode away from the finale took me by surprise because I'm not overwhelmed by the talent that's left.

And who's left? Hot Angelo, who seems to be running on empty after a fast start; Kelly, a bossy lady who's really proven herself to be a fine chef; Kevin, who's capable of blowing you away one day and underwhelming you the next; Ed, who despite his brash Long Island accent, always puts sophisticated flavors on the plate; and Tiffany, who's arguably the one to beat right now. She and Ed have really begun to pull away from the competition, in my opinion.

The chefs enter the kitchen for their final Quickfire in DC. They see a bunch of wine bottles on display, plus Dana Cowin, editor of Food and Wine Magazine. Dana laments the fact that 10% of food and wine pairings are great, but 10% are simply disastrous. The chefs today will attempt to fall into that top 10% - and they've got real incentive to do it. Not only will they win bragging rights for bagging the final Quickfire, this one is a high stakes Quickfire and the winner gets a trip to London.

The chefs sample the wines, one by one, and select the wine that they'd like to work with. Then, it's a hard hour of cooking as they try to impress Dana. There isn't all that much drama, save for Kevin, who underestimated his pressure cooker's ability to cook his pork belly. It comes out raw and he's forced to replace the pork belly with quail, which he knows won't stand up to his red wine sauce.

It's time to eat and Tiffany presents a cocoa and black pepper-crusted wagyu beef tenderloin. Dana thinks that it's cooked beautifully. Kevin has his grilled quail with shaved apple and fennel. Dana thinks that the quail is too delicate for use in this dish and Kevin agrees. Angelo has a sauteed foie gras and cumin broth for his Evolution wine. Dana finds it "an interesting dish." Kelly pairs a Zinfandel with a wild boar tenderloin with blue cheese emulsion. Finally, Ed has an italian wine to pair with a grilled wagyu rib-eye with a wild mushroom ragu.

Overall, Dana judges the chefs to have done well in this challenge, though she finds Kelly's dish (with the blue cheese foam too strong) and Kevin's dish (quail not a good match) to be the least successful. On the other end, she loved Tiffany's beautifully seasoned dish and Angelo's use of contrast in his dish. I bet that Tiffany wins because she's been so darn good so far, but Angelo takes it. He's thrilled. This is his first win in three episodes.

Kevin idly wonders if Angelo has found his mojo.

Padma announces that for the first time in Top Chef history, the show is going international. The finale will take place in Singapore, and the chefs are blown away by this pronouncement. EVERYONE is dying to go to Singapore, especially Angelo. He says that he feels Asian inside and that he tingles when he thinks about going to Singapore. I'm excited to see Hot Angelo tingle.

To find out what they'll be doing for their final elimination challenge in DC, the chefs will be going to NASA (again, they're blown away). They show up at the Goddard Space Flight Center and are introduced to a woman in charge of the food system for the international space station. She plays for them a message from two astronauts already in space, who detail the concept of this challenge.

The International Space Station is stocked with a variety of food to keep astronauts from getting sick of the same ol' thing every day. They'll have to design a dish that's "out of this world," following the guidelines for dining at zero gravity. The winning dish will be flown out to the International Space Station for the astronauts to enjoy - but in freeze dried form, of course.

The cheftestants are given one last set of instructions from the lady who manages the food system: don't use a lot of sugar (doesn't freeze dry well), don't use big chunks of ingredients (ditto) and the astronauts have tended to like spice foods in the past.

The chefs are eager as heck to get cooking, so after a rapid race around Whole Foods, they're back in the kitchen cooking away. Tom swings by and checks in with each chef. After hearing that Angelo is making short ribs, he gets a strange expression on his face. I'm wondering if he's thinking the same thing I am: will a big piece of red meat freeze dry very well?

Turns out, though, that every chef is doing a big protein (halibut, lamb, sirloin, etc.) so maybe this consideration isn't relevant. I am wondering, however, how the chefs will tailor their meal so that it can be freeze dried. I'm sure that none of them have ever freeze dried their meals before. How do you approach this challenge?

There isn't too much drama in the kitchen - until the chefs start packing up and Tiffany realizes that the mussels she'd put in the fridge to stay cold have now totally frozen over. They're all dead, and completely unusable. Back at the house, Tiffany talks it over with Ed and you can tell that she's utterly demoralized. It's really, really sad.

The next morning, the chefs wake up to find a note on the kitchen counter. It tells them that their transportation today is waiting downstairs, but that the winner of the challenge gets to keep it. Everyone is thinking the same thing: it's a new car. They race outside as fast as they can. Yup, it's a brand spanking new Toyota Avalon. Greed fills the heart of each cheftestant.

The chefs end up cooking in a very cramped kitchen. Tiffany is forced to finish out her sauce in a different way to compensate for the lack of mussels, Ed is worried about a layer of fat he's leaving on his lamb, and Angelo is worried that his sauce is too sweet. Meanwhile, Kelly predicts that the final four will include her, Angelo, Tiffany and Kevin.

Kelly serves her dish first to a panel that includes NASA scientists, Astronauts, the judges and the feared Anthony Bourdain. She has a pan-roasted halibut with artichoke and a fennel bargoule. Tom thinks that it's really well done, and an astronaut thinks that the crunch of the artichoke would be welcomed in space.

Ed is next - and as a side note, I'm realizing that the requirement that the dish be able to be freeze-dried is playing no part here. The dishes are being served in the same way that they would be in a restaurant.

But anyways, Ed serves up a Morrocan-inspired yogurt-marinated rack of lamb with an eggplant puree and hummus. One astronaut objects to the bone still being in the lamb, pointing out that trash is a huge issue in space. As for the food itself, it's well-cooked, well-seasoned, and even though Eric Ripert thinks that it's too complicated, Anthony Bourdain says Ed nailed the Moroccan flavors.

Kevin is up net with a grilled NY strip with a corn puree and crispy onions. Tom thinks that Kevin did a nice job of cooking the meat and flavoring it, but an astronaut points out that it would be near impossible to keep the onions crispy in space (not that it matters in this challenge) .

Tiffany says that she gave it all she had, though she seriously wishes that she had her mussels on the plate. She has a pan-seared halibut over coconut curry jasmine rice with wild pea shoots. Eric is not excited about her combination of flavors, seeing no attempt to elevate the halibut. Anthony Bourdain loves the fish sauce.

Lastly, we have Angelo's ginger-lacquered short ribs with a horseradish creme fraiche. Tom doesn't care for the candied ginger, but other than that, he calls it a successful, elegant dish. Eric thinks that the mushrooms are a bit sharp, but they bring a nice contrast. Anthony thought it was very sophisticated.

Tom brings all of the chefs back before Judges Table and tells them that they all did a great job. The span between the winner and loser, he continues, will be very small.

One by one, the dishes are discussed; Ed had a lot of things going on, though some judges didn't mind that; Tom really didn't like the tomatoes in Tiffany's dish and thought that leaving the skin on her peppers made them bitter; Tom loved the artichoke in Kelly's dish and Eric loved her classic cooking technique; Tom didn't like the ginger in Angelo's dish, though Anthony loved the dish as a whole; Anthony thought that Kevin stayed too safe, and Tom wished that it wasn't cooked so thin (though maybe that was due to the necessity of freeze drying the dish).

I predict that Kelly has won this challenge but it ends up being Angelo who takes the win and the Toyota Avalon. He's absolutely blown away and takes a moment to thank Jesus.

As for the remaining chefs, they all did a great job. Tom comments that Kevin's concept was great, Kelly made it look effortless, Tiffany's flavors leaped off the plate and Ed had a tremendous plate full of flavor. But who's going home? I have absolutely no freaking idea. I can't even hazard a guess.

It's Tiffany. Wow. I'm blown away...and I'm also really sad. She immediately starts to tear up, but thanks the judges for the opportunity to be on the show. "The worst part is that I made it so far," she says. Tiffany walks back into the stew room and Angelo jumps up to hug her, thinking that she made it to the finale. She tells him she didn't, and he gives her a big long hug anyways. She's crying and I feel awful for her.

The remaining three finalists hug out in front of Judges Table, though you can tell that Ed feels horrible for Tiffany. They make their way back to the Stew Room and Tiffany bids them goodbye. It's so sad.

In her exit interview, Tiffany says that she was happy to be a part of it all. You can tell, though, that she's incredibly disappointed. She pauses and then says in a choked up voice, "Just so close..."

I can hardly believe it, but she wasn't close enough.