Weekend Wrap-Up for September 3-5, 2010
The American takes on Machete
By John Hamann
September 5, 2010
BoxOfficeProphets.com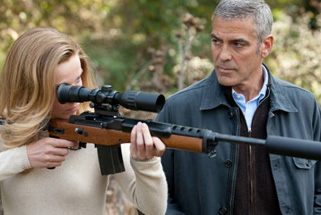 ---
Well, it's the Labor Day Weekend, a frame that has brought us highly questionable past new releases like All About Steve, Babylon A.D., Disaster Movie, Balls of Fury, and The Wicker Man - a group of films that would bring something like a 5% fresh average at RottenTomatoes. This year, we are slightly more blessed, as we actually had some decent films hit screens. Openers included the Robert Rodriguez Mex-ploitation flick Machete, George Clooney's oddly European-flavored film called The American, and true life couple Drew Barrymore and Justin Long in Going The Distance. While we had some better pictures this Labor Day, we had the same result at the box office - a very quiet weekend at movie theaters, filled mostly with tumbleweeds and crickets.

Oddly enough, we had a very tight race at the box office between two films that weren't supposed to be number one - The American and Machete. Despite Machete opening slightly higher on Friday, Clooney's The American took the top spot, as Machete was frontloaded, while The American was for adults. The moody thriller took in $13 million over the three-day portion of the long weekend, after earning $1.7 million on opening day Wednesday and $1.5 million on Thursday. It opened at 2,823 venues and carried an average of $4,594. That means Focus Features, the distributor of The American, has their first number one film of any weekend since George Clooney (and Brad Pitt) opened the Coen Brothers' Burn After Reading to $19.1 million for the studio on September 12, 2008. Focus (and its production partners) spent only $20 million bringing The American to the screen, a figure this one should earn quite easily now domestically, as The American has earned $16.1 million since opening on Wednesday. Then, given the European flavor of this picture and the fact that it stars George Clooney, The American could do quite well overseas, despite the title.

Given the weekend, the pacing of this film, and George Clooney's recent track record, I think Focus Features should be very happy, eking out a number one finish this weekend. Leaving out Up in the Air, Clooney has struggled somewhat at the domestic box office as of late, going back to the last Ocean's movie ($117 million domestic finish, $311.7 million worldwide – he's huge overseas). Since then, Clooney has put out more critical successes than box office successes. They include the Oscar nominated Michael Clayton ($49 million domestic, $93 million worldwide), the flop Leatherheads ($12 million opening, $31.4 million domestic finish), Burn After Reading ($60 million domestic finish, $163 million worldwide), and The Men Who Stare at Goats ($32 million domestic, $67 million worldwide). While the domestic totals for these Clooney films haven't been huge, for the most part they have been financially successful – for example, Michael Clayton cost Warner Bros. $21.5 million to make, and after DVD, it brought in more than $100 million for the studio. George Clooney is a good investment for a picture – it not only brings his fan base out, it also earns a film a certain award-worthy pedigree.


Along with George Clooney, reviews likely helped The American at number one, but they may be telling about its legs. At RottenTomatoes, The American garnered 129 reviews, of which 78 were fresh, giving this one a 60% fresh rating at the review compilation website. Reviewers called it wonderfully shot with beautiful locations, but they also called it tortuously slow, which may elicit some bad word-of-mouth amongst everyday movie patrons. Like Michael Clayton or Syriana, though, Clooney may be able to turn this performance into an Oscar nomination, which would then help The American on DVD.

Finishing second this weekend is last weekend's number two, then number one film, Takers. During its opening weekend, the film was Initially estimated at number two, but then actuals came out and it squeaked out a win at the top spot. Takers earned another $11.5 million this weekend, down a harsh 44% (but not as harsh as The Last Exorcism, which we will get to in a bit). This moves another movie into the win column for Screen Gems, a studio that can make crap shiny. Takers cost the studio $32 million to make, and it has now grossed $37.9 million. Look for this one to finish with about $50 million.

Like Clooney, Robert Rodriguez also brings a certain pedigree to his films, but not to quite the same degree. This weekend, Rodriguez introduced Machete, a child of the Grindhouse trailers (pretty bad when the intermission was the best thing about the whole Grindhouse production). Machete worked for the most part, earning $11.3 million from 2,670 venues. It had an average of $4,232. The opening is remarkably similar to that of Grindhouse. The B-movie spectacle opened to a disappointing $11.6 million in April of 2007. The Grindhouse opening changed the perspective of how Machete should do, and likely changed the overall budget. Rodriguez and partners spent between $25 and $30 million on the production of Machete (Grindhouse was rumoured to cost as much as $100 million), and then sold US rights to Fox for $8 million. It will likely end up as a good deal for Fox, who would have paid for the Machete marketing, likely in the $20 million area. This is the second movie of the summer from Rodriguez, and Machete's star Danny Trejo. Rodriguez also produced Trejo's earlier summer film, Predators, which earned $51.7 million domestically (and more than that overseas) against a budget of only $40 million. Rodriguez, like Clooney, knows how to make films on the cheap. The Spy Kids franchise for example cost a combined $135 million for three films, and earned over $300 million domestically, and $485 million worldwide. Want a money winner? Hire Robert Rodriguez.

Somewhat suprisingly, Machete is the best reviewed new release this weekend. Yes, Machete, with severed heads and an R rating that warns of strong bloody violence, language, and some sexual content and nudity, earned a very fresh rating of 73% from RottenTomatoes. Critics loved what Rodriguez set out to do – make a tastelessly violent Mex-ploitation film – and that he stuck to his guns throughtout. It likely helped that Quentin Tarantino was a co-producer, and it will be interesting to see if these reviews are any indication of legs, as Grindhouse caved in on its second weekend, dropping 63%.

The Last Exorcism finishes fourth, but that's only because it's Labor Day Weekend. With its drop, the film should have slipped to the bottom rungs of the box office ladder. The Lionsgate mockumentary dropped precipitously this weekend, falling 63% and earning only $7.6 million. Lionsgate doesn't care, as The Last Exorcism was a $2 million pickup for the studio. That $2 million has now turned into $32.3 million, and Exorcism could still see $40 million before its done.

New release Going The Distance is the biggest loser in a number of ways this weekend. The Drew Barrymore/Justin Long rom-com finished the three-day portion of the weekend with only $6.9 million in sales from the most venues of our three openers – 3,030 – and had a lowly venue average of $2,272. With a production cost of $32 million, it was also the most expensive new release of the weekend, and it was the worst reviewed opener of the weekend as well. The Warner Bros. property finished with a 48% fresh rating, behind Machete (71%) and The American (61%). Forgetting He's Just Not That Into You, Barrymore has stunk it up at the box office as of late. She's missed with Everybody's Fine ($3.9 million opening, $9.2 million finish), Whip It ($4.7 million opening, $13 million finish), and Lucky You ($2.7 million opening, $6 million finish). Charlie's Angels 3 anyone?

The Expendables finishes sixth as Stallone and friends enjoy a fourth weekend in the top ten. The Lionsgate product earned $6.8 million and was off 29% compared to last weekend. The Expendables has now earned $92.3 million stateside against an $80 million budget – and is popping overseas, as it has already earned $100 million on foreign shores.

Will Ferrell's The Other Guys ends up seventh, as the run for this one continues. Sony's action comedy earned $5.4 million in its fifth weekend and was off 14%. While no Rush Hour, The Other Guys has managed to eclipse the $100 million mark, taking in $106.9 million.

The other Sony release in August is Eat Pray Love, and while the Julia Roberts travelogue may not have achieved what Sony was hoping for, it still will be a financial success. Eat Pray Love earned $4.9 million in its fourth weekend, and was off 29%. It cost Sony $60 million to make, and has now brought in $69 million. This one should be huge overseas, where it has yet to open.

Ninth goes to Inception, which has been in the top ten for two months. Inception earned another $4.5 million this weekend and was off 7%. It has now taken in $277.1 million domestically, and is approaching $400 million in overseas business. Inception may have been costly to make ($160 million) but is proving to be one of the better investments of the summer.

Nanny McPhee returns gets the low rung in the top ten this weekend, as the Emma Thompson production never caught on in US cinemas. Nanny McPhee Returns earned $3.6 million this weekend and was off 24%. The $35 million Universal release has now earned $22.4 million stateside and $63 million overseas.

Overall this weekend, it was a typical Labor Day frame at the box office. The top 12 films this weekend earned only $81.3 million this weekend. Last year, with Final Destination on top for the second consecutive frame, the top 12 brought in $81.1 million - an almost identical number to 2010. Next weekend looks even slower, as the only opener is Resident Evil: Afterlife. Like usual, wake me up when September ends.