Weekend Forecast for September 3-5, 2010
By Reagen Sulewski
September 3, 2010
BoxOfficeProphets.com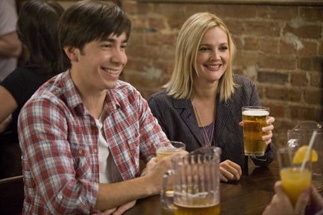 ---
Labor Day movie audiences will see something entirely uncharacteristic at theatres this weekend, on what's typically the worst time of year for them – actual interesting movies, and a potential Oscar contender.

Even stranger is that one film decided for the Wednesday release. The American, starring George Clooney, opened mid-week, presumably to get at least two days where it can say it was the number one film. Directed by Dutch filmmaker Anton Corbijn (most notable for a series of music videos in the '80s and the Joy Division biopic Control), it's your typical international spy-thriller – Clooney is an aging, emotionally-tortured assassin on one last job with unforeseen consequences. Essentially, Jason Bourne 20 years on.

The American seems to hit all the checklist items for films of this kind – gorgeous Old World locations, spies in dapper clothing, car chases, and weapons fetishes – although it does poorly at distinguishing itself from other moody thrillers of its type. Talking it up as an Oscar contender could be a bit much in light of this, as it appears to be more or less a competent thriller (though acting nominations are always possible). From the ads, there seems to be little notion of what Clooney's character is being asked to do, what the stakes are, or why we might care. Thus, it relies almost entirely on its star for a reason to see it.

As big of a capital-S Star that Clooney is, he's rarely translated that into big opening weekends. Taking out the Ocean movies, and we've got a group of films that open to between $10 and 20 million, and more like $10 to 12 million if you take out other films where he co-starred with Brad Pitt. The $1.6 million it brought in on Wednesday is rather anemic, and points towards the lower end of that range, if not below it. Over it five-day opening weekend, look for The American to come in with about $12 million, with around $9 million of that on the weekend proper.

It's likely to be bested by both the other new wide releases over Labor Day, starting with Going the Distance, a romantic comedy starring real-life couple Drew Barrymore and Justin Long. Almost refreshingly uncomplicated, it's simply the story of a couple who attempt to stay together as their jobs take them to separate coasts.

More or less a sitcom compressed into movie form, it's resting entirely on the charm of its leads and supporting characters (which also include Christina Appelgate, Jason Sudeikis, Charlie Day and Jim Gaffigan). In Barrymore's case, those charms can be substantial, and she's one of the few actresses that can carry a film more or less on her back and appeal across genders.

Somewhat similar to Clooney, though (and when's the last time you've seen these two actors compared?), that's never translated into major success except when in a star-studded cast (in her case, He's Just Not That Into You). It has meant a steady stream of films in the low teens, aka Bullockville (at least prior to last year). The rest of the actors, including Long, are kind of non-factors here other than to add together, Voltron-style, into additional justification for buying a ticket. Basically, we have a completely inoffensive and unremarkable romantic comedy that's probably going to debut at #1. Hooray for Hollywood. Opening at a little more than 3,000 venues, this average movie should find an average audience of about $12 million.

One of the unlikelier films to hit major release in some time, Machete is an example of that rare-but-becoming-more-common genre of films, the spin-off. Starting life as a fake trailer in the middle of the Robert Rodriguez/Quentin Tarantino shlockfest double feature of Grindhouse, the inherent awesomeness of Danny Trejo wandering around killing people with a machete struck so many people as a good idea that it was basically demanded into existence. Maybe The Secret isn't bullshit after all.

Rodriguez directs along this expansion of that idea, which sees Trejo as an ex-Federale on the run from a Mexican drug kingpin (Steven Seagal! I like this already), who's shot and scapegoated for the attempted assassination of a Texas state senator (Robert DeNiro) in the midst of a tough-on-immigrants political campaign, involving "anchor babies". That's right, it's topical, dammit!

Also along for the ride in this film are Cheech Marin as an ass-kicking Catholic priest, Jessica Alba as a love interest, Don Johnson as a crooked US Marshall (Nash Bridges reunion!), Michelle Rodriguez, and Lindsay Lohan as a stripper. Of course she is.

Only sort-of tongue-in-cheek, Machete follows in the recent trend of extreme fan-service films, like Snakes on a Plane, Piranha 3D, and to a smaller extent, Black Dynamite (which never got the wide release it really deserved). And then there's Grindhouse itself, which opened to $11 million three years ago. Obviously this kind of thing has a pretty limited audience, so expecting Danny Trejo to become a new action star off the back of this release is short-sighted. He should enjoy his day in the sun however, with around a $10 million opening weekend.

For some unfathomable reason, last weekend's two releases really tickled the fancy of audiences, with both Takers and The Last Exorcism earning $20 million (Takers officially won the weekend but it's as close to a tie as these things get). In Takers' case, it does seem to prove the recent adage that if you put enough names above the title, people will assume that there's at least something worthwhile in the film. In fact, this might be the main takeaway from late summer.

Meanwhile, The Last Exorcism wrenched a little more life out of the fakeumentary horror concept that exploded last fall with Paranormal Activity. Gimmicks continue to reign this year. In contrast to last year's version, this film comes pre-hyped and seems unlikely to repeat that film's remarkable run. Look for both of last week's top two films to fall under $11 million this weekend, with The Last Exorcism more in the $9 million range.

As summer wraps up, few other films are still around to make any kind of significant box office noise. The Expendables is the only other film likely to earn more than $5 million this weekend, and it should limp across the $100 million mark in a week or two. The Other Guys crossed that same milestone mid-week, but should top out around $115 million. The most impressive figure out there, then, is Inception's $270 million-plus in the bank, though it's not going to hit the magical $300 million mark, and will stick as the fourth-highest grossing film of the summer behind Toy Story 3, Iron Man 2, and Eclipse.