September 2010 Forecast
By Michael Lynderey
September 1, 2010
BoxOfficeProphets.com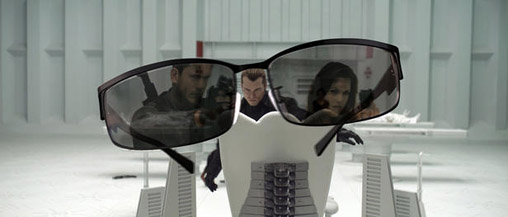 ---
September 2010 is a bit of a middle-of-the-road month, with the two unexpected sequels probably lording it over the ever-present CGI animations (Resident Evil 4 is unexpected because, well, don't all good trilogies come in threes?). But watch out for Betty White.

1. Wall Street: Money Never Sleeps (September 24th)

The month's biggest question mark comes right at the top: will a movie about the horrors of economic malpractice (A Nightmare on Wall Street?) do well at the box office these days, especially since it's not a wish-fulfilment revenge fantasy? A lot of workable elements are indeed in place here - there's a respected baby boomer movie star making his potentially awards-worthy comeback (Michael Douglas, of course), along with a younger actor thrust into yet another franchise (Shia LaBeouf), a wee ingenue coming off a recent Oscar nomination (Carey Mulligan), and various bouts of sinister smirking by a recognizable supporting cast (Josh Brolin, Frank Langella). It's hard to figure out what the plot's going to unfold like (corporate thriller? legal drama?), though that poster seems to be setting Wall Street 2 up as a secular version of The Devil's Advocate. Oliver Stone's recent bouts of verbal villainy pose an interesting question mark as the release date approaches, but box office-wise, will the state of the economy help or hurt the numbers?

Opening weekend: $28 million / Total gross: $71 million

2. Resident Evil: Afterlife (September 10th)

Resident Evil once again stakes out its beloved mid-September slot, and not much else has changed, either: serious-looking British character actors are still presiding over sinister test tube experiments, strangely cuddly monsters are still slithering in to gobble up unloved supporting players, and attractive, scantily-clad women are still running in slow motion while discharging their firearms and pouting their lips in discontent. You'd think it was still March 2002. The addition of 3D, of course, is not from March 2002 but rather November 1952, when Bwana Devil made its glorious debut in all dimensions known to man. I don't know if a standard-issue part 4 would've dipped in the grosses some, but the addition of said third dimension will make sure that's not going to happen. So, scantily clad women - pout away.

Opening weekend: $29 million / Total gross: $64 million

3. You Again (September 24th)
In a month lacking (any other) clear mass-audience comedy, this one should benefit. The premise isn't all that well established in the trailer, save for some vague notion about high school grudges re-played out against the comforts of modern suburban life. But hey, You Again does look kind of fun, and it certainly seems to have well-balanced the demographic spectrum, pairing the veterans (Sigourney Weaver and Jamie Lee Curtis) with the relative newbies (Kristen Bell and Odette Yustman), and adding in Betty White, just to really show 'em how it's done (the fact that White is clearly the biggest star in the world right now doesn't hurt, either). If the film is decent enough, legs may arise.

Opening weekend: $19 million / Total gross: $57 million

4. Alpha and Omega (September 17th)
Here's another one of those talking critter pictures, once more unleashed in full-fledged, 3D-infused, CGI. While I am not sure, I suspect the film is about a young and quirky pup who meets an ambivalent-to-hostile pupess; her icy animal heart melts right towards the end, but not before she is placed in an easily escapable though potentially threatening situation, thus giving her newly-beloved a chance to demonstrate his affections by rescuing her from certain death. Is that a run-on sentence? Just think how the movie feels. And how did I deduce all this information? One look at the poster is enough. That release date has undeniable echoes of last year's Cloudy with a Chance of a Hundred Million Dollars, but whatever dollops of box office good fortune rained down upon that film won't likely be revisiting this year. Conventional CGI numbers are what we'll have to deal with here, even if Alpha and Omega does happen to be Dennis Hopper's cinematic swan song.

Opening weekend: $18 million / Total gross: $53 million

5. Never Let Me Go (limited on September 15th; wide by Hallowe'en night)
The first big Oscar movie of the fall, and just look at the cast assembled to reap those trophies: Keira Knightley, who has seemingly traded Hollywood blockbusters for the simpler life of moody British drama; Carey Mulligan, the newly anointed English awards queen; and Andrew Garfield, who's going to have a real coronation this fall, now that his secret identity's been revealed. To be fair, the premise here is frankly bizarre, at least on paper (and the trailer doesn't really give away the film's more fantastical elements), but I've heard rumblings about the source novel being something like the decade's single greatest piece of literature (which, for me, is still not a searing enough recommendation, especially now that the decade's over). Never Let Me Go gives off the same solemn tone as Atonement (in the movies, the English countryside seemingly offers little else), and, unless something goes horribly wrong, it'll likely pull in numbers at just about the same ballpark.

Total gross: $42 million

6. Legend of the Guardians: The Owls of Ga'Hoole (September 24th)
I'm admittedly taking a wild guess here, but it seems to me like the plot of the Owls of Ga'Hoole may just involve a young and quirky owl who meets an ambivalent-to-hostile oweless, but melts her icy strigiformic heart right at... Maybe a better way to put it is: there's a bunch of owls, see, and only they can save the world - a world in which humans have apparently gone extinct, anyway, so what do any of us really care? This one's a frankly off-the-beaten-path project from director Zack Snyder, responsible for the visual extravaganzas in 300 and the brilliant opening moments of Watchmen. But Ga'Hoole is just so tough to pin down - is it for kids? Grown-ups? It should do great business in the north- and south-west, as well as in other places where large owl colonies reside. In the more human-dominated parts of the country, though, fuggedaboutit.

Opening weekend: $14 million / Total gross: $41 million

7. The Town (September 17th)
Ben Affleck's second big film as director is another crime thriller set smack in his native Boston, and filled to the brim up with good actors - Affleck himself, along with Chris Cooper, the inimitable Pete Postlethwaite, Jon Hamm (making a full transition to film from that show I never watch), and Jeremy Renner, who's really finding his cinematic niche now, post-Oscar nod. Nothing about this crime picture really hints at sturdy box office, but I suspect critics will use the power of the pen to bolster up the film's grosses some. As for the opening weekend? Should come in at just-OK.

Opening weekend: $13 million / Total gross: $41 million

8. Devil (September 17th)
This one's a little horror sleeper plucked up from a spring 2011 release date and thrust into the early Halloween season. The premise is intriguing if a little fuzzy, and the trailers ought to inspire enough curiosity, I think, to drive this to a fair opening weekend. Notably, it's a film that unreservedly uses producer M. Night Shyamalan's name in the marketing; that makes sense, because, much like Shyamalan's recent work - save for fanboy-driven The Last Airbender - this will flourish or sink based on the quality, at least once you get past that opening.

Opening weekend: $16 million / Total gross: $37 million

9. Machete (September 3rd)
As far as I'm concerned, summer doesn't really start until Machete comes to town! And it's about time, too. The picture may have no real stars, but it sure has some acting savvy. Long-, long-, long-time character player Danny Trejo (nearly 150 film credits!) is finally getting a lead role to call his own, and he's got some entertaining support - Michelle Rodriguez and Jessica Alba, doing what they do best, combined with a samurai sword-wielding Steven Seagal, a resurrected Don Johnson, and what is perhaps the year's single most delicious bit of casting: Robert De Niro as a gun-toting senator (if he doesn't tell someone "How's that for a filibuster?" after blowing them away, I want my money back). Of course, turning a two-minute trailer that was intended as kitsch into a full-length feature is risky, but it would only make it more of a hoot to see Machete outgrossing George Clooney (if such an occasion should indeed arise).

Opening weekend: $14 million / Total gross: $35 million

10. Easy A (September 17th)
Here's the first clear starring role for Superbad's Emma Stone (though, as a look at next year's release schedule reveals, it is not the last), here matched up against Amanda Bynes, back after years of cinematic hibernation (something about the film, in fact, recalls Bynes' own Sydney White, which opened nearly three years ago to the day). It's hard to see Easy A breaking out of teenmovieland and into something bigger: the trailers are catchy if not spectacularly inspiring, and highlighting the presence of some big-name non-teen supporting actors (Lisa Kudrow, Thomas Haden Church) won't likely increase the turnout of the over-25 set. If critics dig it, though, there might be some hope.

Opening weekend: $12 million / Total gross: $34 million

11. The American (September 1st)
Yes, it's a rare non-awards bait role for George Clooney, and it's about time he had one of those! The American probably won't have much appeal beyond your average international thriller, and in terms of star draw, Clooney's working alone here. The trailer seems a little bleak, and the reviews are here and there (Roger Ebert's four star stamp of approval is surprising). But no worries - Oscar-oriented Clooney will return in full force in 2011 - on both sides of the camera, as always.

Opening weekend: $9 million / Total gross: $24 million

12. The Virginity Hit (September 10th)
Yet more teenagers attempt to take that next step and, as always in these movies, all that's really missing is the guy with the machete who's wearing a hockey mask off-season (he's been rebooted out of existence, unfortunately). I know that Will Ferrell and Adam McKay (Ferrell's favorite director) have something to do with this film, though I am not sure what, and do not really wish to be told (it would spoil the mystique). The real question is: is the Virginity Hit really getting a wide release, just nine days from today? If so, George Clooney's The American may well have some real competition for that #11 slot.