Weekend Wrap-Up for August 27-29, 2010
Last Exorcism, Takers Surprise at Late Summer Box Office
By John Hamann
August 29, 2010
BoxOfficeProphets.com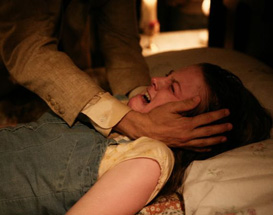 ---
Before I sat down to write this column, I desperately reached for things to talk about, as this was shaping up to be a brutally slow weekend at the box office. Openers were supposed to be soft, with both Lionsgate's The Last Exorcism and Screen Gems' Takers looking to debut in the low teen millions. However, and as it often goes with horror flicks and Screen Gems releases, the new releases popped, combining for more than $40 million. While the top end of the box office looks great, the overall picture is starting to sag, as we have our lowest top 12 gross since the beginning of April.

While The Expendables couldn't repeat on top for the third consecutive weekend, the studio distributing it did, as Lionsgate's The Last Exorcism takes over where Stallone and company left off. Lionsgate has always stayed alive by parlaying low priced acquisitions into big box office, and they've done it again with The Last Exorcism. It cost Eli Roth around $2 million to produce the film, and Screen Gems picked up the rights for nearly that same amount. Given that tiny budget, The Last Exorcism broke out this weekend, earning a powerful $21.3 million from 2,874 venues. It had a venue average of $7,411. To think a film can gross TEN TIMES its pick-up cost in one weekend boggles the mind, as production cost plus marketing was likely earned prior to the end of the weekend. A film like this will bankroll a half-dozen other small pick-ups, and may prove troublesome for stock raider Carl Icahn's attempted takeover of the Lionsgate studio.

The Last Exorcism is done in the faux-documentary style, which certainly seems to keep costs down. Examples include Quarantine ($12 million production budget, $31.7 million domestic gross), and everyone's favorite, The Blair Witch Project ($600,000 production budget, $250 million worldwide gross). For Lionsgate, the result is similar to some of their other horror offerings, like The Haunting in Connecticut (budget unknown, $23 million opening, $55 million domestic finish) and My Bloody Valentine ($14 million production budget, $21 million opening, $51 million finish). Maybe the most similar, though, is the film that launched Lionsgate's biggest franchise, Saw. The original Saw film came out in 2004, and opened to a similar $18.3 million. It cost only $1.2 million to produce, and finished with $55 million in domestic sales. Also like Exorcism, Saw did okay in the review department as well, coming in at 48% fresh – The Last Exorcism did a little bit better, at 70% fresh; however, 161 people reviewed Saw, where only 74 have reviewed The Last Exorcism. Lionsgate again found the right mix for The Last Exorcism by finding the right release date and providing a perfect marketing strategy.

That means that Screen Gems' Takers opens in the number two spot this weekend - but just misses the top spot. Usually known for horror flicks (much like The Last Exorcism), Screen Gems has moved slightly away from their usual fare, releasing the tear-jerker Dear John to huge numbers in February, and know the action flick Takers in August. Takers did quite well this weekend - again better than expectations - as the ensemble flick earned $21 million from a small venue count of only 2,206. It had the best venue average in the top ten, coming in at $9,519.

Screen Gems is by far my favorite studio. They do not release films with $100 or $200 million budgets. Their films do not gross billions. At the same time, they are very successful due to smart movie choices and release strategies. Since 2007, Screen Gems has released 13 films, and of those, only two have failed to earn more than $10 million over their opening weekend. Of those same 13 films, only two have cost more than $35 million to produce (Resident Evil: Extinction, Untraceable), and only two have failed to earn more than their respective production budgets. Screen Gems is the "grinder" studio of the movie business, cranking out hits like a baseball player who hits for average instead of home runs. Screen Gems has two more movies coming out in September, another Resident Evil flick (Afterlife in 3D) and a rom-com called Easy A. They then have Christina Aguilera in Burlesque scheduled for late November, which could be big.

Finishing third is The Expendables, which gives Lionsgate two flicks in the top three. After two weekends at number one, The Expendables was expected to drop hard this weekend, but the plunge wasn't as bad as I expected. After falling 51% last weekend to $17 million, The Expendables earned $9.5 million this weekend, dropping a better 44%. Sylvester Stallone and his band of merry men are driving this one toward $100 million domestic, and it's starting to look like it just might make it. The Expendables has now earned $82 million, matching its budget in weekend three. It is just getting started overseas, but should easily earn $100 million from foreign shores as well. How quickly will cameras roll on a sequel? My bet would be in the next six months or so – maybe this time Stallone can get Willis and Schwarzenegger for more than just one scene.

Fourth spot goes to Eat Pray Love, and if someone told me The Expendables was going to out-gross a Julia Roberts film two months ago, I would have laughed my ass off. However, with a $7 million weekend total for Eat Pray Love, it looks like that will happen. The travel romance dipped 42%. If there is good news for Sony, it is that Eat Pray Love cost about $20 million less than The Expendables, which will likely be the difference in their final domestic totals. Eat Pray Love is also waiting to debut overseas, and this one should sell quite well over there as well. Look for this one to finish with about $80 million in domestic sales, and another $100 million coming overseas. It currently has a total of $60 million.

Sony's other film in the top ten, The Other Guys, manages to hold on to a a top five spot. The now four-weekend-old Will Ferrell/Mark Wahlberg flick earned $6.6 million and dropped 35% compared to last weekend. After opening to $35.5 million, The Other Guys saw big drops of 51% and 42%, but will cross the $100 million mark in the next couple of days. It has a current gross of $99.3 million.


Sixth spot goes to Vampires Suck, last weekend's number two film. The spoof film earned $5.3 million this weekend and dropped 57%. Unfortunately, this one has now made more than its $20 million production budget, so we will likely see many more of these truly hideous spoof comedies. Give Suck $27.9 million so far.

Seventh goes to Inception, now in its seventh weekend (time flies for good movies). The Chris Nolan early Oscar contender earned $5.1 million and was off only 35%. Inception has now earned $270.7 million domestically, and is approaching $400 million overseas.

Nanny McPhee Returns finishes eighth, as Emma Thompson can't find the magic she found with the original Nanny - at least in North America. After opening to $8.4 million last weekend, Nanny McPhee Returns failed to behave much like a kids movie, dropping 44% and grossing only $4.7 million. It isn't an ugly flop, though. Despite a North American gross so far of $17 million, it has already earned $63 million overseas against a budget of only $35 million.

The Switch lands in ninth, as the Jennifer Aniston rom-com really failed to click. The Switch earned $4.7 million from what used to be Miramax, and dropped 45% compared to last weekend. Its now earned $16.5 million.

Piranha 3D, despite some really good reviews, finishes tenth after coming in sixth last weekend when it opened. This soon-to-be cult classic earned $4.3 million in its second weekend and falls 57% from its $10.1 million debut in the previous frame. Luckily, this one cost Dimension Films only $24 million to make, so the bottom line won't be that bad. It has a running total so far of $18.3 million.

The Avatar re-release didn't turn into much this weekend, so be aware that James Cameron may just hide in the movie theater bathroom and steal the rest of your money that way. Avatar: The Cash Grab earned another $4 million, bringing the total for the Fox behemoth up to $753.8 million.

Overall this weekend, things were fairly typical for late-August. Strong openers propped things up a bit, but a general malaise around the holdovers couldn't keep the top 12 above $100 million. Last year, The "Final" Destination opened to $27.4 million and the re-imagining of Halloween found $16.3 million. Add to that some strong holdovers and you have a top 12 that took in $110 million. Last year was an anomaly, as the same weekend in 2008 brought in $74 million and 2007 saw $89 million. This year, the top 12 brought in $97.5 million. Next weekend could be interesting. Danny Trejo opens Machete, George Clooney appears in The American (on Wednesday), and Drew Barrymore shows up in Going the Distance. Check back to BOP next weekend and see how it all rolls out.